Singapore is blessed with an abundance of brilliant locations and venues when it comes to the nightlife scene.
There's something for everyone be it dance clubs, micro breweries, quirky hipster haunts, champagne bars, live music, lavish rooftop bars, trendy cocktail places, old favourite watering holes or interesting date night venues.Check out our expat guide to nightlife in Singapore, to get an idea of where to go and what to do in this diverse city.
Newbies
New to Singapore? There are some experiences that are synonymous with Singapore that you should try at least once.
Singapore slings at the Long Bar in Raffles Hotel.
Raffles is steeped in colonial history and is considered to be the birthplace of the "Singapore Sling' cocktail. The Long Bar stays true to its original atheistic and is one to tick off the list for most people who come to visit Singapore.
The roof top bar at the iconic Marina Bay Sands hotel.
There are a myriad of spectacular rooftop bars in Singapore (we'll get to that later!), but Marina Bay Sands Hotel is possibly the most iconic of them all.
Hotspots
What are the best neighbourhoods to head to if you want to let your hair down, have a dance, indulge in a cocktail or have a casual beer with your friends?
Clarke Quay
Popular with expats and locals alike, with a picturesque aesthetic near the water and the stunning city skyline backdrop. There is a plethora of swanky bars, al fresco dining and clubs. Popular clubs include Attica, Bar Cocoon @ The Forbidden City, Canvas Nightclub, Club Dream, Rebel and Zouk.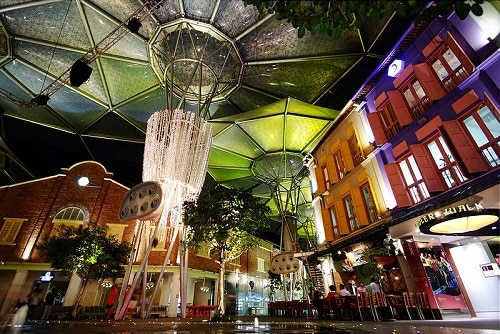 Clarke Quay is a popular hangout for locals and expats
© William Cho on Wikipedia
If you're looking for somewhere a little different try Bar Opiume (a Prosecco & Vodka bar), Beer Market (replicating a stock exchange environment), Marrakesh Moroccan Lounge & Bar (complete with beautifully traditional-style decorated alcoves and brass lanterns) or Crazy Elephant (for a totally unpretentious setting with live rock bands).
Orchard Road
If you're considering going out in Orchard Road, then head to Emerald Hill for the best atmosphere. Nestled between rows of beautiful traditional colonial style shop-front houses, if you're looking for bars, pubs, al fresco lounges and cocktails then this is the place.
One of most famous places to indulge here is No.5, serving innovative cocktails such as the Jackfruit Martini from their extensive martini menu.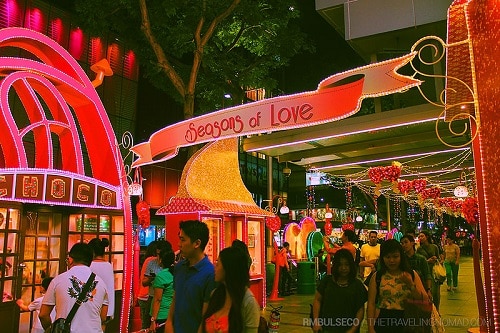 Orchard Road is another popular area
© RM Bulseco on Wikioedia
Other popular bars to check out in the Orchard Road area are Alley Bar, Bar Stop or The Mansion.
If you're looking for something with more of an upbeat pulse, then perhaps head up to Orchard Towers or Club Sonar at TAB.
Chinatown
Try bar hopping in the heart of Chinatown down "Club Street", a short walk up the pretty Ann Siang Hill (perhaps stopping off to check out Operation Dagger, Beaujolais or Nutmeg & Clove en route) and check out the likes of 83 Bar, Oxwell & Co or Gem Bar.
If you're looking for more of a "date-night" sort of place to go to, then take a peek at The Screening Room, where you can enjoy dinner and a movie and an open-air rooftop area for drinks with a unique view over the Temple of The Buddha Tooth Relic.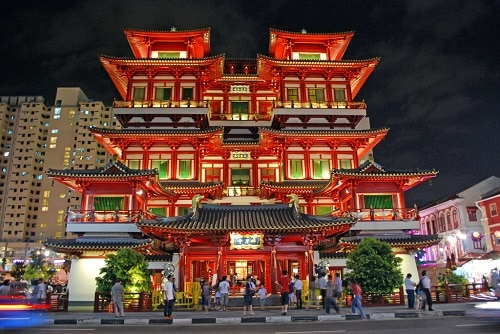 Chinatown's Temple of the Buddha Tooth Relic is a landmark
© Ryan Custodio on Flickr
For a quirky dining and drinks experience, you could go to Lola's. Lola's is a champagne bar which also hosts an underground supper club that encourages you to dine with strangers on one of the communal table seats.
Holland Village
Holland village is a popular area within the expat community and is teeming with excellent nightlife spots. There are plenty of unpretentious, relaxed and casual places to drink like Hacienda, Harry's @ Dempsey Hill (or Harry's @ Holland Village), Tawadang Microbrewery, RedDot Bewhouse, Wala Wala Cafe bar, Bar Bar Blacksheep and more.
For something a little unusual, check out the The White Rabbit, a club in a converted chapel turned into a magical Alice in Wonderland themed restaurant and bar.
Old Favourites
Singapore is also home to a Hooters (Clarke Quay), a Hard Rock Cafe (Orchard Road), and a Potato Head (Chinatown). These are well known chains from various corners of the world where you know you are guaranteed to have a good time.
Rooftop bars
As mentioned before, there are a myriad of spectacular rooftop bars in Singapore, and here we have an extensive list for your perusal.
• Marina Bay Sands – The iconic hotel has one of the best infinity pools in the world and an incredible skyline view of the city.
• Level 33 – Has the highest microbrewery in the world and a view overlooking the unique design of Marina Bays Sands hotel.
• HI-SO – HI-SO is located in a tastefully restored heritage building, and gives a city view from a different perspective due to the fact it is not very high; the city buildings tower over it, but rather than being imposing it offers an overall cosy feel.
• Loof – Whilst perhaps not being able to boast the best views, Loof is a casual and unpretentious bar to enjoy some relaxed drinks in the evening.
• Lantern at the Fullerton Bay Hotel – Lantern has a wonderful unobstructed view over the water of Marina Bay and lavish bed-style seating.
• Kinki – Artfully decorated with colourful graffiti and serving sushi and sashimi to fulfil their "Japanese Urban theme", Kinki is one of the more quirky contenders of the rooftop bars list. They regularly host DJS and have live music events as well as girls' nights on Wednesdays.
• New Asia Bar – Consistently hitting "Top 50 Bars In The World" lists, New Asia bar has plenty to offer as one of Singapore's most longstanding rooftop bars.
• Supertree by Indochina – As if the Supertrees in Gardens By The Bay were not awe inspiring enough in the evening, the highest one houses a stylish bar/restaurant.
• Ce La Vi (Formerly Ku De Ta) – With a view adjacent to the Skypark observation deck, it certainly boasts a good deal. You can take your pick between the chill-out lounge or the poolside terrace seating.
• 1 – Altitude – Located at the top of One Raffles Place and being 63 storeys up, this is the highest place to drink in town. There is an Al fresco dining area fringed by trees, a bar and lounge area, and dance floor spread over three levels.
We hope this guide will give you some fantastic ideas of where to socialise and let your hair down in Singapore!
Do you have any nightlife recommendations for other expats in Singapore? Share them in the comments below, or answer the questions here to be featured in an interview!