One of the first questions on the lips of every expat when considering moving to a new country is "how much will I earn?" shortly followed by "how far will that get me?" Of course naturally, these are some of our primary concerns, especially if we have dependants to look after as well as ourselves. It's useful to get at least a rough gauge of salary expectations and cost of living to come to come to an informed decision about whether the move will be the right choice for you and your family.Therefore we've compiled this guide of salaries in Singapore with notes on the cost of living. From the average yearly and monthly salaries to expected pay scales in various professions and industries, our goal is to give you all the best information.
Average salary per annum:
S$58,554
($43,644.91 / £33,058.30 / €36,263.93)
Equates to per month:
S$4,879.5
($3,637.08 / £2,754.86 / €3,021.99)
According to Payscale research: "The average salary in Singapore is S$58,554. The most popular occupations in Singapore are Marketing Executive, Software Engineer, and Senior Software Engineer which pay between S$35,376 and S$68,236 per year. The most popular industries in Singapore are Information Technology (IT) Services, Banking, and Education."
Top 5 most popular occupations (S$) and expected pay scale range

Software Engineer
A) Average pay of S$49,824
B) Expected scale min S$31k – max S$68k
Marketing Executive
A) Average pay of S$35, 376
B) Expected scale min S$26k – max S$48k
Account Executive
A) Average pay of S$33,684
B) Expected scale min S$24k – max S$47k
Operations Manager
A) Average pay of S$70,231
B) Expected scale min S$36k – max S$124k
Admin Assistant
A) Average pay of S$ 24,699
B) Expected scale min S$15k – S$max 37k
Industries, professions and experience based tiered payscales
In almost any industry there is a hierarchy of experience from junior to senior positions, assistant managers to senior managers, plus directors and partners of the company; not to mention total years of experience in the field. Each of these can command vastly different paycheques, so read our table below for a more of an idea of salary expectations in various positions, vs industry and experience.
Currency of Singapore Dollars (S$), displayed in '000.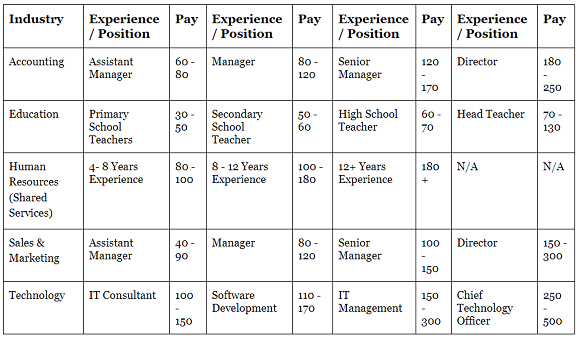 Is there usually a bonus scheme in Singaporean companies?
Yes, the average bonus in Singapore is S$6,000. Although according to the IRA (Inland Revenue Authority of Singapore) a bonus received from employment, whether contractual or non-contractual, is taxable. Having said that, unlike some other countries in ASEAN, the typical "13-month bonus" (also referred to as AWS) scheme is not in fact compulsory. It therefore completely depends on the contract that you agree with your employer.
Who pays the best salaries?
According to various research and reports, these are the companies in Singapore that provide the highest wages:
• Wells Fargo : S$265,000
• ABC Associates : S$260,00
• Mazars : S$228,000
• Nomura : S$208,000
• ING : S$200,000
• Goldman Sachs Asset Management : S$189,000
Resources
If you want to find out more about salaries in your specific niche, or would like access to some detailed salary reports then here are some excellent resources.
JobStreet Singapore Salary Guide
Contains minimum/average/maximum pay for various job titles, including differences due to level of seniority.
Hays Singapore Salary Survey & Guide
The data contained within this survey is based on feedback from employers in addition to Hays' own expertise in the field.
Kelly Singapore Salary Guide
A comprehensive reference tool on salary trends, job titles and employment outlook that spans many industries.
MOM Report on Wages in Singapore
This guide gathers information on wages in over 400 occupations, in addition to wage changes and bonuses paid in various industries.
Glassdoor – Salary Information Posted By Employees Anonymously
Salary details for different positions and companies in Singapore, posted anonymously on Glassdoor by employees.
Even once you've worked out what your salary will be, however, you still need to check your income against your projected outgoings. So how much does it cost to live in Singapore?
Singapore's cost of living is ranked 32nd out of 508 cities in the world, and has a cost of living index of 90.85. This effectively means that it's high up in the rankings of most expensive places in the world to live.
Rent
A four-person family is looking at approximate monthly costs of around S$4,333.08, without rent; this is equal to $3229.79, £2446.36 or €2683.58 Comparatively, a single person is looking at an approximate monthly cost of around S$1,185.64 without rent, which is equal to $883.75, £669.39 or €734.30.
The average monthly rent for a 85 m2 (900 Sqft) furnished apartment in a more expensive area of the city would be around S$3,527 per month, whilst the average price of an apartment of the same size in a less expensive area would cost something in the region of S$2,665.
The monthly rent for a 45 m2 (480 Sqft) apartment in an expensive area would be approximately S$2,961, whilst one of the same measurements in a more affordable area would be in the region of S$1,998.
Bills
An idea of utilities would be something like S$154 based on two people living in an apartment roughly the size of 85 m2 (900 Sqft). Other costs to take into account are things like internet packages, which are usually around S$43 a month.
Transport
In terms of transport, 1 litre ( ¼ gallon) of gas usually costs S$2.10; a monthly ticket for public transport (such as the MRT) would cost around S$79. A taxi for a 8km (5 mile) journey would probably be around S$11.
Other
The average price of a lunch in the business district is around S$12 (the same average price as a beer), a cocktail in a downtown club would probably set you back S$20 and a cappuccino would cost you S$7.
Have you lived in Singapore? Share your experiences in the comments below, or answer the questions here to be featured in an interview!