The banking system in South Korea is advanced. The banks there are comparable to typical Western banks that many expats are familiar with, and they are considered to be much more simple and user-friendly. The main issue, when it comes to banking in South Korea for expatriates, is that of accessibility, and this frequently comes down to language barriers. Language barriers can make it harder for expats to set up their accounts and/or get their internet banking up and running. Some banks (such as KEB Hanna) are considered to be more "expat-friendly" than others.Out of the 19 banks operating in South Korea, the "Big Four" dominate the sector. These major players are Kookmin Bank, Shinhan Financial Group, Woori Financial Group and Hana Bank. Collectively, they control around 70% of the market. Woori Financial Group is the only one of the four that is domestically owned. Despite the highly advanced and well reputed banking system, South Korean banks are beginning to seek overseas opportunities to generate a growth profit at a faster rate.
According to many experts, economic growth is slowing and the competition has become more intense. This has led to the domestic market in South Korea no longer offering the revenues it once did. In fact, the chief executive of one of the international banks in South Korea said that Korea had "reached its peak" on the domestic businesses front.
Banking options for expats
As a foreigner residing in South Korea, it is absolutely essential that you have a local bank account. There are several reasons why opening a local bank account is important. A local account can be used for paying bills, local taxes and rent, as well for standing orders, direct debits, and more cost-efficient transfers.
If you are intending to send the bulk of your earnings back home, it is more cost-efficient to handle the transfers via local banking services, rather than through using the likes of Western Union or MoneyGram.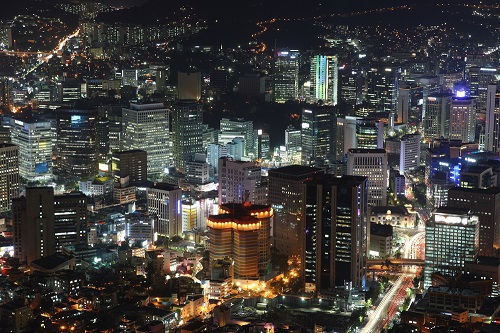 As a foreigner residing in South Korea, it is absolutely essential that you have a local bank account
There are several different types of bank accounts in South Korea, which are available to citizens and foreigners alike. The majority of account types should be relatively easy to set up and shouldn't require a minimum deposit or account balance. Standard account types include:
Savings
Savings accounts in South Korea work in the same way as they do in most other countries. The bank will offer various rates of interest as an incentive to deposit savings into the account. Generally speaking, the longer the term of commitment, the higher the interest rate will be.
Time deposit
A "time deposit" account is essentially similar to a typical chequing account. Some banks offer interest on time deposits, but on average, you can get more interest on savings accounts.
Installment
An "installment" account requires you to make payments in installments, typically in the form of monthly payments. Once the account reaches maturity, you will have made a profit from the interest that the bank adds to your installments.
NOTE: After signing up for a South Korean account, you will receive a bankbook to record your transactions and a bank card within a couple of weeks. For many of the standard bank accounts, the accompanying bank card is only for withdrawing cash from ATMs. You may not be able to use it in the same way as a debit or credit card. Therefore, it is very important to discuss your requirements beforehand.
How to open a bank account in South Korea
The vast majority of South Korean banks allow foreigners to open bank accounts with very few prerequisites. Plenty of banks offer various services in English (as well as other languages), but it is still a good idea to check beforehand.
South Korean banks don't allow customers to open accounts before they arrive in the country. Therefore, everything will need to be done in person at the bank once you have arrived. In big cities, some banks have designated foreign specialists at certain branches, who can translate services into English for you. So, if language is a major concern for you, it is worth double checking which branches offer this service.
To open a bank account in South Korea, no appointment is necessary. You can simply go to the local branch of your chosen bank, take a ticket, and wait in the queue to be seen. You will need to fill out some forms and present a few documents. The documents typically required are:
• Your passport
• A valid visa
• Your ARC card (Alien Registration Card)
• South Korean residency card
Your ARC should have your address printed on it, but it's a good idea to bring a copy of your address written in both Korean and English too.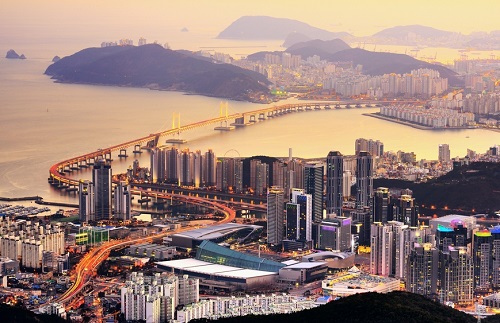 South Korean banks don't allow customers to open accounts before they arrive in the country
More about banking in South Korea
It is worth noting that, while most banks allow new arrivals to open an account, they will likely require you to conduct all transactions via a teller at a branch. This will therefore restrict your ATM access for an initial period. Once you've been a resident in South Korea for a period of three months, you can then gain unrestricted ATM access.
There are plenty of ATMs in most Korean cities, located in various hotels, post offices, train stations, and convenience stores. You will find that some of the ATMs are available 24/7 and accept foreign cards, but many are only online during the day between 8 a.m. and midnight and only accept Korean cards.
Banking hours in Korea typically run from 9:00 a.m. to 4:00 p.m., Monday through Friday. There is generally no weekend banking available in Korea. That being said, KEB (Korea Exchange Bank) offers out of hours service in select locations.
Banks in South Korea with exceptional service and experience with foreign clients include Citibank Korea, Korea Exchange Bank, Woori Bank, and Hana Bank. These are the most popular options with expatriates, and they have branches all over the country.
All Korean Exchange Bank ATMs are free to use, no matter which card you have. Korean banks typically do not charge monthly fees for accounts, but this does depend on the type of account. You only pay for the transactions that you make. For example, you may be charged when you use a bank's ATM that's outside your network, or when you use your bank's ATM outside of banking hours.