South Korea is an East Asian nation that makes up the southern half of the Korean Peninsula. It's known for its heavily militarised borders with the infamous North Korea, but also for its rolling hills, ancient temples, sub-tropical islands, and futuristic high-tech cities, such as Seol. South Korea has a wonderful, welcoming culture, fantastic food, and a highly effective public transportation system and internal infrastructure. Despite its proximity to North Korea, South Korea is growing in popularity among expats and foreign workers.According to data released by the Ministry of Justice, 2,524,656 foreigners were living in South Korea at the end of 2019 – a rise of 6.6% from the previous year. South Korea's foreign population exceeded an unprecedented two million people in June 2016.
Renting property
Despite the overall low cost of living in South Korea, rental prices in central Seol can be astronomically high. It's a particularly saturated market. The Korean language is complex for foreigners to learn, so if you are unconfident or unfamiliar with it, your best bet is to hire a real estate agent or broker (budongsan).
A good agent will be able to show you a range of listings, keeping the process as uncomplicated as possible for you, and potentially negotiate a good deal on your behalf. The majority of rentals in South Korea are unfurnished. Utilities are not included in your rent and will need to be paid at the bank or local post office. Usually, the payment of utilities is the sole responsibility of the tenant, but in some circumstances, utilities may be split between all of the building's tenants.
Tenants who sign leases for less than a five-year period must be legally guaranteed the ability to extend their lease up to five years if they so wish. The deposit you pay can vary, depending on the type of rental. In South Korea, there are two different systems within the rental market. These are:
Jeonse (전세), also known as Chonsei
Instead of paying monthly rent, a tenant will make a lump-sum deposit on a rental space of between 50% and 80% of the market value. Usually, this means your key money will be around 200 million KRW (170,800 USD). The tenant is then allowed to stay in the property "rent-free" until the end of the lease, which is usually two years. The only costs that the tenant will need to pay on a monthly basis are utility bills.
Wolse (월세)
With a Wolse lease, a tenant will sign a lease for one or two years and make a deposit on the apartment equal to roughly 10% of the market value (or sometimes calculated as between 10 and 20 times the monthly rent). The tenant then pays monthly rent for the rest of their lease. The larger the deposit, the smaller is the monthly payment. The deposit is refundable without any interest.
To ensure that any deposit paid is returned, tenants are protected by the House Lease Protection Act. If the lease contract is broken by the tenant, they forfeit 10% of their deposit for Jeongseon rentals and 10% of their monthly rent for Wolse rentals. If, however, the contract is breached by the landlord, they must pay double the contract money.
Rental agreements vary somewhat, but should generally cover the rent rate, the amount of deposit, the terms of breaking the lease, whether you can sublet and instructions about renovations.
You can see an example of a Korean rental agreement here.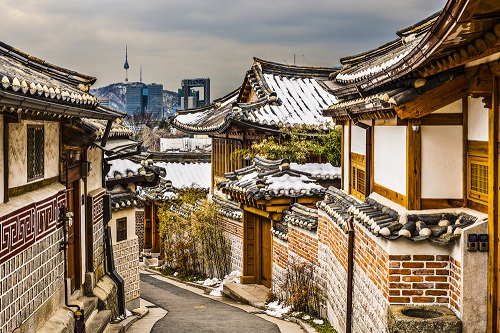 In South Korea, there are two different systems within the rental market
Where can expats find details of properties to rent?
You can either choose to work with a local agent, or you can specifically search for one that speaks your native language. If you would like to find one that speaks English, Eden Realty may be useful to you. You can also search for rentals yourself online. If you choose to do this, these sites may be able to give you an idea of what is available:
• Short Rent House
• Housing Seoul
• Seoul Homes
• Nestpick
There are also a few Facebook groups that are good for searching for rentals or roommates, such as Housing in Seol.
What are typical rental prices in major expat destinations?
There is no black and white answer to this question, due to the way the rental system works in South Korea. If you rent a Jeonse property, then you will not pay monthly rent. With a Wolse property, monthly rental costs can vary widely. A small one-bedroom apartment in a city centre location may cost roughly 717,150.10 ₩ (South Korean Won). This is equivalent to approximately £474.40 (GBP) or $588.82 (USD). A three-bedroom apartment in a central location may cost around 1,855,705.41 ₩ (£1,227.17 or $1,523.65) per month. Costs get much lower the further out of the cities you get.
Are there any challenges/problems in the rental process that expats often encounter?
It's important to be vigilant about property scams. Never pay money upfront for a property that you have not personally viewed. Never accept a landlord's offer to mail you a key after you send a deposit.
Buying property
Foreigners are permitted to purchase real estate in South Korea. Foreign residents wishing to buy are subject to the Foreigner's Land Acquisition Act and the Registration of Real Estate Act. The transaction must be reported to the appropriate district office within 60 days of signing the purchase contract, and both the property purchase contract and a certified copy of the property registration must be submitted.
Non-resident foreigners are subject to both the above laws, and they are additionally subject to the Foreign Exchange Transactions Act. As well as following the above reporting requirements, non-residents transferring money to South Korea in order to buy property must report the transaction to a foreign exchange bank. To do this, you will need to submit copies of the appraisal report, the property contract, and a certified copy of the property registration.
What is the typical house buying procedure?
Buying costs are typically quite high in South Korea. The procedure for buying is as follows.
After making an offer on a property, a sales contract/agreement will need to be drawn up by a practising lawyer and signed by both the buyer and seller. At this stage, the seller may also ask for a deposit (usually 10% of the sale price of the property), but this is not actually mandatory – it is subject to your agreement with them. The payment conditions will be outlined in the sales contract. It is not uncommon for it to be paid in two to three instalments. The sale cannot be cancelled after the second payment transfer is made.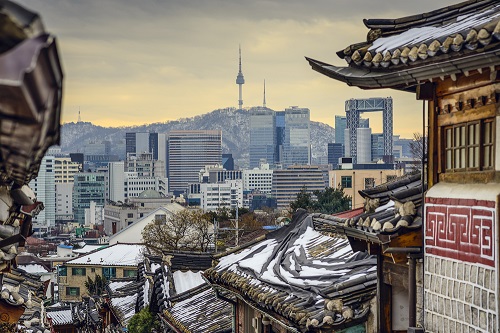 It is typically quite expensive to buy a property in South Korea
The next step is registering. Real estate registration in South Korea is split into two stages: land acquisition registration and transfer of ownership registration.
Foreigner's land acquisition
You must get a Land Acquisition Report when you purchase property. To do this, you need to report your purchase to either the Si, Gun or Gu office (city, county or district office) in your area within 60 days of signing the sales contract. You will need to take the signed sales contract, your alien registration card, and a copy of the land register, showing the name of the seller.
Transfer of ownership registration
Within 60 days of paying the full property purchase price, you need to complete the property registration by registering the transfer of ownership at your local Si, Gun or Gu office. You will need to take your alien registration card, completed registration application form, signed sales contract, land acquisition report, and registration certificate with you.
As a non-resident, you are also subject to The Foreign Exchange Transactions Act. This means you need to report the transaction (of purchasing the property) to a foreign exchange bank. To do this, you will need to submit a copy of the sales contract, a copy of the appraisal report, and a copy of the property registration.
Additional costs incurred will include stamp duty (which can range anywhere between 50 ₩ to 350,000 ₩, depending on the value of the property), acquisition tax (this is typically 2%, and is paid when you buy the property), and annual property tax (this depends on the type of property). If you use the services of a real estate agent, you will also need to pay them a fee.
Do local banks or other lenders issue mortgages to foreign nationals?
Non-residents will likely find it quite difficult to obtain a mortgage in South Korea. They may find it easier to get an international mortgage from a bank in their home country. The biggest banks, like HSBC, Standard Chartered, Citibank, Agricultural Bank of China and China Construction Bank, all have offices in Korea. In South Korea, the mortgage provider often pays your landlord for the property, and you make monthly payments to the provider. This is because so many people rent Jeonse, which means they have to pay a vast amount of money upfront. If you want to go down this route, it would probably be best to hire a financial adviser or broker, who can explain the process and criteria more fully, advise you whether you are eligible, and help you through the application.