The financial sector in Sweden is of fundamental importance to the economic wellbeing of the country, and it helps ensure that both private and business lives continue to function adequately. The Swedish banking system is well developed and is considered to be very efficient and reliable.The four main categories of banks in the Swedish financial market are locally owned commercial banks, foreign banks, savings banks and co-operative banks. The largest banks in the country are Swedbank, Handelsbanken, Nordea, and SEB. They account for over 80% of the total assets of all Swedish banks.
Banking options for expats
What sort of options are available to expats banking in Sweden? Is setting up a local bank account a necessity? Is offshore banking in Scandinavia worth considering?
If you are living in Sweden, then having access to a local bank account will be convenient for a number of standard tasks, such as paying bills and receiving salary payments. That being said, it is perfectly possible that, if you bank with an international bank, the fees for exchange rates may actually be less than the cost of maintaining a local bank account. This can depend on a number of factors, including how long you are planning on staying in Sweden.
Most people opt to maintain their home country bank accounts, in addition to setting up a local account. This way, you can maintain your credit score back home and continue to pay any bills or direct debits there, meanwhile simplifying your finances with a local bank account.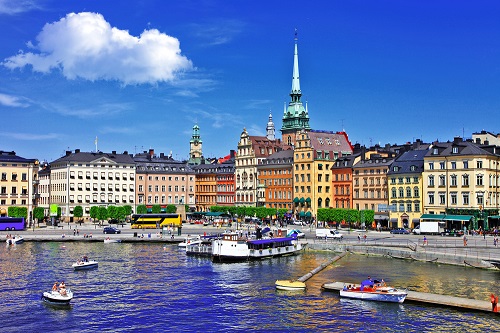 If you are living in Sweden, then having access to a local bank account will be convenient for a number of tasks
A number of expats opt for offshore banking, in addition to having a typical, everyday bank account. Scandinavia may seem an unlikely locale for protecting offshore funds, but there are a number of things that make it worth consideration. Scandinavia banks managed to weather the storm of the financial crisis largely unaffected, they can offer good interest rates, and they have strong non-euro currencies. Public finances and the political climate remain consistently stable, and there are wealth management services available.
Financial stability and independence from the European Union make Scandinavian countries surprising contenders for offshore banking. The fees are also lower than in more traditional offshore jurisdictions, in line with continental Europe (such as the Netherlands, Germany, Switzerland, etc.).
How to open a bank account in Sweden
Details on the process of opening a bank account in Sweden, the required documents and identification, and more.
The easiest option for opening a bank account in Sweden is to visit a local branch in person. Most banks will require you to have a Swedish personal identification number (also called a personnummer) when opening an account, so ensure you have this organised before you visit a branch. This identification number is issued by the Swedish tax office (Skatteverket). It's also worth contacting the bank or else checking their website to see what other documentation may be required.
Banks in Sweden are required to carry out stringent customer identity checks, and they often charge a fee for their services. Services and offers (plus their subsequent fees) vary between banks. Generally speaking, in addition to your ID number, you will typically need the following supporting documents in order to set up an account:
• Your valid passport or other form of accepted photo ID
• Your residence permit (if applicable)
• Proof of admission/enrolment showing the duration of studies (if applicable)
• Your address in Sweden and proof of residence at this address (such as utility bills)
• Employment contract
You may also wish to set yourself up with a "BankID". A BankID is a form of identification that allows you to sign important documents and issue payments over the internet. It will make your life in Sweden quite a lot easier! There is also an app for BankID, which you can download on your smartphone.
More on banking in Sweden
Swedish banking days and times, popular Swedish banks for expats, Swedish financial apps, and more.
Swedish bank branches are typically open from Monday to Friday. They operate from 9:00 a.m. to 3:00 p.m, although on Thursdays they often close at 6:00 p.m. All banks are closed on weekends and public holidays.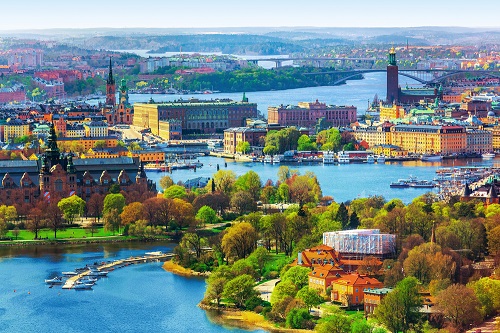 All banks in Sweden are closed on weekends and public holidays
Banks that are popular among the expat community include Nordea, ICA Bank, Handelsbanken, and SEB.
When it comes to transfers, most Swedish banks won't charge you for sending money to countries in the EU or EA. However, international transfers outside of these regions can rack up quite a cost. For example, Nordea bank will charge 60 SEK (around £4.80) to send money to another country, or 350 SEK (£28) for an express transfer. You're likely to be charged even more if you go into the branch to arrange the transaction, rather than doing it online.
Most Swedish banks charge an annual fee of about 250 SEK (about £20). Withdrawing from ATMs is usually free, but cash in Sweden is becoming mostly obsolete (particularly among the younger generations), with contactless payments and various financial apps becoming the new norm. The Swedes are fairly well known for progressive and digitised banking and payment methods. For example, there is the hugely successful start-up called 'Klarna', which is now operating on a global scale. Klarna deals with payment solutions for online storefronts worldwide.
There is a popular app in Sweden called 'Swish', which works in partnership with banks to allow people to transfer money between themselves for free. It's very common for people to Swish money to each other for all sorts of payments, so check whether your chosen bank offers Swish support. Another popular app that many people in Sweden use to handle their finances is called 'Tink'. Tink syncs with your bank and provides reports on your spending activities and savings. You can also set a budget on the app, which is downloadable for free.