Switzerland spends more than any other European country on its healthcare, but the costs of actual treatment are paid directly by patients in the first instance. Every resident is required by law to have private health insurance to access the healthcare system, but before the insured patient can make a claim they are expected to pay out of pocket, for reimbursement later.Reimbursement only kicks in after the patient has paid a variable but minimum annual deductible of CHF300 and an excess of 10% of the balance for any treatment.
The result is that Swiss residents spend more from their own pockets on healthcare than any other nation. In 2016, Swiss residents paid CHF24 billion on health, which averages at around CHF2,800 per head.
As health insurance is compulsory, residents spend a minimum on their healthcare in the form of premiums, even if they never have a day's illness in their lives. The cost of policies should therefore be factored in to any estimate of healthcare procedures.
Health Policies
Generally speaking, a basic health insurance policy in Switzerland will cost between 6% and 12% of a resident's personal income. The Priminfo website lets you find projected premiums for all cantons for the calendar year 2020. The cheapest cantons are shown to be Appenzell, Gontel, Rüte, Schlatt-Haslen and Schwende, with premiums for children starting at CHF68.51 and adults at CHF266.40. The most expensive are Basel, Bettingen and Riehen, starting at CHF129.15 for children and CHF483.15 for adults. This does not include any supplementary insurance they may have taken out.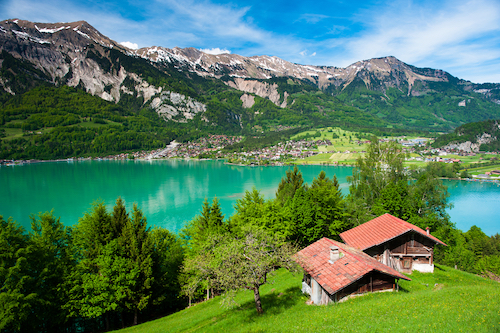 Premiums will vary depending on your canton
Health insurance fees are reviewed every year, based on factors such as healthcare cost and also arrears and fees owed. In 2017 they increased by an average of 4.5% across all cantons, and some of the lower-cost insurers raised their premiums by as much 20%.
The umbrella group for health insurers, Santésuisse, warns that the cost of health insurance is expected to rise 3% over the next few years.
The state may step in to subsidise an individual's health insurance, according to eligibility criteria set separately by each canton, but generally this happens if a premium is higher than 8% or more of a resident's disposable income.
Visiting The Doctor
The first thing anyone moving to Switzerland must bear in mind about visiting the doctor, which may come as a surprise if they are accustomed to the health systems of other European countries, is that they will be billed.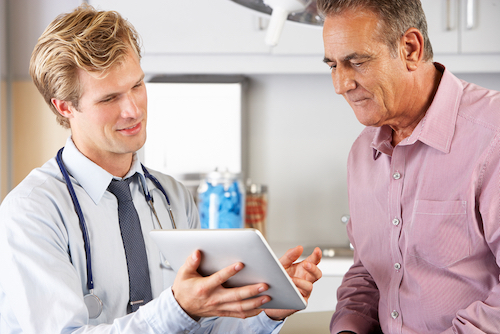 You will need to pay to visit the doctor in Switzerland
Some doctors bill within a few days whilst some do it quarterly unless the patient requests otherwise. In either case, you will need to pay your bill before claiming reimbursement through your insurance.
The amount a doctor bills will depend on your requirements. A routine 15-minute visit to a doctor in Zürich will cost in the region of CHF130-140. A visit requiring a prescription may come to around CHF150. A visit requiring on-site treatment – examination, medication, bandaging, services of a nurse – will probably not be less than CHF300. A health screening will range from around CHF2,200 to CHF4,500, depending on how in-depth it is.
The doctor may refer you on to a specialist, in which case you will have a fresh bill to pay once they have seen you. Ambulance transport between sites will also be chargeable.
Hospitals
Treatment costs have remained stable since 2015 but are still not cheap: the average inpatient treatment comes to CHF13,000.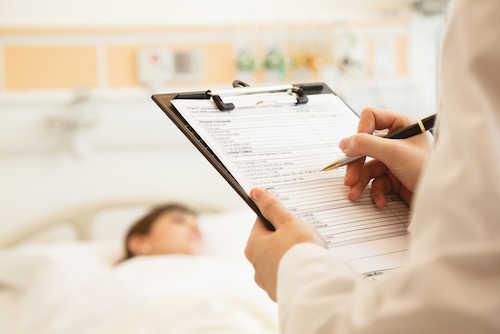 Inpatient treatment is costly
A very useful price comparison website for hospital treatment can be found at the Hospital Price Monitor. You can select your preferred treatment by canton and insurance provider, in which case all the hospitals in that canton that the provider covers will be shown; or you can simply select 'Switzerland' to get a rate for every hospital in the country.
As a general example, Hospital Price Monitor shows the following rates from the insurance provider ÖKK for a few typical treatments: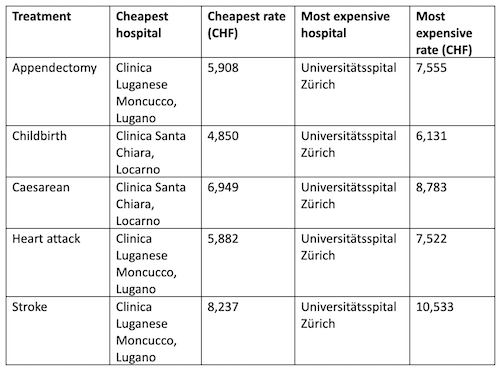 As well as the cost of your treatment, which can be reimbursed through your insurance, there is a flat rate at any hospital of CHF15 per day. This covers the non-medical aspects of your stay such as the hospital's energy bills, food and resources, and is not refundable under your basic insurance.
Medication
The cost of prescription drugs in Switzerland should be reimbursed by your insurance. You will have to pay a deductible of up to 10% on generic medicine and up to 20% on branded medicine.
Non-prescription drugs – for example paracetamol that you decide to take yourself for a headache – are paid for entirely out of your own pocket. Either way, drug prices in Switzerland are higher than in other major European markets, and are expected to rise by 3% in the next two years.
As a general example, a dose of cold medicine to last you for six days such as Tylenol, Coldrex or equivalent brands in Zurich will cost CHF13. A box of twelve doses of antibiotics is CHF36. Generic drugs can be twice as expensive in Switzerland as elsewhere: for example, the patented painkiller Dafalgan is CHF6.95 more than the generic version of paracetamol.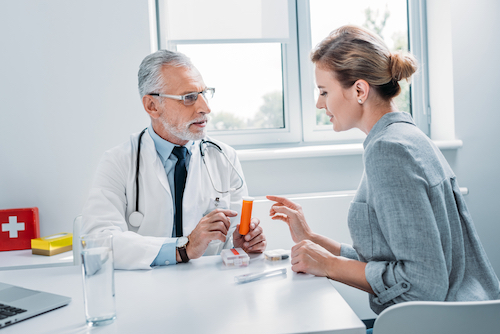 Medication can be costly in Switzerland
When making a prescription, a doctor should – if possible – prescribe a generic drug rather than a more expensive branded version. Even so, patients are advised to ask the doctor what a medicine costs at the time the prescription is made.
All drugs that are sold must be approved by Swissmedic, the regulating authority for all medicines and medical devices. The Swissmedic website has a handy spreadsheet comparing the prices of approved drugs. You can also compare the prices of medicines at Comparis.ch, under 'Health & Provision'.
Would you like to share your experience of life abroad with other readers? Answer the questions here to be featured in an interview!