The Gulf has become an incredibly popular and desired option for expats over recent years. With a population reaching 8 million across the United Arab Emirates alone, the pull of luxury lifestyles, great pay and safe culture is an alluring prospect for many. In the international expat series, Stephen Spriggs from William Clarence Education shares his insights of things you need to know for a new life in Dubai.The UAE is commonly regarded as an expat paradise and one of the most cosmopolitan and westernised areas of the Middle Eastern region. The pull of no personal taxation and a warm climate makes it no surprise that it offers an attractive package for expats and their families.
Most expats will head for Dubai, enjoying the international atmosphere and advantages of free trading zones and enterprise, mixed with a luxurious lifestyle. Outside the modern city, there are stunning beaches offering coral reefs, sandbanks and small islands that not only attract tourists, but also contribute to make moving to the UAE a fascinating and exciting experience.
Due to its superb location and thriving deep-water port, situated between the international capital markets of London, New York, and Hong Kong, Dubai has made a real name for itself over the past five years, becoming known as the corporate hub connecting the region with the existing global financial network. It is designed to span the time zones not covered by the historical financial markets.
There are excellent facilities and modern infrastructure providing a great opportunity for expats to explore the regions. While Arabic is the official language, English is widely spoken and Persian, Hindi and Urdu are also common.
Despite its progressive flair and booming economy, religious traditions have a strong influence on life, so expats are expected to dress and behave appropriately within the Muslim culture.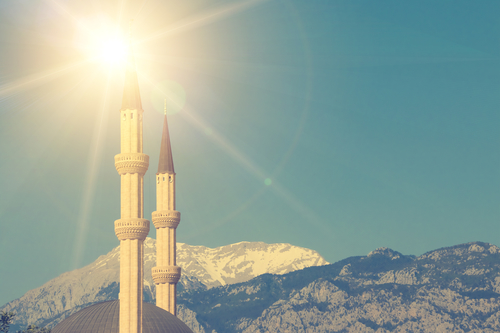 It is important to be sensitive to the beliefs of the country you move to
To work in the UAE, you must be sponsored by an employer. The sponsor takes care of most of the associated administration required, as well as covering a person's right to work in the UAE once a job offer has been secured. This often includes arrangement of the other associated documents for living, such as bank accounts, transportation, accommodation and health cards, and so on.
Education
Throughout the UAE there is an excellent range of primary and secondary private schools, catering especially for the expat community. The majority are managed and run for English-speaking Westerners, and offer international curricula.
Even though expat kids have been allowed to attend local schools in the UAE for a few years now, most expat parents will still choose an international school over an Emirati state school. The advantages are obvious: their child will be taught in an international environment, together with other expat kids in relatable situations, in a language they actually understand.
In general, international standards at private schools are very high, with small class sizes and modern facilities. Although enrolment in private schools can be very competitive, given the increasing number of expats, there are other options available should you wish to consider what type of learning environment would best fit your family.
Unlike other countries where international schools are free to follow their own curriculum, there is a requirement for all schools in the UAE to follow a local syllabus containing Arabic and Islamic studies or UAE Social studies.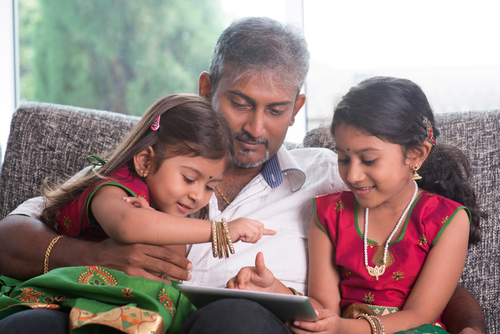 Expensive school fees have prompted many parents to homeschool their children
School fees have seen a sharp rise in the last few years; so much so that many expat parents are opting for home-schooling, which is becoming more popular in recent years.
No matter which schools you choose to apply to in the end, make sure to contact them early on, especially if you have some of the more popular international schools on your list. Remember that even if you apply early, you may be put on a waiting list.
The Dubai Schools Inspection Bureau publishes annual reviews of all private schools in Dubai, and reports published on its website are a good place to get objective information about schools.
Getting around
There are several international airports in the UAE, of which Dubai and Abu Dhabi are the most popular.
Dubai International airport is well on its way to becoming one of the world's busiest airports, recording over 50 million passengers as a major hub at the crossroads between Europe and Asia.
The most popular mode of transport in the UAE is the car; road conditions are excellent throughout the region with safety being a high priority and fuel being cheap. The UAE allows every person who is over 18 years old, including women, to apply for a license.
Most expats purchase a car for the duration of their stay. Foreign driving licences are accepted providing you are a citizen or resident of the country issuing the licence. If not, you will need an international driving licence.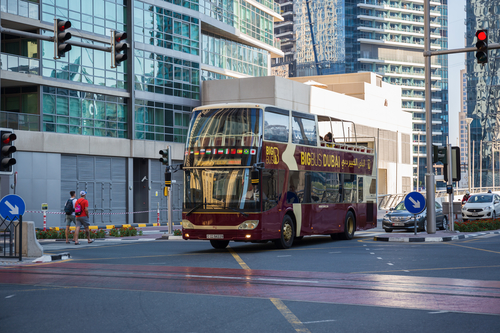 Dubai has a good transport system with excellent infrastructure
Taxis are the most convenient alternative transport, which are generally metered and numerous. Bus services are only really available in Abu Dhabi and parts of Dubai and for this reason, not often used by expats.
Healthcare
The quality of medical and health care in the UAE is very high since the government introduced mandatory private medical insurance for foreign residents, so in essence the only 'free' medical care is emergency treatment.
In contrast to the UK, expats do not need to register with a doctor or hospital clinics, as the system allows medical assistance to be given by simply 'turning up' to any local clinic to be seen by the duty doctors and showing an insurance card.
Living life
Life in the UAE for expats is exciting with a good standard of living, where modern infrastructure exists alongside Islamic values and traditions. Expats are drawn to fantastic career opportunities and of course the subtropical climate and tax-free lifestyle.
Dubai and the UAE on a wider scale have a wealth of recreational activities. From sporting activities for both the spectator and participant, be it days on the beach or an adventurous exploration of the mountain and desert, through to the buzzing nightlife across the major cities, or shopping at one of their many outlets, or traditional market places.
In the UAE there is a restriction of alcohol. Although it is not illegal, there are laws that apply to alcohol and its consumption, as well as the month of Ramadan is a feature of life in the Middle East.
William Clarence Education is the leading education advisory and consultancy service in the UK. With an unrivalled reach into the UK Schooling and University Network, William Clarence helps and advises families from around the world to reach their maximum potential and gain access to the very best of UK education. With close links to former Heads of Schools and senior figures within the education industry, William Clarence is proud to offer expert advice that puts your child at the centre of the process. Their business works with families at every stage of their academic journey including School Placement, University placement, Oxbridge Applications, US College Admissions and Home-schooling.