The financial landscape of the United Arab Emirates (UAE) has been steadily improving for a number of years now. New developments in technology (as well as new regulations being implemented) have transformed the banking sector. The Central Bank is at the helm of the banking system, presiding over the local and foreign banking institutions operating in the region.The Central Bank of the UAE performs key economic functions, such as issuing national currency and providing financial consultations to the government. It also imposes strict criteria for the licencing of foreign and local banks, thus making the existing banks in the UAE highly reputable.
The UAE has ambitions to become a leading figure in the financial and service sectors in the Middle East. All of the emirates that make up the UAE have relatively stable economic and political systems, but two in particular stand out as key players. The bulk of the oil and gas wealth is concentrated in Abu Dhabi, and Dubai has become an important financial centre due to its significant financial and service industries. These two emirates are considered to have the two most important economies in the region.
Banking options for expats
What banking options are available for expats living in the UAE?
Many expats feel apprehensive about banking and/or keeping their savings in an account in the Middle East. However, out of the Middle Eastern region, the UAE remains quite stable in most aspects, and it is a lower cause for concern than many other locations. That being said, it's always a wise idea to retain at least a basic current account in your home country. This will allow you to maintain your credit rating and credit history there. It will also allow you to pay any outstanding debts/loans and to continue any standing orders. If you decide one day that you'd like to return to your home country, then maintaining an account there will make the process of repatriation a lot smoother.
You will, of course, also need a local account, unless you already bank with an international provider who operates within the UAE. This will allow you to receive salary payments, pay rent, obtain local mortgages or loans, make local transactions, etc. – such things are almost impossible to do without a local bank account.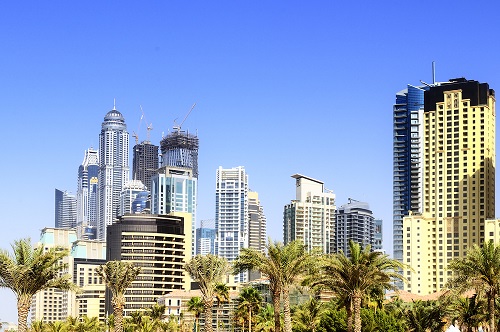 A local account in the UAE will allow you to receive salary payments, pay rent, make local transactions, etc.
How to open a bank account in the UAE
What is the process for opening a bank account in the UAE? What documents are required?
Both citizens and temporary working residents can open bank accounts in the UAE. If you are a citizen, you will need to provide a copy of your family book, along with a confirmation of your income and a no objection letter (NOC) from your employer. If you are an expat resident, you will need to provide a copy of your passport, a copy of your work or residence visa, a copy of your Emirates ID, and a salary letter or a NOC from your employer or sponsor. In some circumstances, it is possible to open a joint account with a legitimate resident of the UAE. However, this will depend on the banking provider and may not be permitted by every bank.
Non-residents will find more restrictions imposed upon them when it comes to banking, with most providers only permitting non-residents to open basic savings accounts. This type of account does come with a debit card to withdraw money, but it doesn't come with a chequebook. Additionally, a basic savings account is usually subject to a minimum and/or maximum balance.
You will need to physically present yourself at a local branch of the bank you have chosen, as the sign-up process will require you to fill out and sign application forms in the presence of a bank officer. In certain circumstances, you may be able to appoint a financial advisor to act as your representative in the UAE, and this may allow you to open a bank account remotely.
Two banks in the UAE now allow residents to open accounts over the internet via a smartphone app. These banks are:
• Liv, backed by Emirates NBD
• Neo, powered by Mashreq
The actual sign-up process for bank accounts is relatively quick and quite straightforward, providing you have all the necessary documents to hand. It is usually the background checks that take the longest time to conduct. The background checks may take up to a few weeks to complete, and so it is worth factoring in contingency money, prior to your arrival, to make sure you have enough to see you through this interim period.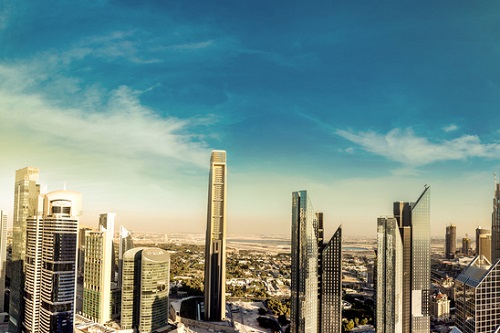 Both citizens and temporary working residents can open bank accounts in the UAE
More on banking in the UAE
Key differences between banks in the West and banks in the UAE, bank opening and closing times, and useful resources.
The UAE offers Islamic banking services, which are governed by the principles of Sharia law. As in many countries in the Middle East, if you are a woman looking to open your own bank account, you may encounter some restrictions. This will be particularly the case if you are not working and are on a spouse visa. You may instead have to consider either a joint account with your spouse or an account directly sponsored by them. Women are also unable to open or manage bank accounts for their children under the age of 18 years old. There are separate all-female banking facilities, from private female lounges to entire branches.
Bank opening times in the UAE might seem odd to you at first, as the working week and business operating hours are different there to in the West. Banks in the UAE are typically open from 8 a.m. to 3 p.m. from Saturday to Wednesday, and from 8 a.m. to noon on Thursdays. Banks and businesses in the UAE are usually closed on Fridays.
All of the big international banks, including HSBC, Standard Chartered Bank, and Citibank, are well represented throughout the UAE. There are also a number of smaller local banks that are popular among expats, such as Emirates NBD, Mashreq Bank, and RAK Bank. All banks operating in the UAE are strictly regulated by the UAE Central Bank and offer a high standard of service.
You can read more about the banking system, including about regulations, statistics, and consumer protection, on the UAE Central Bank website.