Leaving a country where you grew up and spent your early life, adapting to the culture you were born into, and then moving to a city that is very set in its British etiquette, there will be times when you miss a little piece of home, including those authentic traditional home-cooked meals.The delightful thing about London is that it is a very diverse city. In the words of the Mayor, Sadiq Khan, "London is open". Everyone is welcome; we want everyone to contribute to the society and for it to be a made a more accepting place for all.
This diversity also brings a lot of talented chefs and cooks too, expanding and dominating the food scene, making it the ideal place for every food lover. There are cuisines we would have never heard of; from places we would not have even thought about visiting until trying their food. The restaurant scene in London allows you to travel the world and taste the food of all these destinations without even leaving the city.
London has its specific areas for certain cuisines, but many people do not know about these little hidden gems.
Brick Lane has become the hotspot for a traditional, home-cooked curry. East London was home to a large number of Bangladeshi expats and Brick Lane started with a few curry houses and various other international vendors' restaurants. However, over time the number of Indian expats has increased and has lead to various new curry houses opening. Now curry houses have taken over the entire street and it is now known to be the best place to visit for a taste of India without having to get on to a plane. Brick Lane offers a range of prices, with some chains and other stand-alone restaurants. Many mainstream Indian restaurants have tapped into the concentrated area in order to reach a wider range of customers, but there are plenty of gems around. East London also has a large number of European residents which encourages Chinese, American and British restaurants too.
There are large Bengali areas in districts like Tower Hamlets, through to the Gujarati areas in Wembley, however there is also a large Tamil community in South London, which means there are a large number of authentic and classic Indian restaurants. This is particularly the case in Tooting, but other fantastic restaurants can be found in surrounding areas. After Indian cuisine, Mexican and Thai food are the second and third most popular in South London.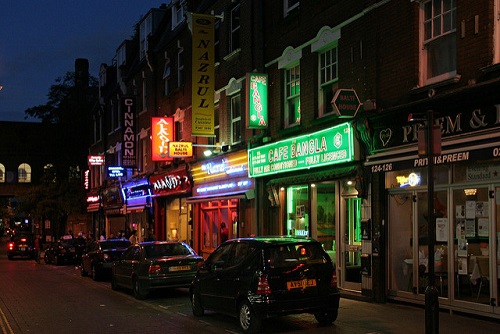 © hisgett on Flickr
The famous street near Soho, now called 'Chinatown', is where to get a taste of China and all things oriental. Started back in the 1950's the area was relatively cheap and various Chinese expats were short of money. With this in mind, Chinese expats set up businesses to serve returning British soldiers their cuisine. Now it is famous for its fantastic Chinese restaurants and shops, so it is possible to get supplies to enjoy the famous cuisine in your very own kitchen or taste it from the professional and authentic Chinese chefs. There are also some famous upmarket restaurants too such as Hakkasan and Nobu.
African food can often be found in various areas of London such as Peckham, Brixton, Tottenham and Hackney as these are areas with a large West African community. You can find the African delight of jollof rice in local restaurants and markets. Cajun dish Jumbalaya is served in many restaurants in Tottenham and the area also allows you to sample some of the best of Congolese culture through its plantain chips and barbecued goat.
Not only do these areas have the best African cuisine, but they also see some of the finest Caribbean restaurants and cafes. Enjoy jerk chicken, Caribbean patties, seasoned meats and vegetable curries with a range of flavours and spices. There are a large number of Caribbean food stalls that come to Notting Hill Carnival every August as well. The carnival celebrates Caribbean culture, music and food with delicacies like salt fish, ackee and the famous souse made with various parts of a pig mixed with fresh lime, parsley and cucumber flavours.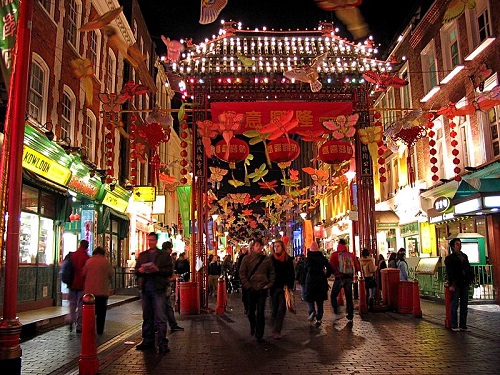 © Oliver Spalt
European food makes up a large part of London with fine dining too, from Michelin-starred French brasseries to Spanish tapas, fresh Italian pasta and authentic Greek mezes. Central London is known to be a more cosmopolitan are which often sees a large number of Middle Eastern, Japanese and French restaurants too.
There are a few great Turkish places to dine in Harringay and Dalston, which feature meaty and spicy kebabs, or of course the famous doner kebabs a lot of people crave after a night out on the town. North London has large Greek and Turkish communities, but the majority of the restaurants there are British, Greek and Middle Eastern.
Polish cuisine has become increasingly popular in many areas of London, with Polish supermarkets and now restaurants available particularly in Ealing and West London. Try the famous savoury dumplings called peirogies or Gołąbki, which is cabbage-wrapped pork. West London also has a number of Italian, French and Thai restaurants.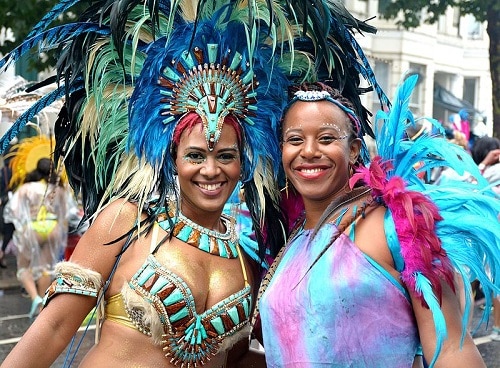 © David Sedlecký
Latin cuisine is also another growing scene in London, mixing into the very culturally diverse food scene. Try the very best of what Mexico has to offer through traditional maize-based dishes using tacos and tortillas and various salsas and condiments. Explore the extensive wines that Argentina has to offer at Gaucho Cava in the West End. Brixton also has a lovely relaxed and family friendly atmosphere at El Rancho de Lalo, where you can dine how the Latinos do.
London has a large variety of different cuisines from all around the world. You do not have go to far to feel like you have travelled thousands of miles, but rest assured that you will be able to find a piece of home and an authentic meal waiting in London.
Where have you found a taste of home in London? Share your recommendations in the comments, and fill in the questions here to be featured in an Expat Experience interview!