The festive season is now upon us!
Christmas is fast approaching, and so we have compiled this Christmas guide for all of you expats who may be spending it in London this year.
We've explained English Christmas traditions and customs, and given you some great ideas whether you're alone this year and looking to meet fellow expats, or searching for family friendly activities to do with the kids during the holidays.
Traditions And Customs
Christmas Cards
It's tradition in England to write well wishes in Christmas cards from yourself and your family. You can find boxes of various designs of cards in almost any supermarket or stationery shop. Many people hand cards out to their work colleagues before leaving for Christmas break, as well as to family and friends.
Christmas Trees
Many London households and public places will decorate a Christmas tree in the corner of the room. The tree, which can be real or plastic, is usually festooned with tinsel, baubles, hanging sweets (such as chocolate coins or candy canes), fairy lights and a star or angel on the top.
Stockings
In the UK, children hang stockings or sacks, often by the fireplace, on Christmas Eve. The tradition is to fill these with lots of small gifts, as opposed to the larger gifts which are put under the Christmas tree.
Carol Singing
Groups of people often gather to sing well-known carol songs in London. This can be in church, or out in a public square. Sometimes people, often children, go door to door singing carols, collecting money for charity.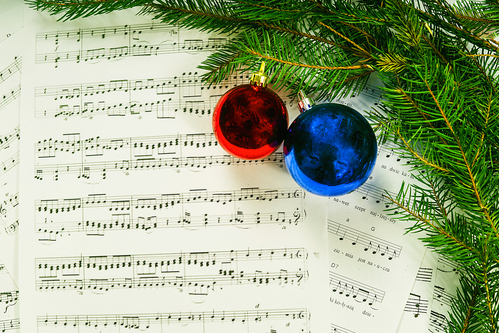 Carol singing is a British Christmas tradition
Mistletoe
Another common decoration is to hang the plant mistletoe from ceilings. The tradition in England is that people who find themselves standing underneath mistletoe should kiss each other. This is why you might spot someone approaching a person they like with a piece of mistletoe held in the air above their heads!
Father Christmas
Father Christmas or "Santa" is the gift giving figure in an English Christmas. He dresses in red, has a long white beard, and lives in the North Pole. He has a magical sleigh that is pulled by reindeer. At Christmas he flies in his sleigh and drops presents off under trees. A tradition in England is for children to write Christmas wish lists to send to Santa, and to leave out some mince pies and milk for him on Christmas eve before they go to bed, as well as a few carrots for his reindeer.
On Your Own?
Spending the festive season alone can be daunting for some, particularly in a new country with unfamiliar customs and no friends or family close by. Try looking for Couchsurfing events or meetup.com to find fellow expats and travelers who might want to meet up, or take a look at some of the websites on our language exchange guide for some other ideas for meeting new people.
Things To Do And Places To See
Christmas Markets
Visit some of London's Christmas markets such as Leicester Square Market, Greenwich Market, Kingston Christmas Market, the Winterville Christmas Market (on Clapham Common), Crystal Palace Park, or the Wintertime market at Southbank Centre.
Winter Wonderland
Perhaps the biggest and most famous Christmas market in London, this also has a fair with rides such as roller coasters and ferris wheels, a circus and an ice bar. You can find Winter Wonderland in Hyde Park.
Christmas Shopping
Even if it's just window shopping, if you're in London at Christmas then you have to check out the festive displays at the likes of Hamleys, Harrods and Selfridges.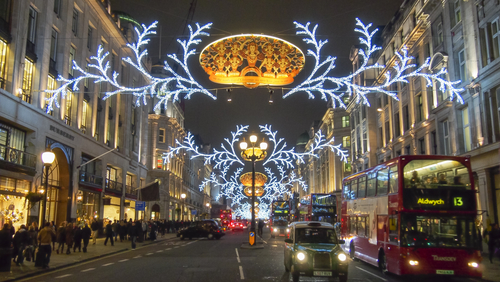 London's Christmas decorations are a sight to behold
Ice Skating
Ice skating rinks will start popping up in various locations such as Hyde Park, Somerset House, Hampton Court Palace, The Natural History Museum and outside The Tower of London.
Watch a Christmas Show
Watch a festive performance such as the Nutcracker, the Snowman or Cinderella On Ice. Another option is to watch a traditional pantomime with the kids.
Santa's Grotto
A time-honored tradition here in England is to take your children to see Father Christmas, where they will sit on his knee and tell him what they want for Christmas. Santa's grottos are set up everywhere and anywhere at this time of year, so just look out for posters.
Christmas Carol Concerts
Christmas carol concerts are often put on at churches at this time of year and sung by the choir, so keep an eye out or enquire at your local church.
Drink Mulled Wine and Hot Cider
The must try drinks of the holiday season! You can usually find variations of both these drinks at just about any pub during December, kept in barrels and ladled into glass mugs. Mulled wine is a warm, spiced red wine, sometimes mixed with a little dark rum.
Santa Con
Santa Con describes itself as "a non-profit, non-political, non-religious and non-sensical Christmas parade," in which hundreds of people dress up as Father Christmas and march in a parade singing carols.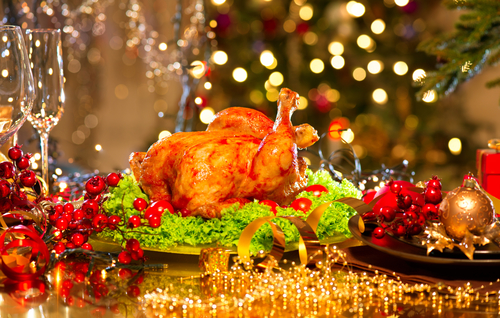 Christmas dinners in the UK are often decadent affairs
Roast Dinners
If you've only recently arrived in London and have yet to experience an English roast dinner in all its glory, then the holiday season is a good time to get acquainted with the nation's favourite winter dish! Christmas versions will often include turkey or pheasant.
TIP: Always book as far ahead as possible if you intend on eating out for Christmas Eve or Christmas Day.
We hope this guide has given you a helpful insight into Christmas traditions and customs in England, as well as some good ideas of things to do around London during the festive season.
How do you spend Christmas in London? Share your suggestions in the comments below, or answer the questions here to be featured in an interview!