Samuel Johnson once said, "when a man is tired of London, he's tired of life." Britain's capital is a thriving metropolis of business and pleasure; anyone who can't find something to be excited by in The Big Smoke is a sad soul indeed.
The city boasts world famous art galleries and museums, a thriving cultural scene and thousands of years of history. And when you've finished the drinking from the fountain of knowledge, London has lively nightlife to offer a sip of something harder.Anyone who does feel that they've seen all the city has to offer will be pleased to learn there is an entire secret scene for them to explore. Only the most committed of revellers will be able to navigate their way from one clandestine watering hole to another.
Speakeasy bars and hidden pubs abound, behind bookcases, underneath pubs, in fridges and even in public toilets. London has a whole second city's worth of exciting bars serving elegant cocktails and playing classy music in the most sumptuous of surroundings.
If you find yourself in need of adventure in London, why not try to find any one of the ten secret cocktail bars listed below. But remember to keep it to yourself; it's a secret!
10. The Aviary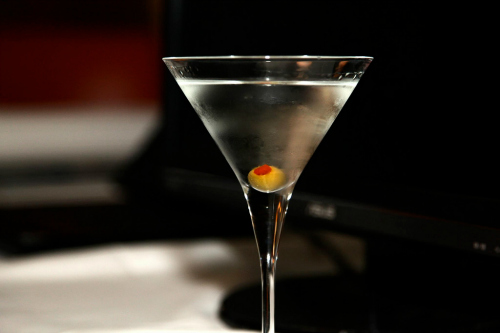 © Tech.Co
A strange subterranean cave of a place, complete with trailing vines and a giant fish tank behind the bar.
Nestled near Oxford Circus, the bar is open to the wee small hours, hosting revellers through the night and into the following morning. The venue is a great space to explore, with sumptuous velvet booths, a light up dance floor and intimate corner spaces.
This might explain why The Aviary is a popular party venue, hired out by the likes of Jonathan Ross and The Saturdays. But celeb-spotting isn't the only reason to check out this hidden gem. Splendid service and an excellent menu of classic British dishes are topped off with a massive collection of rare spirits.
To quote one visitor, "this is one of the few places in London that doesn't try to be a sterile box. Quirky best describes this place."
9. Cellar Door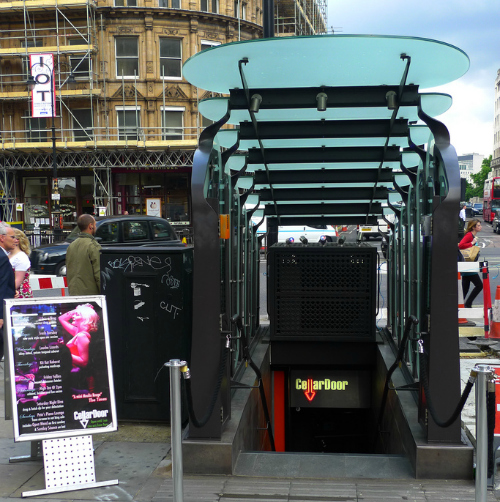 © Ewan Munro
A public toilet in Aldwych might not sound like the most glamorous place to take your date, but Cellar Door is touted as one of the premiere romance spots in town.
Once upon a time, Victorian gents met amongst the porcelain here for discreet liaisons. Nowadays that seedy reputation has been swept away along with the urinals. Cellar Door is now one of the liveliest, coolest spots in Europe, with a cheeky twist. The Guardian calls it; "it just feels like a pleasantly odd place to be drinking – huddled beneath the pavement sitting on leather seats shaped like buttocks."
From the street all that can be seen of this nightspot is an inconspicuous door, leading down stairs to an inviting red curtain. Heading down, the energy jumps up to meet you, as party-goers pack in around the small stage.
Every night features a different performing act, from outrageous drag queens to titillating burlesque or even magic acts. Check ahead to see what's on, as some nights involve film screenings that are a little more sedate.
As well as a range of house cocktails, Cellar Door also offers customers a pinch of snuff to accompany their drinks.
8. Happiness Forgets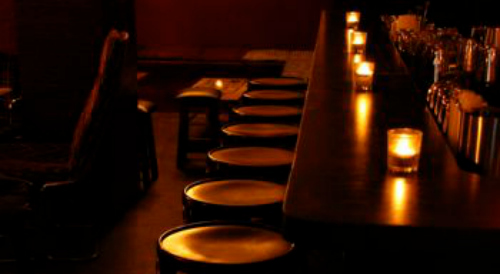 © happinessforgets.com
Visitors to this bar aren't likely to forget it in a hurry. This Hoxton speakeasy is a mainstay of the cool East London scene and reservations are a must for this popular nightspot.
The intimate venue has found a simple formula that works well. The décor is simple, the lights are low and they only thing that is unwelcome is pretention. Happiness is a friendly bar everyone can enjoy as long as they obey the only two rules: "Great Cocktails, No Wallies".
Listed as one of the top 50 bars in the world, this bar may seem basic, but it gets those basics very right indeed. The owner has international experience running cocktail bars and has poured his expertise into this place. The music is just right, the ever-evolving cocktail menu is innovative and the atmosphere is convivial.
The highest praise is that bartenders from other cocktail bars come here to drink on their nights off. This is a grown-up bar for people who prefer to chat over an exquisite cocktail rather than swill flat lager to a thumping bassline.
Fans of Happiness Forgets would do well to remember that the team have opened a sister bar called Original Sin in nearby Stoke Newington.
7. Nightjar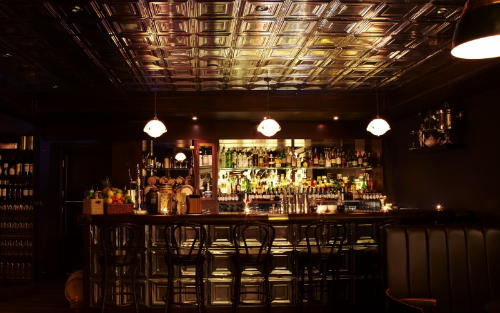 © barnightjar.com
Officially, Nightjar is the third best bar in the world. But its global fame has dented its clandestine glamour, with the bar popping up in articles in GQ and The Telegraph.
Another way that fame has affected the Nightjar is how in-demand it is. The bar now has a booking-only policy and charges those who don't show up. As great as the bar is, it somewhat ruins the adventure of taking your date to a mystery location and revealing the hidden surprise.
Spoiled surprises aside, there's a reason Nightjar is so popular; it's a very good bar. Early in the evening a soundtrack of jazz serenades drinkers who sip at skilfully crafted historical cocktails, and later in the night the bar comes to life with live music from jazz and blues performers.
The main event for any visitor is the more eclectic drinks on offer, made with the least likely of ingredients. Last year the mixologists unveiled the least appetising sounding cocktail ever.
The Inca cocktail is served in a skull-shaped mug and garnished with worms. Creepy-crawly cocktails are a special item on the menu, but other drinks contain ingredients that are just as bizarre. Items on the menu contain mushrooms, tree bark and plankton.
If you can get into this exclusive Mecca of cocktail, you are bound to have a memorable night.
6. The Chelsea Prayer Room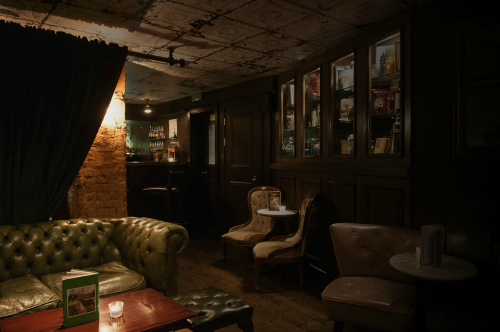 © goatchelsea.com
Goat, the New York Inspired Italian restaurant in Chelsea, hides a swanky secret. The restaurant itself is already rather suave, but the Chelsea Prayer Room is a cut above.
To really enjoy this speakeasy you'll need to gain membership, but with a 2-hour booking outsiders are welcome to taste the high life. Just tell a member of staff that you are looking to repent and they'll take you to the hidden door.
The religious theme carries through to the secret bar, with drinks menus hidden inside prayer books.
That doesn't necessarily mean you'll know the ingredients going into your drink. The Prayer Room is famous for its selection of unlabelled bottles, making every glass an exciting mystery.
The devout customers are just as likely to be sipping Moet as cocktails, enjoying the cosy booths in a bar that only seats 30 at a time. Candlelight, comfy sofas and soft jazz make this one of the classiest speakeasies on the list.
5. BYOC at The Juice People
© byoc.co.uk
A bar without booze. It might sounds like a terrible idea for a business, but BYOC really does work.
You might have guessed that the name translates as Bring Your Own Cocktail, which accurately explains the concept. Guests arrive at The Juice People and pay a cover charge to be swept through secret doors into the cosy cocktail bar. Once inside you hand over a bottle or two of spirits.
From here the experts take over, creating unique cocktails from your bottle, making cocktails tailor-made to your tastes. Challenge the mixologists by turning up with a variety of odd ingredients and see what they can make. The creative, fun process means every trip to BYOC is different from the last.
Booking is essential in this Covent Garden basement and reservations last two hours. Conveniently, there is a late-night supermarket nearby so you can quickly grab another bottle if you finish the first.
4. Mayor of Scaredy Cat Town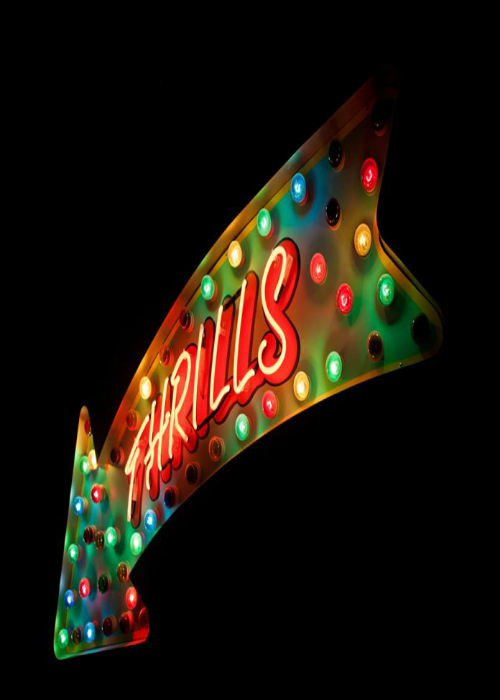 © themayorofscaredycattown.com
Possibly the worst kept secret on the secret bar scene, The Mayor of Scaredy Cat Town is known to many a Londoner as 'the bar behind the fridge'.
As cryptic as this nickname sounds, it's almost a set of directions, as visitors to The Mayor really do have to climb through a fridge in order to reach the bar. Diners tucking into to burgers at The Breakfast Club near Liverpool Street are regularly confused by crowds of revellers jumping into a giant 50s style refrigerator, apparently never to be seen again.
It's not just the entrance that has helped spread the 'secret'; visitors rave about the eclectic mix of cocktails on offer and the fantastic food on the menu. A Canadian visitor soaked up the atmosphere: "cocktails are very good and the menu proposes interesting mixes. Very small place, very noisy as well, but good music."
The Mayor is busy, so you might need to wait upstairs in The Breakfast Club. Just tap your nose and tell your waiter that you are 'here to see the mayor' and they will let you know how long to wait.
Lounge Bohemia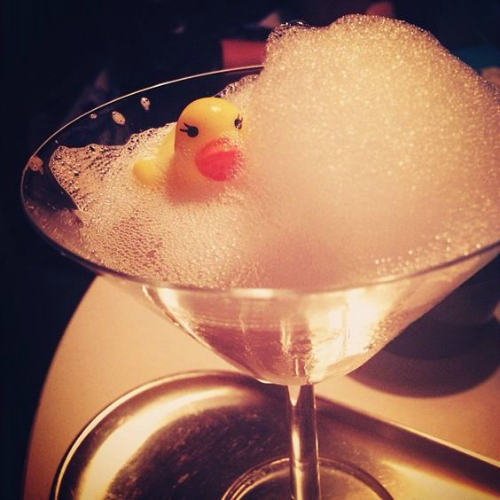 © Rachel Phillips on Pinterest
Not far from The Mayor of Scaredy Cat Town, this 50s basement bar has a strict dress code. Absolutely no suits are allowed in through the unmarked door; you must be dressed comfortably.
Bohemia specialises in delivering drinks in the most bizarre vessels available. Ingenious mixtures arrive as if cobbled together by a mad scientist: some in glasses, others in perfume bottles, a few festooned with bizarre garnishes and even concoctions stuffed into toothpaste tubes.
A surreal, Czech-inspired triumph of socialising and alcoholic engineering.
2. The Bar With No Name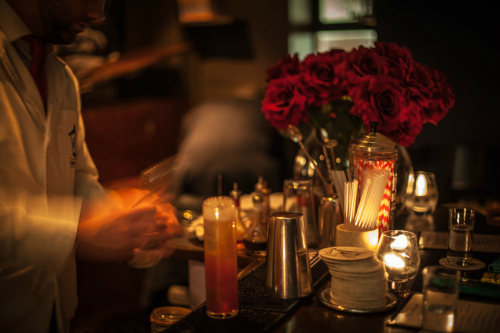 © 69colebrookerow.com
A pair of open doors in Islington gives way to a 1920s timewarp where lab-coated mixologists create new and interesting drinks with a retro vibe.
American classics meet on the menu with modern inventions infused with the unexpected. Live jazz on the piano and slickly suited staff help to create the Gatsby effect. Expect simple cocktails that perfectly combine ingredients for a sophisticated taste.
It's not a surprise to learn that this nameless wonder also does a roaring trade in cocktail master classes, inducting the public into the ways of the Old Fashioned and the Tom Collins.
The Bar is a worthy successor to the prohibition-era speakeasy title and updates the concept to work in this century.
1. Evans & Peel Detective Agency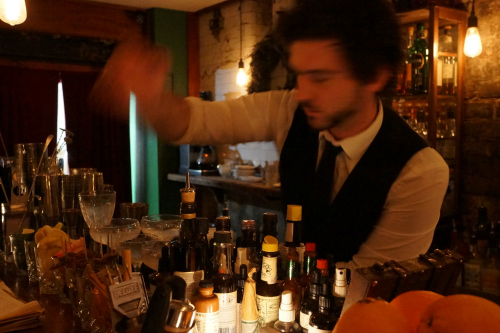 © Jan Mark Holzer
Part bar, part immersive theatre, it's difficult to avoid being swept up in the concept. You don't reserve a table at Evans & Peel, you book an appointment with the detective, and you can't sit down for a drink until you've discussed your case.
This is a slice of 20s New York on modern day Earls Court Road.
Think ahead and come up with a fun story, as you are stuck in this film-noir with the Bogart-a-like until he's satisfied you check out. Once shown into the bar, the act continues.
There are prohibition era cocktails and beer served from taps hidden in radiators. Table service is quick but chatty. Food platters are generous and well put together. Regular jazz and blues performance help guests live out their Bugsy Malone fantasies.
Evans & Peel is not just a bar, but a whole night of gleeful escapism which has drawn A-listers from around the world to sip gin.
Have you visited any of the bars listed above? What's your favourite London cocktail bar? Let us know in the comments!
Article by Andy Scofield, Expat Focus International Features Writer