The Halifax Rural Areas Quality of Life Survey, which is dedicated to the quality of life within rural areas in the United Kingdom, is out – and the Orkney Islands in Scotland have come out on top.
The Halifax survey comes out annually and compares crime rate, employment and units which measure general happiness in different locations across the UK to determine which rural areas in the United Kingdom offer the best quality of life.This is the second year running that the Orkney Islands have held first place and it's a choice that's hard to disagree with. After all, the Orkney islands currently offer high education spending, high personal satisfaction levels, low crime rates, and low unemployment rates –indeed, the Orkney Islands' employment rate is an impressive 87%.
Russell Galley, the managing director at Halifax, said: "With strong education and employment levels, low crime rates and residents loving life, not to mention breath-taking wide-open spaces, the Orkney Islands have retained the crown of Britain's best rural place to live."
The winning formula for this report seems to be places which consistently offer safety, spending power and education. Each area has different aspects which influence the result. For example, education isn't solely about the quality of the school or teacher, but is based on test scores, class size and average spend per pupil.
The result of this year's survey suggest that southern and eastern England are the most favourable places to live, as almost a third of the top 50 rural locations were in these areas. In addition, the survey's findings demonstrated the disparity between areas in the United Kingdom. For example, areas in the South East tend to earn more and have sunnier climates, whereas property sizes, per price bracket, are significantly larger in the North, meaning both North and South are desirable for different reasons.
The following areas were found to be the top ten rural places to live in Britain.
1: Orkney Islands, Scotland
The Orkney Islands are an archipelago just off Scotland's north-eastern coast which boast seal colonies, sandstone cliffs as well as Neolithic sites.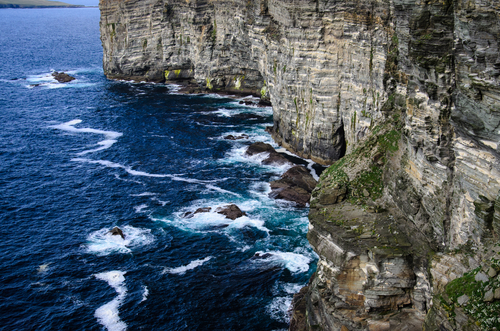 Orkney is a popular destination
The heart of these is a group of sites on the mainland which are over 5,000 years old and include a chambered burial tomb complete with Viking carvings from the 12th century, a reconstructed house and a preserved village.
2: Rutland, East Midlands
Bound to the north-east by Lincolnshire, the west and north by Leicestershire and the south-east by Northamptonshire, Rutland is very much a landlocked location. However, England's smallest county has two ancient market towns packed full of local produce and stunning wildlife.
3: Wychavon, West Midlands
Located in the West Midlands, Wychavon is a local government district in Worcestershire which has a population of just over 116,000. The area is made up from more than 100 villages and hamlets, and has three towns: Evesham, Droitwich Spa and Pershore.
4: Winchester, South East
Located in Hampshire, Winchester sits on the edge of South Downs National Park and is known for its medieval cathedral, which has a 17th century Morley Library and a Norman crypt.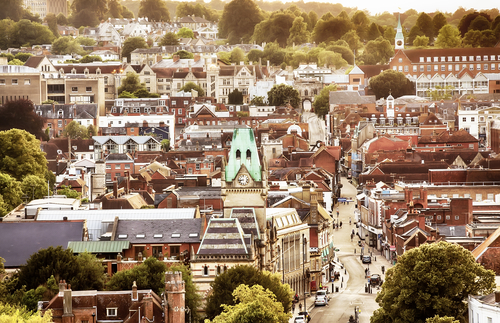 Winchester is a small town on the edge of a national park
Winchester is steeped in history, and boasts an 18th-century corn mill, the ruins of Wolvesey Castle and the Great Hall of Winchester, which houses the medieval round table linked to King Arthur.
5: Waverley, South East
Located in the local government district, Waverly was named after Waverley Abbey, the earliest Cistercian monastery in Great Britain. Waverley's headquarters are based in the town of Godalming, while just to its north is the borough is Blackheath Common, a site of special scientific interest.
6: Craven, Yorkshire And The Humber
In the first century, the Romans had trouble controlling the Brigantes and so they built forts in Craven, North Yorkshire. The first datable evidence of life in Crave dates back to 9,000 BC, while just over 55,000 people populate the area now.
7: Richmondshire, Yorkshire And The Humber
Covering a large northern area of the Yorkshire Dales, Richmondshire is a local government district of North Yorkshire which is larger than four of the ceremonial counties and includes Coverdale, Wensleydale, Arkengarthdale and Swaledale.
8: Stratford-on-Avon, West Midlands
Located in the West Midlands, Stratford-on-Avon is well-known for being the birthplace of possibly the most famous writer in the English language; William Shakespeare.
9: Uttlesford, East of England
Situated in Essex, Uttlesford is a local government district with a population of just under 80,000. The district is most commonly known for London Stansted Airport, which is its largest employer.
10: Ryedale, Yorkshire And The Humber
Settlements in Ryedale include Kirkbymoorside, Helmsley, Pickering, Malton and Norton-on-Derwent. Part of Ryedale is situated within the North York Moors National Park.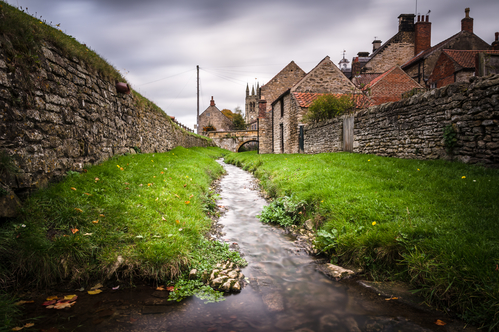 Ryedale is a pretty and characterful part of the country
It is a non-metropolitan district which has been home to athlete Richard Buck, actor James Norton, Georgia Horsely, otherwise known as Miss England 2007, and the indie-pop band One Night Only.
The rest of the results from Halifax's Rural Areas Quality of Life Survey are as follows:
11: South Oxfordshire, South East
12: Selby, Yorkshire and The Humber
13: St Edmundsbury, East of England
14: Suffolk Coastal, East of England
15: Purbeck, South West
16: Hambleton, Yorkshire and The Humber
17: West Oxfordshire, South East
18: Harborough, East Midlands
19: Monmouthshire, Wales
20: Eden, North West
21: South Cambridgeshire, East of England
22: Tewkesbury, South West
23: Chichester, South East
24: Babergh, East of England
25: Maldon, East of England
26: Cotswold, South West
27: Aylesbury Vale, South East
28: Wiltshire, South West
29: West Dorset, South West
30: East Devon, South West
31: Mid Devon, South West
32: Rushcliffe, East Midlands
33: Malvern Hills, West Midlands
34: South Norfolk, East of England
35: South Lakeland, North West
36: Vale of White Horse, South East
37: South Hams, South West
38: Huntingdonshire, East of England
39: Horsham, South East
40: North Warwickshire, West Midlands
41: Shetland Islands, Scotland
42: East Hampshire, South East
43: Central Bedfordshire, East of England
44: Derbyshire Dales, East Midlands
45: North Devon, South West
46: Mid Suffolk, East of England
47: East Riding of Yorkshire, Yorkshire and The Humber
48: Teignbridge, South West
49: Ribble Valley, North West
50: North Kesteven, East Midlands
Do you live in rural Britain? Share your experiences in the comments below, or answer the questions here to be featured in an interview!