Choosing a university is not an easy task for any student. With so many well-reputed academic institutions around the world, picking the right one can be quite a challenge. In fact, a number of teens and young adults have started seeking admission in colleges overseas, so that they can obtain a foreign degree, which improves their future career prospects. At the same time, they get to learn about a whole new culture and lead a completely different lifestyle.Moreover, getting a student visa has also become much easier now as compared to earlier. This has consequently opened up numerous avenues for students of all ages, backgrounds and nationalities. So, if you could study in any university across the globe, which one would you settle for?
The world's most elite institutions for higher education now have a brand new champion. For the first time ever, Oxford has been rated as the best university in the world, according to the Times Higher Education (THE) World University Rankings for 2016 – 2017. Never before has a university from outside of the United States topped the list. In fact, this is the first time in 6 years that the California Institute of Technology (popularly known as CalTech) in the US has not been ranked at number 1; it came in second to Oxford University on the list of the top 10 universities worldwide. Stanford University (the US) secured third place. So what do these scores really mean for a student?
THE's rankings are quite comprehensive and draw on 13 different performance indicators; at the same time, all the institutions are assessed on their Core Missions, which are likely to include not only research but also international outlook, teaching and knowledge transfer. Because of this, universities that are doing well in terms of staff-student ratio, international research collaboration, and income from industry, tend to score better and get a higher rating. It is therefore fair to say that a good global ranking is indicative of excellence in higher education across the globe. A total of 980 universities participated in this survey and the top performers were:
1. The University of Oxford (The UK)
2. California Institute of Technology (The US)
3. Stanford University (The US)
4. University of Cambridge (The UK)
5. Massachusetts Institute of Technology (The US)
6. Harvard University (The US)
7. Princeton University (The US)
8. Imperial College of London (The UK)
9. ETH Zurich – Swiss Federal Institute of Technology Zurich (Switzerland)
10. The University of Chicago (The US) and the University of California, Berkeley (The US)
While Oxford climbed a spot and claimed the number 1 position, causing CalTech to come in at number 2, there were no changes at all in the rankings for the other institutions as compared to last year. Only the University of California, Berkeley made it to the top 10 this year, after climbing 3 spots from last year.
Like every year, the US dominated the table of universities with the best overall ranking in the world, followed by the UK. Other countries that also featured in the top 25 include Switzerland, Canada and Singapore, with one entry each. The nations with the most educational entities in the survey were the US (148), the UK (91), Japan (69) and China (52). However, only the top 200 rated ones can be truly regarded as the most elite universities to study in.
The places with the highest numbers of universities in the top 200 were the US (63), the UK (32), Germany (22), the Netherlands (13), Canada (8), Australia (8), Switzerland (7), Sweden (6), and Hong Kong (5). The comprehensive list of all the participating global institutions as well as their ratings in all the different aspects (citations, industry income, international outlook, research, and teaching) can be viewed on the Times Higher Education website.
So what exactly makes the University of Oxford the best place to study in for people from all over the world? According to the ratings and comments by THE, it was the performance on the indicators that lead to a high ranking. They said:
"Oxford's success can be attributed to improved performances across the 4 main indicators, underlying the methodology of the ranking – teaching, research, citations, and international outlook. More specifically, the institution's total income and research income is rising faster than its staff members, its research is more influential, and it has been more successful at drawing in international talent".
This is hardly surprising when you take into account the fact that Oxford is the oldest university in the English-speaking world. Its exact foundation date is not known but there is evidence to show that teaching here took place as far back as the year 1096 AD.
The second-oldest surviving educational institution across the globe, Oxford lays claim to nine centuries of continual existence. It has adapted to different times in order to grow into the renowned, respected and impressive university it has become. In today's world, the University of Oxford is undoubtedly synonymous with learning, knowledge and future success.
The university has been given top ratings by academics and employers. All of the faculty members are experts in their fields and come with impressive credentials. The tutors use individualized teaching techniques, as they spend an hour each week in discussion with small groups of 2 or 3 students.
This seems to work well as the students believe that the teaching methodology followed at Oxford colleges is outstanding. They aver that the quality of tutorials, lectures and practical sessions is incomparable. A majority of the students claim that they have benefited from the attention and the challenges offered by small group tutorials. This drives them to work harder and, as a result, learn more. It also lets tutors know if any student needs additional support with any aspect of the course.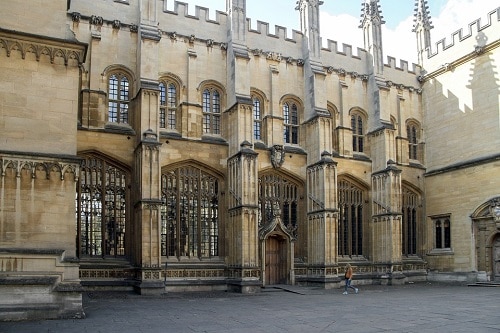 The university has a wide range of colleges and libraries
© WolfBlur on Pixabay
Being a research-driven modern institution, Oxford is known for its strengths, though it cites particularly high prowess in the sciences, and was recently ranked number 1 globally for medicine. Its Medical Sciences division is so large that it would have been the country's 4th largest university if it had been a separate institute in its own right.
The University of Oxford also constantly features among the top 10 for Physical Sciences, Life Sciences, Social Sciences, and the Arts & Humanities. It is also the best in the world for English Language, Literature, Geography, History (tied with Cambridge), and Modern Languages.
The global reach of this school is a lot wider than most people are aware of. Situated in Oxford's medieval city center, the campus is home to 44 different colleges and halls. It has at least 100 libraries, which makes it the largest library system globally. This university runs the largest and most prestigious academic press in the world, with offices in more than 50 different nations. Across the globe, 1 in 5 people who learn English use Oxford University Press materials. This is probably one of the main reasons why almost 40% of its student body is from outside of the UK.
Oxford's total students number 22,000 or so, of whom 40% are international and represent at least 140 different countries. Almost 50% of the students are undergraduates. The university also has an alumni network of more than 250,000 people, which includes around 120 Olympic medalists, 26 Nobel Prize winners, 7 poets laureate, and more than 30 leaders of the modern world. Oxford is also associated with notable scientists, thinkers, writers and actors.
Graduates from Oxford are highly valued by employers world over for their skills, which include communication, presentation, problem solving and leadership. Each year, thousands of national and international recruiters visit the campus with the intent of scouting the best talent. The university helps students learn business skills, find an internship and ultimately find their dream job. Within 6 months of graduating, a majority of the students are known to take up the best employment offers. Of course, several choose to study further. For example, when the class of 2014 was surveyed, only 3% of the graduates were seeking immediate employment and 6% of the students were taking some time out for various reasons, such as traveling.
Advantages of Studying at the University of Oxford
While Britain has numerous world-class universities, Oxford captures the interest of people unlike any other. Below are some of the top reasons why you should seriously consider choosing this university if you are interested in studying abroad.
You'll be taught by some of the most well-qualified and experienced teachers

The lecturers or tutors at all levels are known to be experts in their subjects. A number of them are renowned professionals and have published books or journals in their field. Moreover, they make sure that they provide personalized attention to each student, which makes for intensive learning.
You get to interact with national and international academic scholars from diverse backgrounds

Contrary to what many critics believe, the University of Oxford can boast students from all walks of life. About 40% of the students are foreign citizens, representing 140 nations, and 18% of all the undergrads are from outside of the UK. Most of the overseas students are top students in their home countries and seek admission based on a scholarship.
You are likely to be courted by the top employers in the country

Organizations from all over the world try their best to attract talent from this prestigious university. Studies show that 95% of the Oxford students either get employed or pursue their further education within 6 months of graduating. This is actually lower than some of the other institutions but only because Oxford grads are highly employable and tend to take their time finding their dream job, instead of rushing in. Even undergraduates have numerous opportunities to get noticed in the fields of politics, journalism, debating, drama or activism.
You won't be able to rest on your laurels

Oxford will not allow you to coast through your course without putting in anything less than your best. The personalized style of tutorials will keep you on your toes at all times. Your teachers will expect you to complete a load of homework, projects and assignments on a weekly basis. Moreover, unlike other universities, at Oxford, the final exams are the only ones that count and you cannot bank on marks that you got beforehand.
You will be busier than you have ever been

Be prepared to grapple through piles of work as soon as you get admission in this university. However, you can also get involved in a number of extracurricular activities by joining various student societies and committees. If you are an expat student, this will help you get settled in faster. At the same time, you get more opportunities to improve your social life.
You can learn skills that are very specific

Oxford graduates have a reputation of being professionals who challenge the status quo; they rarely do things that don't make absolute sense to them. During your training and tutorial sessions you will be encouraged to analyze everything you encounter and ask questions. These practices lead to quick thinking and increased creativity, especially in terms of solving problems or working in a smart way.
You have access to an unmatched library system

Oxford University is home to the largest library system in the whole country. It comprises the Principal University Library or Bodleian Library, which has been the legal deposit library for about 400 years, along with numerous other libraries dedicated to languages, art, and research topics. You will find more than 12 million printed items and 8,000 e-journals in these libraries.
You graduate from one of the most famous universities in the world

Do you know of anyone who has not heard of Oxford University? There are only a few other places that are as popular and prestigious as Britain's oldest academic institution. Everyone who has ever studied English will know of Oxford, regardless of their location. You can proudly say that you have a degree from one of the most coveted universities in the world.