If you are contemplating a move to the New England city of Boston, what will your priorities be when it comes to finding out more about your destination? Boston is a popular choice, and is one of the oldest and most sophisticated cities on the Eastern seaboard. We are going to look at ten important things to take on board if you are planning to make the City on the Hill your home.
Can I find a job?
The job market in Boston is still vibrant, with education, finance, IT and life sciences leading the field. MIT and Harvard are located nearby, and companies such as Pfizer, Novartis, Google and Amazon, as well as a number of investment companies, all have a home here. If you are a white collar worker in a high-end industry, you should find opportunities, but the city can be expensive for those further down the employment chain.
What is the housing market like?
Boston is one of the oldest cities in the US, and it has some beautiful old areas, such as Beacon Hill, but these are correspondingly expensive. "Southie" – South Boston – is also popular among families and those who enjoy living near the waterfront, but again, it's not the cheapest place to live. Back Bay is another popular but pricey destination. In all of these areas, expect rents to be around US$2500 to US$3500+ per month. If you are renting, remember that Boston and other nearby cities are college towns and the rental market will reflect influxes of students.
Many people who work in the city live outside it. There is a network of communities that surround Boston, such as Cambridge, Worcester, Quincy and Belmont. Again, prices are not cheap. For instance, a family home in Cambridge can set you back around $750K. In saying this, you may be able to find a house in Worcester for around $250K.
Locals say that the pandemic has pushed up prices for free-standing houses and that it is unlikely that you will be able to get a family house in any good Boston location or in a desirable next-door suburb (Arlington, Belmont, Brookline, Cambridge) for less than a million. However, condo units – which are entire floors of traditional three-deckers, originally built for working-class families but with beautiful detailing – can be found for $750K.
What is the cost of living in Boston?
Boston is not the cheapest city in the US. Living here will cost you 47% more than the national average. LA, Chicago and Dallas are less expensive. Utilities, healthcare and accommodation are significantly more costly here than in other American cities. Locals mention the sales tax on some items and suggest going over the New Hampshire border to save some money when making purchases. Make sure you do your research before deciding whether to relocate here.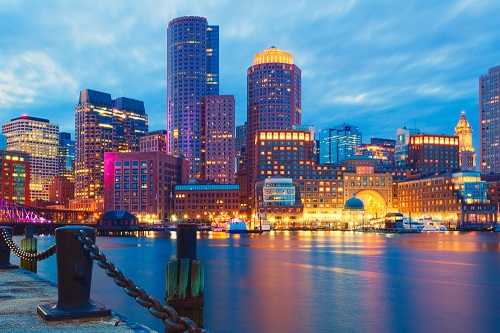 What is the crime rate in Boston?
Boston is relatively safe in comparison to cities elsewhere in the US, but not in comparison to other cities in Massachusetts. You have a 1 in 38 chance of being the victim of violent or property crime, and the crime rate is 97% higher than in the state's other cities. Tourists are advised to steer clear of Mattapan, Roxbury and Dorchester, especially at night. However, there is some evidence that Massachusetts residents are more worried about less-probable crimes (such as home invasion) than actual ones. You are more likely to be burgled when you are out, for example.
What is the quality of life like in Boston?
According to Deutsche Bank, Boston is the eighth best city in the world when it comes to quality of life. Locals say you can live in a house with a garden (if you can afford it) and be downtown within twenty minutes. Boston has some excellent cuisine (the seafood and local beer are of a very high standard) and a large number of restaurants and bars. The nightlife is good, with a range of clubs catering to all musical tastes, and there are also some great options when it comes to theatre.
Boston is one of America's most historic cities, so if you're interested in the past, you'll find plenty to investigate here, along with museums – such as the Museum of Fine Arts, the Museum of Science, and the Harvard Museum of Natural History – and galleries – such as the Harbor Gallery. If you want a break from high-end culture, nearby Somerville has the Museum of Bad Art, too!
There are two world-class orchestras – the BSO and the Boston Philharmonic, which are across the street from each other – as well as many smaller orchestras and chamber/operatic ensembles. Locals tell us that there also used to be a lively jazz and folk scene before the high cost of living caused it to shrink, with people like Bruce Springsteen and Tracy Chapman regularly visiting. For visual arts, neighbourhoods hold open studios regularly.
Is it a healthy place to live in?
The city has over 2,000 acres of parkland and is easily walkable, so perhaps it is no surprise that it is supposed to be one of the healthiest cities in the States. Its healthcare is also of a very high quality, with a number of top-of-the-range hospitals. A number of farmers' markets allow you to have a fresh, healthy diet. The American Fitness Index says that it ranks 7 out of 50 when it comes to America's fittest cities.
If you want to combine fitness with learning, then try the Freedom Trail, which will teach you about the history of the city. Locals suggest walking it backwards, so that you end up in the part that is richest in bars and restaurants – although, this may not be the healthiest option!
If you're a sports fan, Boston is the home of two iconic teams: the New England Patriots for NFL and the Red Sox for baseball.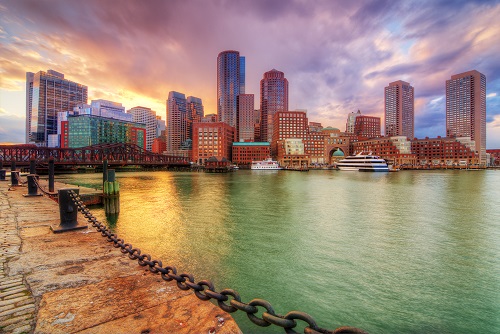 What is the quality of education here?
This area of New England is home to some of the world's greatest educational institutions. We have namechecked Harvard and MIT, but Tufts University, Boston College and Emerson College are also here. The city's public school system has 125 schools, and there is substantial opportunity to educate your child privately.
What is the weather like?
This is New England, so expect cold winters with snow (Boston averages 48 inches a year) and a fair amount of rain. Summers tend to be warm, and in July average temperatures are in the 80s. Fall in New England is notoriously beautiful, and the city's parks will be at their best at this time of year. Locals also recommend spring, when you will find a generous spread of flowering trees, such as apples, cherries, magnolias, and dogwoods. The Arnold Arboretum, one of the city's lungs, is beautiful in all seasons.
Because the state took care of the Charles River, and because there's a network of ponds and wetlands near it (Jamaica Pond, Fresh Pond, the Fenway and the Minot Rose Garden), there is exuberant wildlife that spills into people's gardens: rabbits, raccoons, possums, skunks, peregrine falcons, owls, nighthawks, songbirds and hummingbirds.
What is the traffic like?
Boston has one of the oldest public transport systems in the country. It also happens to be one of the best, which is good news if you are facing a commute, since road traffic here is best described as 'horrible'. In addition, you may think the roads badly signposted. The MBTA (the 'T') is extensive and services a number of surrounding cities. However, central Boston is small enough to be walkable – this is one of America's most 'walking friendly' cities. Uber and Lyft also serve the city.
What will life in Boston be like for my pet?
Boston is, of course, home to its own breed of dog: the Boston Terrier. It is a good city for dog walking, with Boston Common – the oldest park in the USA – having a number of areas where you can walk your dog without a leash.