If you are thinking of moving to the 'Mile High City', then what do you need to know about your destination? Denver has much to recommend it, from its beautiful mountainous location to its vibrant cultural scene. We are going to take a look at ten important things to consider if you are planning to relocate there.
Can I find a job?
Despite the Covid-19 pandemic, Denver's job market has not been completely decimated. It ranked 32nd out of 51 among the country's largest metros in terms of job growth. What work you find will depend on which sector you are involved in.
Denver-based CirrusMD has been recruiting in tele-health. Work in IT is also available; companies specialising in big data and fintech are still hiring. Lockheed Martin Space has its HQ in Denver, and if you're an engineer, then this might be a workplace to consider. The aerospace and defence company has continued hiring throughout the pandemic, and Denver is trying to place itself as 'Aerospace Alley', with companies like Boeing and Northrop Grumman based here, too.
Comcast and IBM, among other big companies, are also in Denver. Employment in the health sector is also possible, with calls for surgeons, physicians and gynaecologists. Food and agriculture are big sectors here. And the (legal) marijuana industry is a big one.
What is the housing market like?
The Denver housing market is the second most competitive in the country. House prices are five times the median household income in the Denver metro area. The average price of a single-family detached home was $615,766 according to one estimate, but even more conservative figures have it at twice the national average. The average monthly rent for an apartment is $1,631, but this is neighbourhood dependent. In the des res Highlands, for instance, you are likely to be looking at more than $2K per month. Hipster River North (RiNo) is somewhat cheaper, with $1700 per month rentals, and the Harvey Park area has homes in the low $400Ks.
Property is still booming in the city, and it is expected to undergo further rises in 2021. So, if you are intending to move here, it is worth lining up a job first. To find an apartment, you can use an agent, or online property listing apps, such as Craigslist, can help. Experts suggest finding a short-term rental first and using it as a foothold to find somewhere more permanent.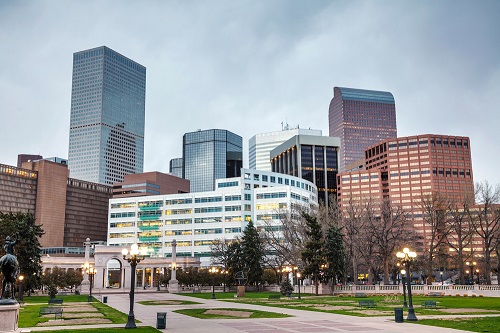 What is the cost of living in Denver?
The cost of living has been driven up by house prices, but it is still regarded as affordable. Income tax is at a flat rate here, and property taxes are comparatively low. Healthcare comes in at over the national average, however. Note that salaries here fall below the national average and are not keeping pace with rising housing costs.
What is the crime rate in Denver?
A recent survey lists Denver as the safest city in America, and, although crime rates have risen, including violent crime, they are still low in comparison to the national average.
What is the quality of life like in Denver?
The quality of life here is high. Denver is a vibrant, go-ahead city, with the second largest arts campus of its sort in America, the Denver Performing Arts Complex, which is home to the Colorado Symphony Orchestra, Opera Colorado, Denver Center Theater Company and the Colorado Ballet. Denver also hosts the Cherry Creek Arts Festival for those interested in arts and crafts.
If museums interest you, you will find the Denver Art Museum and the Museum of Contemporary Art. If you're more of an outdoors person, then there's plenty of scope for snowboarding, skiing, hiking and other activities up in the Rockies. There is a thriving retail scene. And it's one of the beer capitals of America, with around 300 microbreweries!
Is it a healthy place to live in?
Remember that it's not called the Mile High City for nothing. As such, you may find that you need to acclimatise to the altitude a bit in your first few weeks here. Make sure that you don't overdo it!
Otherwise, Denver frequently makes the top ten lists of America's healthiest cities. It has numerous green initiatives and some of the main healthcare facilities in the state. If you're a sports fan, the NFL Denver Broncos are based here. If you prefer baseball, then you can follow the fortunes of the Colorado Rockies.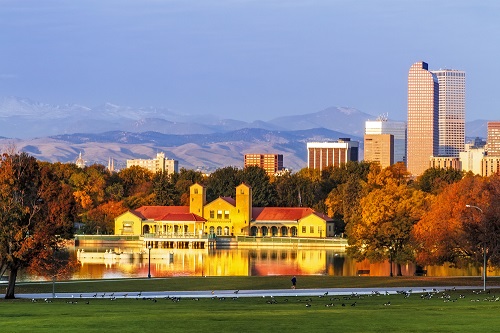 What is the quality of education here?
Colorado's public school system has had difficulties over the past few years, with some big achievement gaps that seem primarily race-related. There are 84 top private schools in Denver County, with 50% of these having a religious affiliation (mainly Catholic and Jewish). Denver has an international school, where there is teaching in French, Spanish, and Chinese, with programs that are accredited by ministries of education in France and Spain, as well as the Hanban in China. Higher years are taught the International Baccalaureate.
What is the weather like?
Summers here are hot, while winters are cold and dry. Throughout the year, the temperature varies from 22°F to 89°F and does not usually fall below 6°F or rise above 96°F. Denver is supposed to be one of the sunniest cities in America, with over 300 days of sun per year. Temperatures can rise and fall substantially throughout the day, so consider wearing layers of clothing.
What is the traffic like?
Denver's traffic is bad and reportedly getting worse. Experts say that Denver needs to raise its gas tax and put more money into funding public transport and infrastructure – the roads here are not in a good way, and traffic into ski resorts at certain times of the year can be heavy. A 4WD is recommended.
Trains and buses are likely to become a more efficient way of getting around than the car, and a lot of locals rely on the RTD, but Denver is also bike-friendly. Rush hours at either end of the day are the worst times to travel, but expect traffic build up for an hour or so on each side of these periods. Denver International is the sixth busiest in the USA.
What will life in Denver be like for my pet?
Colorado generally is dog-friendly, and you should have no shortage of places in which to walk your pet.