If you are contemplating a move to the Prairie State, you will find three 'C's – corn, cold and Chicago. Illinois farmers rank highly for corn production, and winter temperatures are forced down by winds coming off Lake Michigan. Nonetheless, the state has much to recommend it. So, what will you need to know before you go to Illinois?
Can I find a job?
If you are looking for employment in Illinois, it is encouraging that about half the top twenty employers are outside the Windy City, and there are jobs available in a wide variety of fields. McDonalds and Walgreen are the state's two largest employers, with Boeing, United Airlines, Caterpillar and Sears not far behind. Food production and packaging, insurance (State Farm is huge), education, transport, services, agriculture and machinery, construction and design are all industries looking for employees. That said, it is probably wise to line up a job before you go.
The average Illinois salary in $67,000 (only a little lower than Chicago).
What is the housing market like?
The median house price in Illinois is around $185,000 – this is significantly lower than the national average. There are bargains to be had, but factor in that you will need to pay for heating. You may wish to consider short-term rental if you are buying, to allow you time to familiarise yourself with the area.
Rental prices in Illinois are generally affordable. While the price will vary from city to city, a two-bedroom apartment can be found for $1,000 upwards, which is significantly less than the national average. Springfield, East Peoria and Quincy are said to be among the cheapest cities, while Chicago is the most expensive (although even Chicago is competitive in comparison with other US cities).
Whether you wish to rent or buy, you should be able to find local agents who know the market and can help you. You can also use online listing apps, such as Craigslist.
What is the cost of living in Illinois?
With housing being relatively cheap, the cost of living in Illinois is slightly below the national average. Accommodation is still going to be your most significant cost, but utilities and general expenses are averagely priced. State income tax, at a flat 5%, is relatively low.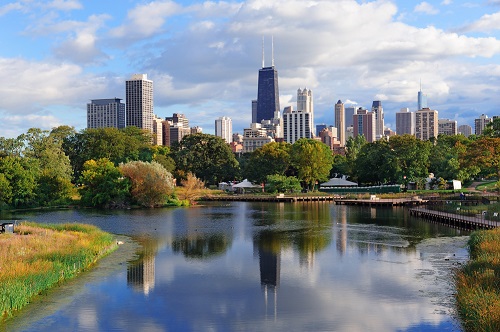 What is the crime rate in Illinois?
Crime in Illinois has been on the decrease in recent years, but is still very slightly higher than the national average. Figures vary considerably from place to place, and violent crime figures can be sharply altered by random local incidents.
What is the quality of life like in Illinois?
People who live in Illinois love it and make the best of the winter harshness by participating in various sporting and outdoor activities. There are dozens of state and local parks, and a wide variety of activities are catered for. Plus, Lake Michigan is huge, so water sports are often just a drive away.
Food across the state is of good quality, especially if you like casseroles, and there is an abundance of fresh produce available, too, at any of the 8,000 local farmers' markets. There are also numerous vineyards.
Once every decade or so, you will find a fourth 'C' – cicadas – and they are due to emerge in spring 2021! Millions and millions of them. Buy ear plugs.
Is it a healthy place to live in?
'Healthy Illinois' is a recent state plan to improve the health of citizens and shows that the legislature is prepared to face underlying issues. Part of the aim of the programme is to provide affordable health insurance for all state residents.
Illinois' cities have their own fitness provisions, which can vary considerably. There are state-sponsored programmes to help combat obesity, and every city has gyms, parks and other public spaces for exercise.
You can do winter sports, provided you wrap up warm, and there are over 300 state parks, which offer a wide variety of hiking, biking, camping and fishing activities.
What is the quality of education?
Improvement of public education is a priority for the state legislature, and there are private and affiliated schools throughout the state to consider. College facilities in most towns are adequate and relatively well-funded, but, with the exception of Chicago, Illinois is not the best state for university education.
What is the weather like?
Summers are long, warm, humid and wet. Winters are very cold. Normal temperatures range from 18F to 85F. Snowfall varies – up by the Lake, there can be as much as three feet annually.
There is plenty of rainfall, too, even in the summer, which is good for growers.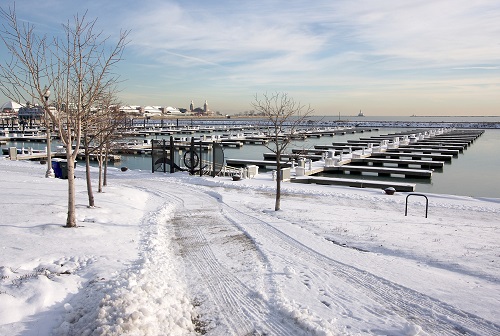 What is the traffic like?
Potholes are perhaps the largest single complaint of Illinoisan drivers. Weather extremes and funding pressures conspire to make for some interesting journeys, even on major highroads.
Snow is an obvious hazard, and winter driving can be disrupted considerably. Most cities are well set to manage, with salt and snow ploughs, but out in the country roads can be blocked fairly frequently. Sometimes, it takes a while to get the ploughs to more remote areas, so checking your local weather and traffic guides is essential if you have to travel any distance in winter.
Generally, rush hour traffic in most Illinois cities (outside of Chicago) is not considered terrible. You will need to check details for your chosen destination.
What will life in Illinois be like for my pet?
You will find a fair welcome for your pet in most areas and plenty to do. There are dog beaches, dog parks and dog walking facilities throughout the state, such as Mayslake Forest Preserve and Shawnee National Forest.
Many cities have dog-friendly hotels, but the state has banned dogs from restaurants and bars, including outdoor eating areas. Additionally, cities will ask you to keep your dog on a leash except in designated areas. However, with so many wide-open spaces, there are plenty of opportunities for your dog to enjoy life to the full.