If you are contemplating a move to the beautiful West Coast city of Los Angeles, you may be wondering what you will need to know before you go. Home of the film industry, legendarily glamorous LA is nonetheless host to a wide range of other job sectors, too. We will take a look at your top ten questions relating to the City of Angels below.
Can I find a job?
LA is a highly competitive environment when it comes to employment, particularly in the entertainment industry – but this does not constitute the whole of the job market. Marketing, tech, healthcare, environmental services and the service industry are also all big employers. Symantec, SpaceEx, Netflix and Verizon all have a presence in LA, and this is a city of tech start-ups and freelancers. It is a good idea to get work lined up before you go, and be aware that it is an expensive place to live.
What is the housing market like?
Accommodation is expensive in LA. Rental costs depend on your selected neighbourhood. Beachfront properties are pricey – apartments can cost around $4K per month – but you can get an apartment in some parts of the city for $1500. Basically, the closer you are to the coast, the more you'll be paying per month. However, North LA is still cheaper than the west of the city: Eagle Rock, Glassell and Highland Park are all options. Average rent in Echo Park, which is downtown, is upward of $2K per month but is still affordable, and some areas beyond the city, such as Burbank, are worth looking at. Not all of LA has yet been subject to gentrification, and you can find some pockets of cheaper areas.
If you are intending to buy, average house prices for a family home in the Greater LA Area are around $650K. Again, this is very much dependent on your neighbourhood, but limited development and high desirability mean that house prices are high.
To find an apartment, you can use an agent, or online property listing apps, such as Craigslist, can help. Experts suggest finding a short-term rental first and using it as a foothold to find somewhere more permanent.
What is the cost of living in Los Angeles?
The cost of living in LA is estimated to be 48% higher than the national average. In other words, this is not a cheap city to live in. Housing costs will make up the bulk of your outgoings, but transport could also make up a significant chunk, depending on the length of your commute. However, in spite of the city's justified reputation for high-end glamour, there are still a number of low cost or no cost entertainment options, such as the parks and the beaches. Running trails will be cheaper than a gym membership, too.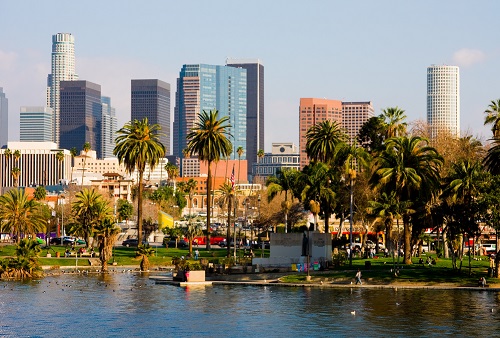 What is the crime rate in Los Angeles?
The crime rate overall has been decreasing in LA in recent years, but the murder rate rose by 20% in 2020. The area around Vermont Square has been particularly badly afflicted, and this is gang-related. However, the FBI reported at the end of 2020 that LA has the biggest decline in crime of any major American city.
What is the quality of life like in Los Angeles?
The quality of life in LA can be excellent – it depends on your income! LA is, after all, home to the entertainment industry, and you will find a very vibrant cultural life. LA is a diverse and cosmopolitan centre, with an emphasis on multi-culturalism. There are some great shopping and eating opportunities; the city has some famous hotels and restaurants, and a thriving music scene, too. Combined with the pleasant weather and an outdoors lifestyle, there's a great deal to like about life in LA.
Is it a healthy place to live in?
The emphasis placed on image in LA means that it is geared towards a lifestyle that's healthy and all about keeping fit. You'll find plenty of gyms and exercise classes, along with a great many vegan and vegetarian eateries. Beyond the city, the San Gabriel and San Bernardino mountains, plus the Angeles National Forest, offer significant opportunities for hiking and other activities, such as rock climbing. The Greater Los Angeles Area, such as Santa Monica, has some outstanding beaches, too, so there's lots of choice when it comes to water sports and sailing.
What is the quality of education?
The University of Southern California and UCLA both have homes in LA, and the public school system is extensive – but it can vary in quality. You may have heard about the Californian schools crisis, and, until recently, the LA public sector has been prone to underfunding and overcrowding, although it has been improving in recent years. You may want to consider the private sector for your child, but be aware that not all private schools are of equivalent quality. There are also a number of not-for-profit charter schools, which are part privately funded. Magnet schools – which have a specific focus for gifted children – also have a presence.
What is the weather like?
The city has a Mediterranean climate and is mild to hot year round. It is also quite dry, although you will find rain throughout the winter (November to April). The Santa Ana winds often result in some dry and dusty days, and the surrounding area is prone to wildfires, so be aware that, in some parts of the greater city area, this can be a problem.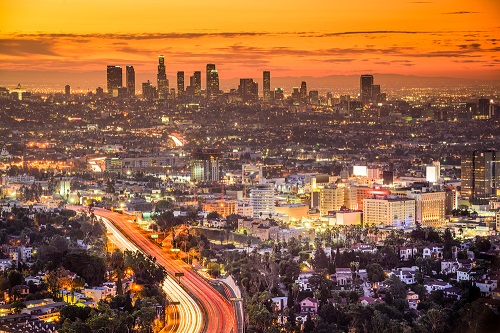 What is the traffic like?
Traffic in LA is legendarily awful, and in a spread-out city of around 4 million people, a large percentage of whom commute, plus a not-very-adequate public transport system, its reputation is deserved. Your distance from your workplace is going to be an issue, and you will need a car if you're living in the suburbs.
What will life in Los Angeles be like for my pet?
Boardwalks rather than beaches are a possible destination for your pet, although some beaches will allow dogs. In general, LA is a dog friendly city, with lots of dog-oriented facilities and pet-friendly restaurants and parks.