If you are thinking of moving to America's capital city, Washington DC, what are your priorities going to be when it comes to finding out more about your destination? We are going to take a look at ten important things to consider if you are planning to make Washington DC your home.
Can I find a job?
If you are an IT specialist – particularly if you have expertise in data analysis, database administration, statistics, and an understanding of federal policy – you should be well placed to get a job in Washington DC. Social reform and health are also areas that attract skilled professionals. The Office of Labour Market Research and Information (OLMRI) predict that IT will be the main sector in the early 2020s, but there are also jobs in management, education, law, market research, business operations and PR.
Washington is not a cheap city in which to live, and blue-collar workers may have difficulty in finding accommodation within a viable commuting distance. Leisure and hospitality used to be big sectors but have been bleeding jobs recently. Unemployment levels are quite high, although they are slightly improving, according to the most recent year on year figures.
What is the housing market like?
In a word, 'expensive.' This is because land prices are so high in this area – twice those of Boston. Zoning regulations have resulted in a shortage of housing, and demand exceeds supply. Zoning means that denser housing cannot be built on the most costly land, and this drives house prices up. Real estate agents report that the median rent in Washington is $1,608 for a studio, $1,558 for a one-bedroom apartment, and $1,575 for a two-bedroom apartment.
If you are thinking of buying, take a deep breath: the median price for a single-family home in the district recently crossed the $1 million level for the first time ever (at $1.1 million). In the Palisades neighbourhood, the median price of detached homes was $2.1 million. Throughout the Washington region, overall, the median price of a single-family home was $647,500, a rise of 14% from recent years.
To find an apartment, you can use an agent, or online property listing apps, such as Craigslist, can help. Experts suggest finding a short-term rental first and using it as a foothold to find somewhere more permanent.
What is the cost of living in Washington DC?
It was estimated a couple of years ago that you will need a salary of $143K to live comfortably in DC, and that will have increased alongside the rise in house prices. The estimated monthly costs for a family of four come in at $4,045 without rent, and just over $1K per month for a single individual. Basic utilities for an apartment cost on average $150 per month.
What is the crime rate in Washington DC?
Violent crime has decreased in the city by 4%, but motor vehicle theft has spiked and, although the rate of violent crime overall has gone down, the murder rate has increased by 19%. Your chances of being involved in any sort of crime are around 1 in 17, and the crime rate overall is that 60 in every 1,000 people will be the victims of a crime. For the States, this is quite high. In 2018, DC was America's 16th most dangerous city.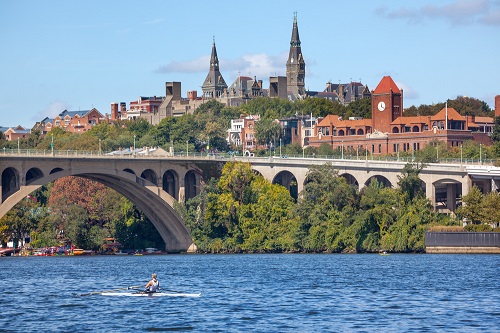 What is the quality of life like in Washington DC?
The pace of life in Washington DC is quite intense. People work hard and are prepared to sacrifice some, at least, of their social lives for their careers. However, the city is a major cultural centre, with a number of theatres and opera companies, and it is also a centre for Black American culture, due to the demographics of the city. The National Museum of African American History and Culture is located there. Other museums include the world-famous Smithsonian, the National Portrait Gallery, the National Air and Space Museum
and many more. In addition to its cultural life, the city has a range of outstanding restaurants and cuisines from across the world.
Is it a healthy place to live in?
Washington is estimated to be the fifth healthiest city in the USA. It is a good city for walking, and it has a number of beautiful parks.
What is the quality of education?
Washington is a major educational centre, and higher education facilities include the University of the District of Columbia, Georgetown University, and George Washington University, among others. If you have children of school age and intend to enrol them in the public school system, you may find that your choices are restricted by location, but there is a wide range of private education, and there are a number of highly regarded international schools for expat children. Check with the Association of Independent Schools of Greater Washington for further information.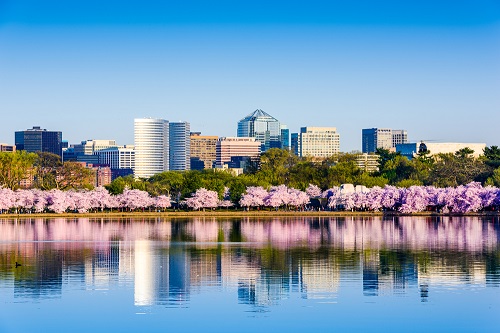 What is the weather like?
Summers are hot and muggy (be prepared for very high humidity) – DC is not nicknamed 'the swamp' for nothing. Winters can be extremely cold and prone to heavy snowfall. Temperatures vary from 29°F to 88°F and do not usually fall below 17°F or rise above 96°F. The hottest month is July, and the coldest is January.
What is the traffic like?
Traffic is bad and getting worse. Washington DC is estimated to have one of the biggest traffic problems in the USA, partly because the infrastructure of its public transport is in need of maintenance. If you are commuting from the suburbs, you will probably end up relying on your car or the metro, since bus services are not really adequate.
What will life in Washington DC be like for my pet?
Washington is quite a dog-friendly city, with a number of parks, dog-friendly hotels and restaurants (you can take your dog onto the patio, in a number of places). However, in order to bring your pet into the district, your pet will need a Certificate of Veterinary Inspection, and this must be issued within 30 days of travel by a licensed vet. You will need to vaccinate your dog against rabies and distemper, and cats must be vaccinated against rabies at least 30 days before travel.