Jennifer, you've recently written a guide to US university admissions for expats. Tell us about the book and its aims.
Yes! There was a huge need in the market to help international families and expats through this very complex and complicated process. An ethical, thoughtful, comprehensive, knowledgeable and easy-to-use guide did not exist. I knew I needed to write this. Now families will gain, for the first time, a full understanding of the process and also be guided through every step they need to take for applying to US universities, including the interviews, the writing, their activities, filling out all parts of the application…all from their unique perspective and experience.The aim of the book is two-fold: 1, to give a very detailed, accurate, step-by-step approach and guidance to every and any international family and student going through the process from A-Z; 2, to educate the reader on how and why the process works, the cultural nuances of the US admissions process and to embrace and champion your very unique and exceptional self. This latter part is fundamental for developing a confident and poised applicant who is aiming for her best-fit institutions. The result will be a successful application.
In brief, my book includes:
• Every action step (Milestone) the student & family must take in the process is covered. Insider tips, comments and alerts accompany each. All Milestones incorporate worksheets and reasoning for why they need to be done, when, and how each will affect the application.
• Every chapter begins with a Case Study of an actual student of mine. Read feedback and advice from both students and parents on specific Milestones throughout the guide – giving you the most realistic picture of how the process works, how to manage it, and how to succeed.
• Learn what type of universities are best for you and how to determine what your fit truly is. With thousands of schools to pick from, it's important to first figure out who you are and what you want, your interests and passions.
• Learn what colleges want, what they care about, and what will make your application stronger (or weaker) by staying true to yourself and the fit between you and the university. A full Writing Handbook is included that covers how to write your own powerful, meaningful, and unique essays staying true-to-self and standing out to admissions.
What are some of the main differences between studying in your home country and studying abroad?
Like so much in this process, "it depends"—and in this case, it really depends so much on your home country vs. which country/countries you are considering applying to and attending for university.
Pedagogy, campus life culture, professor-student interaction, how one is assessed, programmes, extracurriculars, opportunities for internships or dual degrees…all of these vary so drastically from one country to the next, and then oftentimes from one university to the next. Understanding and knowing this will be critical for any applicant.
That said, my students choose to study in a country that is not their "home" country. They all have different reasons for why this is the case—and oftentimes reflecting their research on the factors I mention above along with myriad others—but the end result is always because they have found their fit in the institutions, the universities, to which they are applying.
As expats, we literally have the entire world open to us. We have open minds, we look to be engaged in new ways, we look to surround ourselves by diverse networks. And we have diverse interests. The university you choose to attend should reflect this and encourage this.
Oftentimes my students will tell me that they cannot live without diversity, without choice, without debate and critical thinking in the classroom. This is what they have become accustomed to being the norm. In some cases, their home country's higher education system will not be a fit for them in this respect. In some cases it will.
This is where research and being a very, very educated "customer", or applicant, is critical—so critical!—if you want to go through this process correctly and have success with it. It can be overwhelming for expats because you have so, so many choices. Don't be intimated by that. Step by step and learning as a process is key. This won't happen—and should not happen—overnight.
What unique challenges do expat students face at American universities, and how can they address these?
I have a great example! One of my former students just left my office. She was generous enough to come by, sit and talk to me about her first year of university in the US. Imagine that she had never been in the US before she landed for orientation less than a year ago! She shared with me things many of my students experience that may or may not be challenges depending on the environment, culture and country you come from: lots of political discussion on campus; students voicing their opinions openly and freely; what is being "PC"—"politically correct"–and how to "manage" this; active involvement of administrators and faculty with the students; openness about support (psychological, academic, etc.); a domestic student not being able to identify on a map where you're from; "campus spirit" and rallying around your university sports teams; being so far from home…
These were some of her examples specific to her own experiences growing up and then going to her specific university in the US. One of the beauties of American universities is their support system and support network. As an international student you will have your own international student orientation before you start university and before the entire freshman class orientation. You will be assigned academic advisors and will also be guided through terms that you may never have heard of ("registrar's office"; "drop-add period"; "credits"; "pep rally"; etc.). There is almost always a fully staffed "international students" office on every campus too! I worked for several years on campuses. Administrators and professors work on campuses because of their love for education and being around students. They want you to succeed and be happy. You won't be left without support.
That said, regardless of how much support we have, when we transition—as we know as expats—there is always a period of time that we have to be patient with ourselves to get acclimated. This is where the support system is important. I've never had a student find they could not get the support they need, whether professional or personal, social or academic. And, of course, the transition period is very personal and individual. However, every US university is well equipped to address these challenges international students face.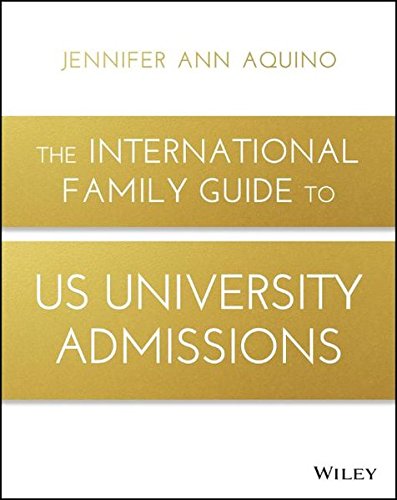 The International Family Guide To US University Admissions
Your guide also focuses on the students' families – why is this such an important aspect?
This is a great question! Thanks for asking it as it's critical. There was no way I could write this book with the intention I had—as I mention above, being comprehensive, holistic and ethical—without it being for the entire family.
While it's the student who will attend, it's the entire family that is a stakeholder. Everyone has a part to play—and everyone must be involved. However, the level of involvement of each is critical. I am very clear in advising the reader when I believe it's critical for the parents to step aside or when I think it's time for the parents to step in. I have no ulterior motive here other than to see the student have success and I know when the parent needs to just let the student have his say and also when the parent needs to step in and make her case. Throughout the book, I speak to the entire family, to the parents and to the student at times speaking to the student directly, at times the parent, at times everyone.
Are you an expat yourself? Where did you move from and to, and what prompted you to relocate?
Yes, for the past 13 years. I am American and left the US (Boston, Massachusetts) for work 13 years ago as I was recruited by a university in Spain to run their international MBA programme (IE Business School which is now a part of IE University). I had been working at a university in Boston at the time as their Director of Education Abroad. It was a fantastic opportunity both professionally and personally and I had always wanted to move back to Spain. (I had studied there on numerous occasions and finished my Master's degree in Spain.) It helped that I spoke the language fluently.
From there it has not stopped. My partner (Swiss-Spanish) and I moved from Madrid on to Singapore where we spent about 3.5 years. From there we moved on to Auckland, New Zealand. We were in New Zealand for over 2 years. We are now back between Singapore and Geneva but spend several months of the year also in Spain.
But this is nothing compared to my students and families! The experiences and lives they've lived are remarkable. I am always so amazed by my families. They teach me so much.
If you could give one piece of advice to people who are thinking of studying at an American university, what would it be?
There are over 3000 universities in the US and there is a fit for everyone. If you're thinking of studying in the US, my advice is very simple but also requires a lot of work: commit to understanding the process (and avoiding heresay or "what your friend tells you"!) and commit to understanding and knowing and embracing who you are. US university admissions is based on fit. If you can define and defend your fit for an institution adroitly and effectively, you will be able to put forth strong and meaningful applications. If you do this, you will have success. You will end up attending a university that you love, one that wants you and welcomes you on their campus and will be supported to achieve what you want.
You also run a private consultancy which helps people to achieve their educational goals – tell us a bit about that.
Yes, I work with a very small case-load of families on a referral basis guiding them through and to their educational goals and also work with institutions to help educate and guide their communities—administrators, teachers, students and parents—through the university admissions process and post-secondary school lives of their students. I am certified by IECA and International ACAC and am on the Global Committee for IECA.
Finally, when you're not working, what do you enjoy doing in your spare time?
I love to do yoga and swim. I am an avid reader and always have a book with me—fiction, biographies, history. I love writing (I keep a travel blog), art, photography (not very good at it) and trying new vegetarian recipes. And…I love—love!—tasting and trying new dark chocolate tablets and bars and seek them out in every country I visit.
Written by an experienced international educator and counselor, The International Family Guide to US University Admissions (Wiley & Sons, June 2017) is a resource to help international families and students apply for admission to US universities. You can buy it on Amazon.