The independent principality of Andorra is a tiny gem of country, hidden away in the Southwestern part of Europe. It is situated high up in the eastern Pyrenees mountains, bordered by France on one side and Spain on the other. The world's 16thsmallest country, it was almost isolated once upon a time. However, in the recent past there have been a number of factors that have put this small nation on the globetrotter's map. Today, it is booming in many ways, including tourism; data shows that each year, around 10 million visitors from across the globe are drawn to this place because of its climate, scenery, activities, winter sports, and shopping.In fact, Andorra has also been gaining a significant amount of popularity with expats who are on the lookout for their next destination. Read on to find out why Andorra should be your next expat home.
Taxation policies
It is nearly impossible to discuss this country without referring to it as a tax haven! According to a number of sources, Andorra offers the lowest overall taxation rates across the developed world. This is mainly because it is a neutral state, and the fact that it does not have an army to maintain.
Moreover, not a lot of money is required to run a country that has a population of around 65,000 people. The residents of this nation therefore do not pay income tax, corporation tax, wealth tax, and inheritance tax. However, there are a couple of taxes that have to be paid by everyone.
Taxes on local property amount to about 0.05% per annum. Sales tax can be as low as 4%. People pay Value Added Tax of 4% on regular products, 8% on special items, and 12% on luxury goods. There is a tax on certain imported items too.
The profits of an organization are taxed at 10%; however, companies have the opportunity to reduce this to barely 2% by meeting certain criteria. Because of this policy, Andorra is often listed as being among the best places for business.
In the past the residents of this country did not have to pay capital gains tax either. However, in the recent past, Andorra has introduce capital gains tax on property that has been purchased and sold in order to contain the massive hike on property values seen in the last few decades.
In 2013, the government announced their plans to introduce an income tax and two years later, in 2015, a flat rate of 10% was imposed. Those who are employed pay social security taxes at the rate of between 5% and 9% on their pay and their employers pay 13%.
As a foreigner residing in Andorra, you may be subject to the taxation policies of your home country. It is therefore important for you to consult a tax expert to avoid any penalties.
Ease of obtaining a residence visa
The procedure to apply for a long-term permit to live in this counrty is quite straightforward and won't make a huge dent in your pocket. Moreover, compared to several other places, the requirements laid down by the Andorran government are minimal.
The number of outsiders moving to this country has increased significantly in the last few years and the government has therefore introduced selective methods of admitting new residents. A Resident Permit, or Residencia, is available to all applicants that have a bona fide address (not a hotel or post box) in this principality and who wish to live there.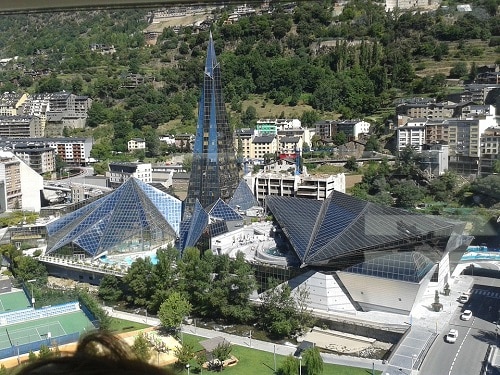 Andorra is a small country with great infrastructure
© jribes on Pixabay
As a foreigner, there are two types of residency that you can opt for: Passive and Active. Passive residency, as the name suggests, does not allow you to work, though you can live in the country for 90 days a year. If you plan to work or run your own business, you will have to apply for an Active residency.
Once all the documents are in place and have been submitted to the immigration authorities the application is processed in about 8 weeks. In all probability, you will have to go through an interview, which will be in Catalan. So do make sure that you are familiar with the language or take a translator along.
If the application is accepted, your Residencia will be issued for a period of one year; after that, you can get it renewed for a period of three years.
There are a number of agencies that assist foreigners with the procedure as well as paperwork at a fairly moderate cost. The charges for VIP services like fast tracking of the application process, translators, and wealth management consultation are likely to be much higher.
Life expectancy
More than 80% of Andorra consists of natural wilderness, which is great for one's health. The weather also encourages people to spend a lot of time outdoors, breathing in the fresh air. As a result, this island has become a highly popular retreat for patients that suffer from bronchial or respiratory illnesses.
Locals lead a very active, healthy, and alpine life. The local cuisine has been strongly influenced by the French, Spanish and Portuguese and is known to be high in nutritional value.
It is therefore hardly surprising to know that Andorra has one of the highest life expectancy rankings in the world. Coming in at number 6 in a survey conducted by Geoba.se, on average, the people of this country live to the age of 82.58 years.
Standard of living
There is a reason why this landlocked state seems appealing to the "VIP" category of residents, whether they are professionals or entrepreneurs. According to the International Living Index, Andorra ranks at number 12 among all countries for its living standards. Its GDP Per Capita Index is higher than countries such as the US, Germany, Japan, Spain and France. Andorra comes 5thin this index, after Monaco, San Marino, Luxembourg and Lichtenstein.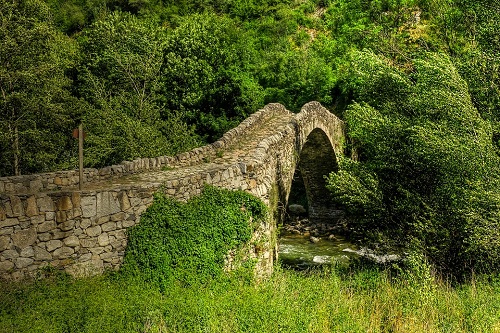 The beautiful scenery and many walking trails make for a great quality of life
© herb1979 on Pixabay
In spite of being a very small country, Andorra has managed to offer its residents a lot, especially in terms of career opportunities. The tourism industry has offered a lot of jobs to both locals and expats. Unemployment in this country has been low, even though its neighbors, Spain and France, are seeing heightened unemployment. The Principality may have been shielded from the European Crisis because of its size and relative wealth.
Moreover, its housing options, healthcare facilities, education, security, and overall infrastructure are of great quality. While the population is small, you have a wide variety of residential property to choose from. People find it very easy to commute without wasting much time, since the place is quite small. There is plenty to do all year long, which keeps people occupied and happy.
Cost of living
Most countries that have advantageous tax policies tend to be on the expensive side when it comes to housing, utilities, commuting, leisure and entertainment. While Switzerland, Dubai and Monaco are perfect examples of such places, Andorra can be regarded as an exception. In fact, this country is much cheaper than most other developed European nations and almost 40% less expensive than popular expat destinations like Hong Kong and Singapore. You can lead a comfortable lifestyle and spend less each month than you would in the UK, France or Germany.
The prices of food, household appliances, luxury goods, and alcohol in this Principality are between 10% and 25% lower than other EU nations. Items such as clothes and electronics also tend to cost 15% to 20% less than in Spain and France. This could be because people can purchase a wide range of products at duty free prices.
In spite of being a small country, Andorra is home to at least 2,000 boutiques and shops that stock a wide range of products to suit every budget. The competition helps keep prices fairly stable, and many of the stores offer great deals and discounts.
This applies to restaurants, bars, and cafes too; you can easily cut down on your monthly expenditure even if you eat out on a regular basis, just by choosing the less expensive eating joints. You can easily get a 4-course meal at an averagely priced establishment for less than € 20.
Political stability and low crime rates
There are no issues or concerns with Andorra's political situation. The world's 14th oldest state has safeguarded its neutrality for about 700 years. As a co-principality, this island was earlier governed by the residing French President and the Catalan Bishop of Urgell jointly, who were the legal heads of the state. However, since 1993 Andorra has had an independent democratic government of its own. This country joined the United Nations as well as the Council of Europe in the same year.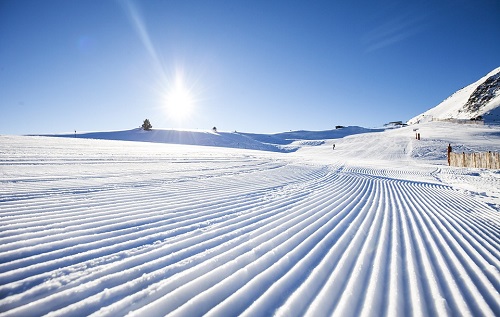 The beautiful mountains and popular ski slopes are a huge draw for expats and tourists alike
© jrodriguez on Pixabay
Safety is one of the biggest factors people consider when choosing an expat destination and Andorra ranks among the top when it comes to this index. A number of reliable expat surveys have rated it as being 100% safe to walk around during the day and night. This score is even higher than Singapore's.
Location and proximity to popular holiday destinations
Many expats who dream of moving to Europe cannot lead the life of their preference because of the high costs of living usually associated with this continent. However, Andorra is located at the heart of Europe but is not as expensive as its neighbors.
It is a two-hour drive away from great vacation spots like Barcelona, Perignan, and Toulouse, as well as the beaches of Tarragona and Costa Brava. It is directly connected to the airports of Barcelona, Gerona, Reus, and Toulouse. People can also take advantage of the numerous helicopter services, chauffeured limousines and shuttle buses available to travel between cities.
Entry to this Principality has been further enhanced with the Pyrenees Airport in the town of La Seu D'Urgell, Catalan, which is around 8 kilometers away from the border. This facility has established direct connections to some of the major cities in the UK and Spain, as well as most of the other major European capitals.
Climate and scenery
Summers here are warm and sunny, without being as sweltering as Spain. During these months, the temperature usually ranges between 10ᵒC and 26ᵒC. The residents receive more than 300 days of sun throughout the year. Because of this, Andorra is often referred to as the most sunny ski and thermal resort in Europe.
Winters are cold, but not very harsh; those who like the cold should spend a few months between October and March in this country, as the temperatures range between -5ᵒC and 10ᵒC. The place is famous worldwide for its ski slopes and resorts.
The environmental conditions are also ideal. There are no major industries and around 40% of the land is a national park, which is under the protection of UNESCO. Because of the mild, pleasant weather and clean air, the people of Andorra spend a lot of time outdoors. There are numerous parks to be found throughout the mountain scenery.
Education
Andorra has numerous public schools that offer free education to the residents. However, the language of instruction and learning will be French, Spanish, or Catalan.
The country also has an international school, where most of the subjects are taught in English. The registration fee is around € 750 and parents pay approximately € 700 per month or € 8,400 per year per student as tuition fees.
Things to see and do
Sports and outdoors enthusiasts will find few places more appealing than Andorra. It offers ample opportunities for hiking, trekking, horseback riding, trout fishing, bird watching, swimming, and mountain biking during the summer months. People often have barbeques and picnics in the mountains.
In winter, there is a lot to do in the ski resorts of Andorra la Vella, Vallnord (Arinsal, Pal and Arcalis), and Grandvalira (Soldeu, El Tarter and Pas De La Casa). Almost all the resorts boast English-speaking instructors, well-maintained pistes and high-speed chairlifts. The ski stations also have their own snow cannons that manufacture artificial snow. This guarantees that the resorts will be functional all season long.
Have you lived in Andorra? Share your experiences in the comments below, or answer the questions here to be featured in an interview.