The Bahamas is a country that's renowned for its picturesque beaches, turquoise waters, and great weather year-round. But if you're looking to live there, then you'll need to consider how best to manage your finances.The Bahamas offers a number of options when it comes to banking, and it's worth familiarising yourself with these before you make the move. This article will take you through which banks are available, how to decide on the best one for you, and what documents you will need to open your account.
Finding the right bank for your requirements
The Bahamas is incredibly well equipped for banking. This is, in part, due to its lack of tax on income, inheritance, capital gains and companies, which means that many people from across the world choose the country as a place to set up their bank accounts.
Most of the banking in The Bahamas is referred to as "off-shore" banking. This means that most of the banking activities in the country are conducted in various currencies (other than the Bahamian dollar) and are carried out by non-residents.
Because of this, banking in The Bahamas is incredibly easy to set up for foreign nationals. It isn't all that different from setting up a bank account in your home country.
There are various types of bank accounts available in The Bahamas. Whichever type you choose – whether a current account, savings account, or off-shore account – it's a good idea to maintain your account in your home country as well.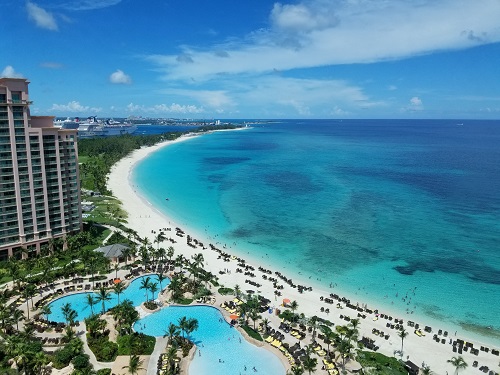 As a foreign national, it is incredibly easy to set up a bank account in the Bahamas
Because The Bahamas is a financial hub, there are numerous banks based there that operate internationally. This means that, when it comes to opening an account, you may not have to start from scratch, as you may be able to open an international account with your existing bank. International banks that operate in The Bahamas include:
• HSBC
• Citibank
• Barclays
• Scotiabank
There's also First Caribbean International Bank, which is the largest local bank and is always eager for foreign nationals to open accounts with them – this is great news for expats!
Which bank you choose to open an account with will very much depend upon your financial goals, as some banks in The Bahamas have a minimum deposit amount of tens of thousands. This is great if you're opening an account with the aim of investing, as the larger amounts required upfront can produce larger returns. However, if you're looking to open an account for day-to-day finances while you live in the country, you may be better suited to a local chequing account, which will allow you easy access to your finances.
Once you've determined what you need from your account, you'll be able to identify which banks offer the best options for your individual circumstances. For example, if you're planning to live in The Bahamas, you'll want an account that doesn't charge fees for local transactions or using ATMs.
It's easier to find out what's on offer if you're in the country, as you can walk into your local branch and chat to somebody directly. However, this can be time-consuming, so if you're looking to speak to numerous banks about what they offer, it may be best to telephone them first.
Banking hours in The Bahamas vary, but most banks operate between the hours of 9 a.m. and 4 p.m. from Monday to Friday. Once you've compiled a list of banks that are suitable, it's worth comparing their offerings to see which are best. Questions to ask to help you determine which bank is right for you are:
• Are there any transaction fees?
• Is there a monthly account fee?
• What's the interest rate?
• Does the bank require a minimum deposit, either upfront or each month?
• How many ATMs do they have, and is there a limit on withdrawals?
• How does the bank communicate? (telephone, online, app, in-person?)
• Is there an overdraft fee?
• Can you open an account online/over the phone, or does it have to be done in person?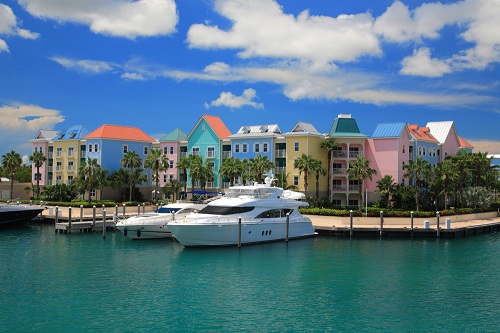 Banking hours in The Bahamas vary, but most banks operate between the hours of 9 a.m. and 4 p.m. from Monday to Friday
Opening an account
Once you've determined which bank is for you, it's time to open an account! Each bank's account procedure will vary, but they will usually require the following:
• Proof of identity, such as a passport or driver's license
• Proof of residence, such as a utility bill
• Citizenship status
• Your occupation
Depending upon what bank and what type of account you're opening, you may be asked for more information, such as around your financial history and how your money has been obtained. For example, if you received a large amount of money into your account for the sale of a property, you may be required to show the certificate of sale as proof.
Once you've supplied the bank with your documents, you'll specify the currency it should be stored in and pay your deposit into the account to activate it. If you're doing this in person, it can be done in cash, or alternatively, you can do it via bank transfer. Once the account is open and activated, you'll be sent your bank card and pin code in the post (separately), and your account will be ready to use!