There are a large number of both national and international banks in Thailand, including some that are well known, such as Bangkok Bank, Citibank, Deutsche Bank, and HSBC. Most of the banks in Thailand have English language websites available, as well as English-speaking staff in many of their branches. The Bank of Thailand (the Central Bank) supervises all financial institutions in the country.The banking sector is predominantly ruled by the big Thai national banks, such as Bangkok Bank, Siam Commercial Bank, and Krung Thai Bank. These banks are the most popular amongst expatriates and tend to require high minimum deposits in order to open accounts.
Banking options for expats
What banking options are available for expats? Are bank accounts in Thailand restricted for non-residents? Should offshore banking be done before or after arrival?
Most expats have a bank account in their home country in addition to a local account in the country they've relocated to. Maintaining these two accounts allows for an easy transition and opens up the possibility of a stress-free repatriation should you return home. Many expats over the years have reported difficulties in opening a new account in their home country after they've been living elsewhere for a significant length of time. If you bank with a global provider, you may be able to transfer your account and/or credit history, so that everything is ready prior to your arrival.
It may also be worth looking into offshore banking. Offshore banking seems to carry a lot of unnecessary stigma, but it simply means having a bank account in a location outside of the country you are living in. Many people opt for locations that offer economic perks (such as low tax jurisdictions) and/or political stability to protect their savings. Sometimes, expats will open an offshore bank account before making their move, allowing them easy access to their money as soon as they arrive in their destination country.
In some cases, it may be a good idea to make your banking arrangements ahead of time, although this may not always be possible, due to various banking providers requiring your credit history and proof of local residence.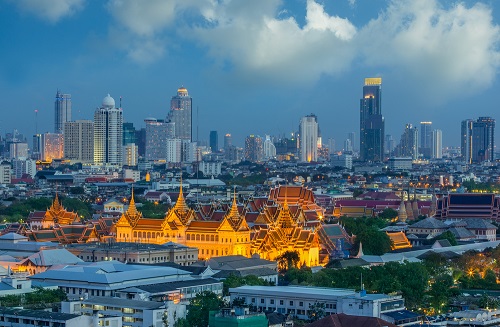 If you bank with a global provider, you may be able to transfer your account and/or credit history
How to open a bank account in Thailand
How do you open a bank account in Thailand as a non-resident or as a resident? What documents are required to open a bank account?
Banks in Thailand are loosely regulated, meaning that some may be more strict in their procedures than others. Some banking providers may publish guidelines of their own specific requirements and procedures, whereas others may be more vague. Do not be completely surprised if you are told to bring along one thing, which someone else insists is either not required or incorrect. In Thailand, you need to be relaxed about such situations, as they can be a frequent occurrence.
Generally speaking, the standard documents required by most banks include: your passport (sometimes your driver's license may also be required), your certificate of residence, and your work permit.
It is possible to open a Thai bank account as a non-resident, although this is down to the discretion of each bank, and some branches may not accept your request. Additionally, as a non-resident in Thailand, you are more restricted with regard to which types of bank account you can open. You may be able to open:
• A Non-Resident Baht Account (NRBA)
• A Non-Resident Foreign Currency Account
• A Non-Resident Baht Account for Securities (NRBS)
If you are a non-resident, the bank will likely request extra documents from you, on top of the standard ones, including:
• A letter of recommendation from the embassy of your home country in Thailand (e.g. The Swedish Embassy in Bangkok)
• Proof of address in Thailand and in your home country
You will usually need to attend a bank appointment in person if you are a non-resident, or potentially you may need to attend the bank head office. Opening an account for residents is more straightforward and can be done at the local branch of the bank of your choice.
More on banking in Thailand
Bank opening and closing times, types of bank accounts, and other useful information.
There are four types of accounts available to foreigners in Thailand:
• Savings account
• Current account
• Foreign currency deposit account
• Business bank account
The most basic form of bank account in Thailand is a savings account, not a current account. One of the main differences between a savings account and a current account is that a savings account can be opened by virtually anyone in Thailand, regardless of whether they are a resident or not. However, for current accounts, the criteria is a little stricter. Additionally, if you would like a current account, you will need to pay a higher minimum deposit.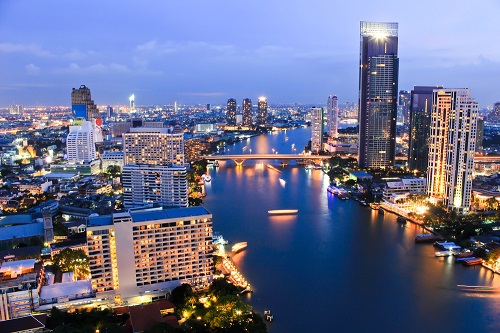 There are four types of accounts available to foreigners in Thailand
Thai banks operate in a slightly different way to what you may be familiar with from back home. The most notable difference is that a majority of policies tend to be branch specific. Banking hours tend to run from 8:30 a.m. to 3:30 p.m., Monday to Friday, except on public holidays. Some (but not all) branches open on weekends.
There are multiple companies that provide financial advice specifically for expats in Thailand, such as Valiant Wealth and Creveling & Creveling. It is worth noting that, as well as the withdrawal fees at select ATMs, there is an 'out of province fee' for using an ATM card. For example, if you open your bank account in Bangkok, but then take up residence in Chiang Mai, you will be paying an out of province fee every time you withdraw cash in Chiang Mai. Therefore, if you know that your permanent residence in Thailand is likely to be different to where you will be to start with, it is best to simply take cash funds with you. You can use this to tide you over until you get to your place of permanent residence, where you can then open a local account.