Belize is a popular destination for expats, whether they're retired, employed or planning to set up a business. With its tropical climate and laid-back lifestyle, Belize is an attractive option if you're an entrepreneur. Its first language is English, closely followed by Spanish, and it's a local nexus, with low-cost flights to a variety of American destinations on both the south and north continents.Tourism and agriculture are the main industries in the country, with most high-end tourism businesses owned by non-nationals. However, Belize is also experimenting with new crops, and increasing its agricultural exports.
What Are The Advantages?
Belize is a developing nation with a great many opportunities. Commercial properties are still relatively cheap to buy or rent, and the minimum wage is low compared to more developed countries – although this has forced some Belize citizens to work abroad. However, the cost of living is proportionately low.
The government offers a variety of benefits to businesses who create jobs for local people while also contributing to the local economy. The country also has a high percentage of undeveloped land. Since it's a tax haven, the incorporation process is also quite quick, and organisations in the country are used to dealing with expats.
How Long Will It Take Me To Set Up My Business?
It should take around 45 days to obtain the necessary permits, but as with any country, it's wise to allow for a little longer in case there are delays or you're asked for additional information, so don't be too impatient.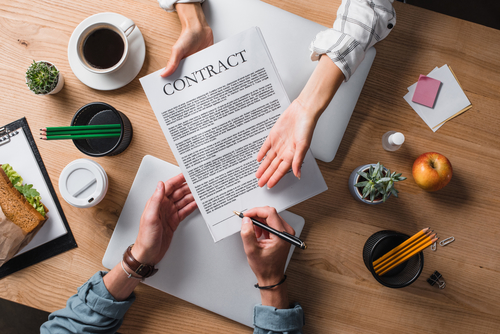 It can take a while for the necessary permits to come through
You'll need a work permit from the government as a first order of business. Ask a local lawyer which one you'll need – they'll be able to advise you depending on the nature of your business. According to the BELTRAIDE association, migrants can't own or operate a business unless it's first registered under the business name act and/or the companies act, so make sure you get thorough legal advice before you start.
Becoming A Resident
If you want to become a resident, you'll need to spend 50 out of 52 weeks of one year in the country before you apply. Your application can take up to a year after this. Therefore, it's not a speedy process to gain permanent residency in Belize, and it will restrict your ability to travel, which is particularly relevant if you're treating Belize as your second home.
What Are The Steps I Need To Follow?
Belizeglobe.com suggests that you will need to:
(1) Find a physical location to base your business.
(2) Register with the Companies Registry in Belmopan, either as a local company, or as a branch of an existing overseas firm. If you're not a permanent resident, the business names act states that you will need a business partner from Belize. You'll also need an identification card, the appropriate form (form one for a sole proprietor or form two for a partnership) as well as to pay the current fee.
(3) Complete the necessary paperwork to obtain a trade license. If you want to incorporate your company, you'll need to consult a lawyer. If you're in an urban area, you also need to apply for a trade license from the town council of your district capital. The fee will be based on the rental value of the property in which you plan to do business. You'll need your business name registration and the trade license application form. The cost (and the annual renewal fee) is 25 percent of your annual lease. It's worth noting that while the Trade Licensing Board normally meets quarterly, you can ask for a special meeting, although you will need to pay for this.
(4) Apply for a work permit.
(5) Register with the corresponding social security office.
(6) File paperwork to register with general sales tax. You can get a tax identification number by registering with the business tax office. You'll need to register with the Income Tax Department for the collection of business tax, which is generally only collected on businesses with revenue above BZD75,000, but do note that despite this, all businesses must register, including sole proprietorships and partnerships. Submit form TR121A to the Income Tax Department to get a tax identification number. You will probably also need to submit a general sales tax application to the Department of General Sales Tax to get a sales tax certificate, which you must display in a public location.
Any business which plans to have employees must register with the Belize Social Security Board within seven days of hiring any employees. You'll need to submit the application form along with your business name certificate to an office of the Social Security Board.
How To Organise Your Finances
You'll need to set up an account in an international bank. Check their rules and regulations as these may vary from bank to bank. The rules allowing US expats to open a bank account have changed recently to combat money laundering and tax dodging, so do make sure you're up to date with these new regulations.
Using an international bank allows you to maintain funds in US dollars. It also rids you of the need to either get special permission from the Central Bank of Belize or meet the residency requirements to open an account with a local bank. Note that you'll need to be resident for six months to a year in order to be able to open a local bank account.
How Do I Create An Offshore Account?
You'll need one shareholder and one director. The HQ must be in Belize and you must have a local, registered agent. You'll also need $50K.
Where Can I Ask For Help?
You can ask for help at the Belize Small Business Development Center, which gives free advice to small business start-ups, such as business plan development, loan assistance and workshops.
You can also check in with the Trade and Investment Promotion Service (TIPS) in Belmopan.
Have you set up a business in Belize? Share your experiences in the comments below, or answer the questions here to be featured in an interview!