The South American nation of Colombia has become increasingly appealing to expats over the last decade, and if you are looking for work here, it can be a rewarding experience.The country has gradually been becoming more stable. Medellin, for instance, has an emerging tech industry and there are efforts to make the city a centre of innovation. Applying for a work permit, however, is not completely straightforward and we will take a look below at how to best maximize your choices if you are interested in finding a job in Colombia.
If you already have an employer lined up, they can arrange a work permit for you but this is not always an easy process: if your prospective employer often hires extranjeros then they will be familiar with the format. However, Colombia changed its work visa rules in 2015, so if you have applied for a work permit before this date, you will find significant differences.
Working visas are based on the job, not on you, so if you are granted a work permit and then have to change your job, you will need to apply for another visa. You will also have to fund part of the cost of the work permit yourself (this is sometimes a monthly deduction from your salary): a M-5 work visa is US$282.
You will also need to pay for your ID card, the cedula, which you will need to obtain up to 15 days after your visa has been granted. This currently costs US$0.09.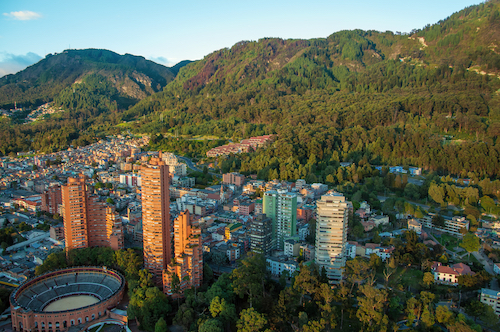 You can apply for a work permit yourself or through your employer
You can apply for a work permit/visa yourself, either online or via a Colombian consulate if you are currently outside the country itself. In order to apply for a TP-4 work visa you will need to submit or upload the following documents:
• your passport (valid for a minimum of 180 days, and with at least two blank pages)
• a photocopy of last passport page and photocopy of the last entry/exit stamp to Colombia and your previous visa (if applicable)
• three 3cm x 3cm recent photographs on a white background
• a work contract or signed and notarised contract of employment
• proof of your qualifications required for your job
• details of your employer including their registered name, previous income tax return, tax identification number (NIT), legal representation, and six months of bank statements supporting a minimum average balance equating to 100 months minimum wage in Colombia (approximately US$32,000)
If you are intending to be self employed when you move to Colombia, you will need some of the basic documentation above plus a letter explaining the nature of your business, your qualifications (these must be apostilled) and your competence in carrying the business concerned, and you will also have to supply proof that you can support yourself financially.
Your job contract can be verbal or written, but if you need to supply it in order to apply for a visa, you will need a written contract as follows:
• Contrato a término fijo (Fixed term contract)
• Contrato a término indefinido (a contract for an indefinite length of time)
• Contrato por la duración de una labor determinada (contract for a set working period, such as a project)
• Contrato accidental o transitorio (short term contract)
It will be greatly to your advantage to speak Spanish. This is the official language of Colombia and although some international companies operate in English, most local companies do not.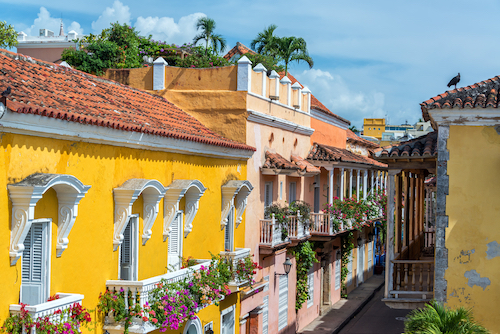 Speaking Spanish will put you at a major advantage
Latin America in general is experiencing a large skills gap and this includes Colombia. 50% of Colombian firms say that in 2018 they struggled to fill vacancies. This is good news for expats as it means that Colombian companies are more willing to consider foreign hires.
Working hours in Colombia are fixed at 48 hours per week, Monday-Friday or Monday-Saturday. Hours vary between 6 a.m. and 10 p.m. but if you have to work outside these hours, you will legally be eligible for overtime. With some exceptions for casual part-time labour, expats have the same entitlement to working rights as Colombian employees.
You will have 15 days of paid holiday per year, but can exchange up to half of these days for pay.
If you are pregnant, you will be entitled to 12 weeks of paid maternity leave if you have been paying sufficient social security contributions. Similarly, your husband will be entitled to 4 days' paid paternity leave, or 8 days if both of you have been making social security contributions.
Your spouse will need their own work permit
Your spouse will be able to work in Colombia but only if they apply for their own separate work permit.
Job Vacancies
You can approach companies directly with job applications. The Colombian government has stated that it wishes to attract foreign investment into the country and although you need to apply for the work visa/ID card it does not in practice put too many barriers in the way of your job search.
There are a number of job fairs both in Colombia and throughout South America and in addition, a large number of recruitment and employment agencies, particularly with relation to vacancies in cities such as Bogota and Medellin. Online jobs boards may prove helpful also.
Applying For A Job
It is advisable to have your CV or resume, plus your covering letter, translated into Spanish.
Colombian law prohibits discrimination based on sex, race, national or family background, language, religion, political or philosophical opinion, pregnancy or maternity, sexual orientation, age, disability or the state of your health.
Qualifications And Training
If you are applying for a position that comes under a regulated profession in Colombia, such as engineering, accounting or medicine, you must request permission from the entity in charge to authorise you to practice, and you may also need to get your qualifications apostilled.
Would you like to share your experience of life abroad with other readers? Answer the questions here to be featured in an interview!