If you are intending to live and work in Ecuador, one of your first questions will be regarding your ease of communication. Which languages are spoken in Ecuador and how widespread is the use of English? We will answer some of your questions below.The official language of Ecuador is Spanish, but many different languages are spoken here. Many of the Native population speak Quechua, which is an Incan language and which has a number of dialects of its own, but in addition local people may speak other indigenous languages such as Awa pit and Shuar. Some of these are on the UNESCO endangered list and you may not even come across them. Quechua itself was imposed on the population by the Inca, and displaced a number of local languages: only traces of these now remain.
However, over 90% of the Ecuadorean population speak Spanish, held by some linguists to be the purest form of Spanish in South America although some dialects have nonetheless been influenced by Quechua and other tongues. Spanish has been spoken in Ecuador since the 16th Century and is the main language of commerce. It does have several regional variations:
• Amazonic
• Andean
• Equatorial Coastal (a form of Spanish which has Andalusian characteristics)
If you are Spanish speaking, however, you should have little difficulty in making yourself understood. It is recommended to have at least some basic phrases:
• meet and greet
• numbers
• directions
• days of the week/months of the year
• shopping and food-related vocabulary, including eating out
• some basic medical vocabulary (e.g. asking for a doctor's appointment)
• some basic banking vocabulary (e.g. opening a bank account)
You can survive in Ecuador if you do not speak Spanish, but you may struggle. English is not that widespread in the country and many locals do not speak it. Thus it is important to learn some Spanish, preferably before you go, not just for the sake of politeness but also for practical reasons. If you are working for an Ecuadorean company, you will find that Spanish is the language of commerce; you are most likely to find English spoken in the tourism and hospitality sectors. Local people have a reputation for being friendly and welcoming, so your efforts to speak Spanish will be appreciated.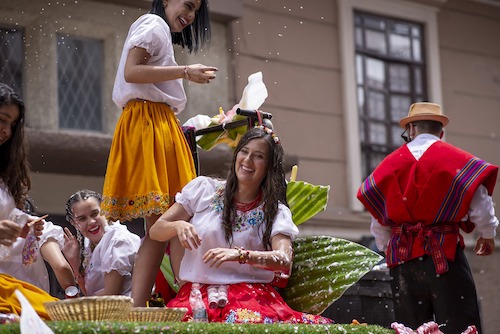 Local people have a reputation for being friendly and welcoming
You can use digital methods, but take a good phrasebook along as well in case you find yourself in a region with limited wifi or mobile phone reception.
You will find plenty of opportunity when it comes to learning Spanish in Ecuador, as language training is to be found across the country: in Quito, the Amazon jungle, Guayaquil, Cuenca and the Galapagos Islands. Expat learners report a preference for choosing Quito for language training: locals have a reputation for speaking slowly, thus making it an ideal location for people who are coming to Spanish for the first time. Costs for language learning are also cheap, and you will find yourself in an immersive Spanish environment.
If you have a TEFL certificate, you may wish to explore the option of teaching in Ecuador. Most jobs will be in Quito but if you are adventurous, you may wish to explore the possibility of teaching in other regions: Ecuador is extremely diverse geographically and teaching is an ideal way to explore. Quito, Cuenca and Guayaquil all have universities and you may consider approaching these for work, but university towns also tend to have opportunities for private tuition. If you have a Master's qualification or upwards, it is suggested that you seek work at university level rather than in a private school. Guayaquil is a big port and commercial centre, with opportunities to teach business English, and Cuenca is a major tourist centre with a steady demand for EFL teachers.
It is always easier to get work in international education if you have at least a certificate in either TEFL (Teaching English as a Foreign Language) or TESOL (Teachers of English to Speakers of Other Languages). You will require a work permit (a non-immigrant work visa or Trabajador) in order to work legally in Ecuador, unless you already have a residency permit, in which case you will be allowed to work.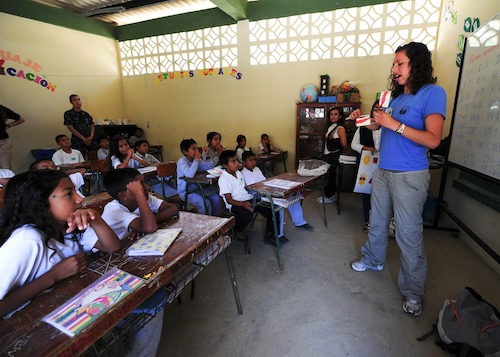 Ecuador is geographically diverse and teaching is an ideal way to explore
It is also preferable if you have experience in teaching schemes such as the Cambridge English exams or IELTS (International English Language Testing System): the English test for study, migration or work. Some teaching experience in the Graduate Management Admission Test (GMAT) will also be helpful. This assesses analytical, writing, quantitative, verbal, and reading skills in written English for use in admission to graduate management programs, such as the MBA.
Most institutions prefer at least a Bachelor's degree: basically, the rule of thumb is that the more qualifications you have, both in TEFL and in academic subjects, the easier you will find it to get work, although schools in Ecuador may not insist on it. Salaries are not high – around US$400 – 800 per month – but are commensurate with the cost of living.
If you want to seek work in the tourism sector, this is limited, and you will need to speak Spanish. Most hospitality vacancies come up in July/August, or in the winter. Eco-tourism is becoming increasingly popular in Ecuador, including jungle tours.
There are opportunities to work in Ecuador as an interpreter and translator, but your Spanish will obviously need to be of an extremely high standard and it is preferable to have qualifications in interpretation and translation.
Would you like to share your experience of life abroad with other readers? Answer the questions here to be featured in an interview!