Public healthcare in Finland is available to all who have resided in the country for a minimum period of four months, regardless of their financial situation. However, public healthcare in Finland is not technically free, although the charges are fairly reasonable in comparison to other countries, such as the United States. The public healthcare services are provided by local district health centres known as Terveysasemat, and specialised medical care is provided by district hospitals, known as Sairaalat. Private healthcare is also available throughout the country.Public healthcare is the responsibility of the district councils and is primarily funded by taxes, as well as by patient fees. Where patient fees are concerned, there is a maximum cap that the individual has to pay in any given year, set by the district council of the local area in accordance with the Act and Decree on Social and Health Care Client Fees.
The maximum patient fee cap in Finland is set to be €20.60 in 2020-2021; this may be charged up to three times per calendar year. After the cap has been reached, the patient will not be required to pay for treatment or may be reimbursed.
However, this does not apply to short-term institutional care. A hospital consultation costs about €38, and you pay for each night that you have to spend in hospital, with the maximum cap being set to around €679.
What Services Does Primary Healthcare Include?
The public healthcare system covers the following services:
• consultations with a doctor for people who have become ill, and for treatment of chronic illnesses
• health counselling, including health education, contraception advice, maternity and child welfare and medical examinations
• screening and vaccinations
• dental health
• mental health services
• emergency treatment (also handled by hospitals)
• home care
You will require a Kela card in order to prove your eligibility, not only for social security, but also for national health insurance and medical treatment. You will also need it to buy medicine from your local pharmacy at a reduced rate.
Examples Of Private Healthcare Fees
Doctors practicing in the private health sector will set their fees based on the average time that it takes to treat a patient at their clinic and the associated work performed both before and after meeting with the client. This includes factors such as reviewing the patient documents and medical history, writing the analysis, and reviewing any examination results.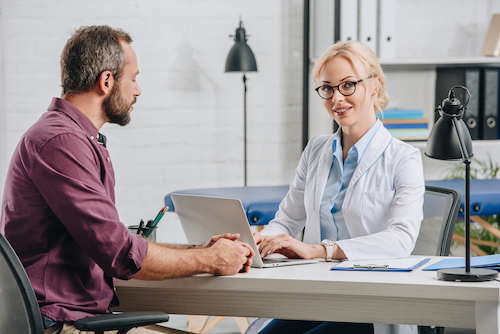 Visiting a private doctor can be expensive
Fees will vary as doctors at private healthcare are often self-employed persons and therefore set their own prices. General practitioners usually charge much lower fees than specialists and private health doctors.
Usually in the private medical sector, a separate fee will be charged for any additional documentation, such as statements or certificates, lab tests, and X-rays. Other costs on top of this can include medication, vaccines and supplies.
When it comes to telephone consultations with private doctor, you will be required to pay a fee. Private health care providers can also invoice for any appointment that you may reserve and fail to attend. The plus side to all of this is that a private health care provider can usually offer a more precise cost estimate in advance for surgeries and demanding treatment procedures that may require specialist attention.
Cosmetic surgery is also popular in Finland. Below are the estimated prices for some common procedures, including cosmetic enhancement and plastic surgery.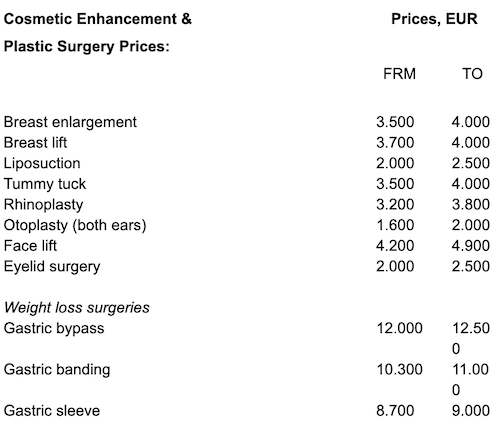 Unfortunately it is more difficult to obtain estimated prices on procedures such as dental work and orthopedic surgery, due to the varying charges by different facilities and doctors. In this instance, it is better to make an application for a private quote in order to get a better idea of the cost.
If you are registered in a specific municipality/district of residence (kotikunta) in Finland, you are entitled to use public dental care services. Dental care is completely free for those under the age of 18 years old.
Generally speaking, a consultation with a private GP will set you back around €58, however many insist this is better than the long queues and lack of organisation they say they have encountered in public GP facilities.
According to the Finnish Medical Association, some 17% of doctors in Finland work exclusively in the private sector. This is double the percentage it was around 20 years ago. A further 20% work partially in private practices.
A large number of employers will pay for their workers to receive private primary healthcare, although their family and dependents may not be covered.
Would you like to share your experience of life abroad with other readers? Answer the questions here to be featured in an interview!