Finland
>
Property
How To Rent Or Buy Property In Finland
Published Tuesday May 05, 2020 (11:02:33)
Renting property
Word of mouth is a good way to find an apartment to rent in Finland. Alternatively, you could look for adverts in local newspapers, although you may need the help of a translator. If you have an area you would like to move to in mind, you could Google '
vuokra-asunto
' (rental apartment) plus the place name, which should generate some results. There are also various websites that you can go to directly to help you in your search.
•
Asunnonvuokraus.com
•
Asuntosäätiö Asokodit
•
Etuovi.com
•
Forenom
•
Habita.com
•
Huoneistokeskus.fi
•
Huoneistoketju.fi
•
hakuKiinteistömaailma.fi
•
Newsec Kodisto
•
Oikotie.fi
•
OPKK.fi
•
OVV.com
•
REMAX.fi
•
Vuokraovi.com
The
Finnish Tenants Association
also publishes helpful links.
You can hire an agent to look for properties on your behalf, in which case you will make a formal agreement (
toimeksiantosopimus
) with them in writing, and agree to pay a commission, which will probably be equivalent to one month's rent. Compare the commissions of various agencies in advance.
Typical lease terms
There are two kinds of tenancy agreement in Finland:
• Valid until further notice (
toistaiseksi voimassa oleva vuokrasopimus
), or permanent – this will only end when either the tenant or landlord gives notice
• Fixed-term (
määräaikainen vuokrasopimus
) – this ends automatically at an agreed end date without notice, and cannot be terminated beforehand; if you want to stay longer, you will need to make a new agreement
You will almost certainly have to pay a security deposit of two months' rent, plus one month's rent in advance. You will usually get the keys to the property once the deposit has been paid.
The lease will specify the amount of rent and the date it is due. Once the lease has been signed, the rent is set in stone for the entire period. It must be paid into the landlord's bank account. The rent should include a charge for property maintenance.
Rentals are not usually furnished, but the property will always include a shower, taps and a toilet, and will almost always include cupboards, a fridge and a stove. Always check exactly what else is and is not included.
The property will have its own water supply, and you will have to pay the water rate. The contract will state whether this must be paid to the landlord or directly to the water company. Central heating costs are usually included in the rent, but if the property has oil or electric heating, then this may need to be paid separately. You must make your own arrangements with electricity, internet and cable providers; the market is competitive and there are several to choose from.
Apartment blocks may have shared saunas, laundry facilities and parking spaces. You may need to pay a fee directly to the housing company to be able to use these.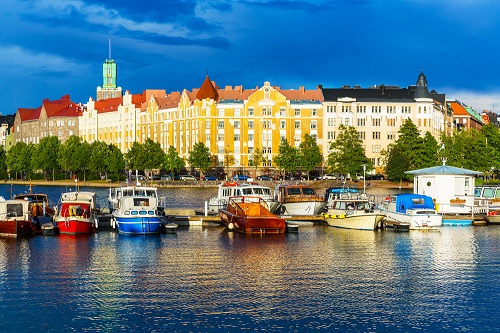 Rentals in Finland are not usually furnished, but will always include showers, taps and toilets.
Tenants on a 'valid until further notice' lease must always give at least one calendar month's notice, in writing. The notice period begins at the end of the month during which it is given. Therefore, if you give one month's notice during October, the notice period begins on 1st November, and you cannot leave until 1st December. You will have to pay rent for November too.
For landlords, the notice period on a 'valid until further notice' lease depends on how long the lease has been in force. It will be three months if the tenant has rented the property for less than a year, and six months if the tenant has been there for more than a year. The landlord is entitled to give you notice without explanation, however long you have been there.
A fixed-term lease cannot legally be terminated before its end-date, but if you are facing unforeseen circumstances, then you may be able to negotiate with the landlord.
The landlord will inspect the property once you have moved out, and will return some or all of your deposit, depending on the condition the property is in and whether you owe any money in rent/bills.
Typical rental prices in major expat destinations
If you settle in a major expat area, then a two-bedroom apartment will likely cost you €2,000 per month or more. If you are happy to be elsewhere, then a similar property may cost you less than €1,300 per month. A more family-friendly apartment, with three bedrooms, will usually cost you between €1,500 and €2,200, depending on location.
Specific advice for expats
The worst time to start looking for property is just before the start of a new academic year, when students are on the look-out for accommodation.
City rental properties are usually apartments. If you want a family home, then you may have to resign yourself to a place in the suburbs.
The market is fast-moving, so you must be too. You will probably be given an application form to fill in when you go to a viewing. Make sure you check the condition of the property before you sign anything, as well as the conditions of residence and exactly what is included in the rent.
Buying property
There are no restrictions for buyers from the EU or EEA. Buyers from outside these areas may buy shares in a housing company, which is how most apartments are owned, but must have permission from the Finnish Ministry of Defence to buy real estate. Applications are made either by email to kirjaamo @ defmin.fi or by post to the Ministry of Defence, PO Box 31, 00131 Helsinki, Finland.
Typical house buying procedure
There are two main types of purchase:
•
Asunto-osake
(shares in a housing company) – this is how most apartments and terraced properties are sold, and means there will be a monthly maintenance fee (
hoitovastike
) on top of all your other costs; find out whether costs such as heating are included in this, or whether they must be paid separately
•
Kiinteistö
(a real estate purchase)
In both cases, the entire process from submitting the bid to completion averages 32 days. The first step, once you have found a property, is to conduct due diligence, examining its certificate of title, making sure there are no encumbrances and so on.
At the same time, inspect the property carefully for defects. For
asunto-osake
, the seller continues to be responsible for any defects that emerge for two years. For
kiinteistö
, the seller is responsible for five years. However, the buyer is responsible in both cases if they should have noticed the defect when inspecting the property, or if they were already aware of it.
Your offer to the seller must be in writing, and it is binding. It may be open to upward or downward negotiation, but cannot be cancelled without paying a fine (which will equate to a few percent of the property price) to the seller.
If the seller accepts the offer, their bank or estate agent will prepare a sales contract for both parties to sign. This will specify a number of things, including the size, price and condition of the property; the date on which the final payment is due; and the date on which the buyer takes possession. The buyer makes a down payment of around 3% of the agreed purchase at this stage. Almost everything will be conducted in Finnish and there is no obligation to provide a translation, so make sure you understand every term and document – you should hire a translator if necessary.
Once the seller has received their money, a notary confirms the identities of the buyer and seller and attests the transfer of property. Once the buyer receives the title, they must submit a claim within six months to the property's local district court for legal confirmation. The transaction is formally at an end when the title is released, and the property is now theirs.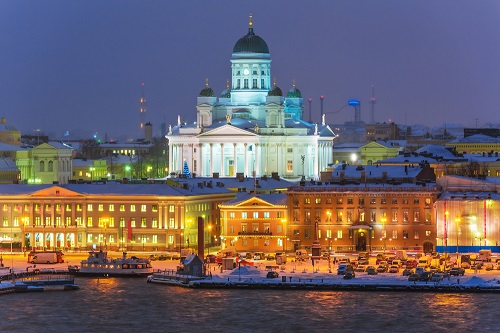 The process of purchasing property in Finland usually takes around 32 days.
Other forms of occupancy
Osaomistusasuminen
means part-time ownership. The buyer pays 10% to 15% of the agreed purchase price to buy a share of the apartment, then pays rent as a tenant to the majority owner of the property. The buyer can then increase their share of ownership during the residential period. After a specified period, they have the right to buy the apartment outright, deducting their initial investment plus later investments – but not the rent they have paid – from the agreed purchase price.
Asumisoikeusasuminen
means right-of-occupancy. Residents pay a right-of-occupancy fee (
asumisoikeusmaksu
) of 15% of the purchase price. The Housing Fund of Finland (ARA) grants a loan for the remaining 85%. Residents then pay a monthly occupancy fee, which is similar to rent but is often less than the rent on a comparable property. They do not ultimately gain the right to purchase their homes, but the owner cannot terminate the agreement except in cases of non-payment. Therefore, for the period they live there, they get to enjoy much the same rights as an owner. The 15% fee is returned, index-adjusted, when they leave the apartment.
Finding details of property for sale
Most of the websites listed above, in the section on renting properties, will also handle purchases.
Specific advice for expats
If the housing company has any loans, for example for work on the building, then repayments will be apportioned to the apartments based on the square metreage of each property. These repayments are specific to the property, so will be transferred to any new owner.
Therefore, look for the following sums:
•
Myyntihinta
(sale price): the amount the seller is asking for
•
Velaton myyntihinta
(sale price free of debt): the amount the seller is asking for, plus the lump sum of any expected future repayments on the housing company's loan; if the advertised
myyntihinta
and
velaton myyntihinta
are the same then there is no loan outstanding
•
Rahoitusvastike
(financial consideration): the amount you will pay monthly towards repaying the housing company's loan. Note that by paying the full
velaton myyntihinta
at the time of purchase, you can free your apartment of debt and your
rahoitusvastike
will be zero. However, if your housing company is planning any future loans then existing
rahoitusvastike
may increase, or new
rahoitusvastike
may begin from nothing.
Mortgages for foreign nationals
Mortgages (
asuntolaina
) are common and there is no nationality bar. You must, however, be resident in Finland, with a Finnish ID number, and the property must be located in Finland. Your bank may also need to be satisfied that you are in Finland for the long-term. They may only provide loans to borrowers with permanent residence permits (
pysyvä oleskelulupa
), or to those who have guarantors with Finnish citizenship. It is easiest to obtain a loan if you have a source of income in the country.
Read more Finland property articles or view our latest Finland articles
Discuss this article in our Finland forum or Facebook group