Will the Hong Kong Healthcare System Be Adequate for My Expat Family?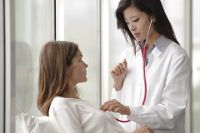 Medical standards and the health care system differ hugely from Hong Kong to the mainland of China, and are arguably far better. The outbreak of the SARS virus still haunts Hong Kong in terms of reputation, as over 250 people died in the city. However, having been free from the virus for over seven years, the health of the city is high; in fact it enjoys the second highest life expectancy in the world (at 86 years old for women and 80 years old for men).
Public healthcare
The set-up of healthcare in Hong Kong includes over 40 public hospitals and 74 primary care clinics serving Hong Kong's seven million people. Training and teaching is of a high quality and expats tend to choose to be treated at public hospitals rather than at private facilities. To access the public health care system in Hong Kong, expats need to obtain a local ID card to gain various benefits. The 74 clinics generally offer walk-in appointments, rather than having to book in advance and GPs are available here. This is a bonus for Hong Kong and often better than healthcare services in the US and even the UK.Public hospitals and institutions are managed by the Hospital Authority in Hong Kong, which means that standards are set and maintained and regular inspections are carried out. The system highlights performance, cleanliness, standards and openness, which reassures locals and expats. Hong Kong also has many doctors who earned their medical degrees in Western countries, and so, finding a foreign-trained doctor who speaks and understands English is an easy enough task. This can help put expats' minds at ease and help with the decision of moving to a new country.
Private healthcare
In the private sector, there are thirteen private hospitals serving Hong Kong, which are in partnership with the UK in terms of gaining international healthcare accreditation. They offer similarly low waiting times to private hospitals in other parts of the world but otherwise offer the same as public hospitals. It is important to state that costs of private medical assistance in Hong Kong are the world's second highest. Most expat families decide to choose public healthcare, although some prefer the private healthcare because of its close affiliation with the UK and British standards in general.
Health insurance
It is essential that expats take out a comprehensive medical insurance cover before leaving their country and arriving in Hong Kong. It is vital that you opt for a cover which is flexible and suits your needs (for example read the fine print with regards to pre-existing medical conditions). Research the various insurance company policies on offer and choose the best for your family, considering your overall health, your employment situation etc.
Fees for public hospitals vary by eligible and non-eligible persons. Eligible persons include those who hold a Hong Kong Identity Card issued under the Registration of Persons Ordinance, children under 11 years of age with Hong Kong resident status and other persons, as approved.
Many healthcare needs are met by the employer in expat packages, so it is crucial that you discuss and fully understand your employer's health plan.
International medical insurance is often more expensive than local packages available in Hong Kong, but, are often more versatile and provide better coverage. A bonus to obtaining international health insurance rather than a local package is that it is valid for travel outside of the city within its selected geographical range. Some insurers will guarantee lifetime renewal, meaning that you will be covered regardless of your health condition.
Expats need not worry about the standard of healthcare in Hong Kong, which is often said to be better than other parts of China and holds a strong status in worldwide healthcare. Hong Kong boasts some of the most state-of-the-art medical equipment and is the leading manufacturer of medical equipment and supplies. It offers expat families comprehensive care, assuming they are covered correctly.
Latest Videos
Making A Career Change Abroad
Making A Career Change Abroad
Christmastime In South Korea And Spain
This error message is only visible to WordPress admins
Important: No API Key Entered.
Many features are not available without adding an API Key. Please go to the YouTube Feed settings page to add an API key after following these instructions.
Latest Articles