The Hashemite Kingdom of Jordan is home to a high number of expats, with immigrants comprising over 40% of the population in 2015. The country's currency, the Jordanian dinar, is pegged to the US dollar at a fixed rate of 0.709 dinar to one dollar.When you relocate to a new country, you need to consider which banking option best suits your needs. Wherever you go, your options will include: maintaining your existing bank account in your home country, opening a local account in your new home, opening an international account in your destination country, using an offshore bank account, and managing your money through a combination of the above.
Many expats have been critical of the Jordanian banking system, but there are several local, international and Islamic banking options to choose from.
Banking in Jordan
Banks in Jordan are regulated by the Central Bank of Jordan (CBJ), which has its headquarters in the capital Amman.
Hours vary by branch, but most banks open from 8:30am to 3pm Sunday to Thursday. Many stay open longer, or re-open for evenings after a break of around two hours, and some open on Saturdays, though often for reduced hours. Some branches (for instance, those in big malls) can stay open as late as 10pm, and some are even open seven days a week.
As Jordan is a Muslim country, you can expect reduced opening hours during Ramadan, and banks are closed for all of the main public holidays. A list of Jordan's public holidays can be found here.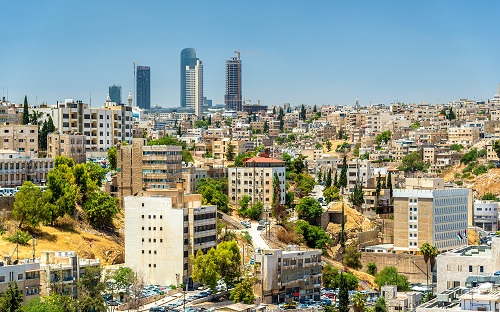 Banks in Jordan are regulated by the Central Bank of Jordan (CBJ)
Opening a bank account in Jordan
You need to be a Jordanian resident or have a confirmed address in the country to open a Jordanian bank account. You can then open an account as an individual, or you can open a joint account, as these are widely available.
Jordanian banks offer current accounts and savings accounts, and depending on your circumstances, it is wise to have both. Accounts can be opened in a variety of currencies, including USD, GBP and EUR, as well as the Jordanian dinar.
Requirements vary between banks, but you should make sure you have the following available when you begin your application:
• Passport or other valid ID
• Proof of residency (such as a utility bill or rental/lease contract)
• Proof of employment (such as a letter from your employer) or other income
• Residence permit and work permit
• Recent utility bill
Some banks will not issue credit cards to foreigners without a sponsor, but this may be something you can arrange with your employer. The bank will likely ask for a minimum deposit to open the account, usually JOD 200 (USD 282), and many will charge you a monthly fee if the balance dips below this baseline.
If your chosen bank's terms are in Arabic and you are not a confident Arabic speaker, make sure that you have assistance from someone who speaks the language, before you finalise any legal documentation.
Choosing a bank
Many expats have expressed their dissatisfaction with banking in Jordan. They have cited poor customer service and long queues as two big problems. Also, a recent Ipsos study found that two out of three of the Jordanians surveyed were unhappy with the variety of products and services available at their main banks. Bank staff will often ask how much you earn and use this to determine the level of service you receive. To make the process easier, you could visit the biggest branch of your chosen bank, which will help you to avoid overcrowding. Furthermore, you should be very clear about your precise needs, to avoid confusion.
The biggest bank in Jordan is Arab Bank, a global institution with over 600 branches across five continents, which has its headquarters in Amman. Many expats have found Arab Bank to have the best customer service. As they are an international bank, they offer accounts to non-resident Jordanians, which will benefit you if you find yourself working in Jordan but living abroad. You will need to visit a branch to open an account, as you cannot apply online.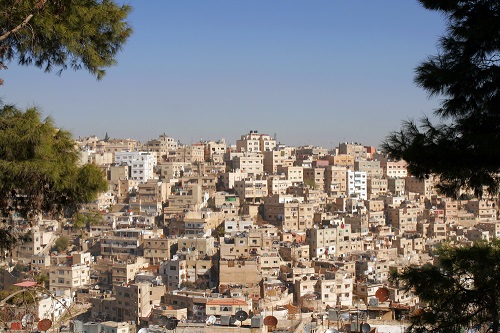 The biggest bank in Jordan is Arab Bank, a global institution with over 600 branches across five continents
Highly-rated local banks include Jordan Kuwait Bank and Bank al Etihad. Bank al Etihad offers current and savings accounts, a 'salary' account, and an online-only account – you can apply for all of these online. JKB offers current and savings accounts, but you will need to visit your local branch to set one up.
If you need to use Paypal while you are in Jordan, you may find it beneficial to open an account with Cairo Amman Bank. The bank signed a partnership agreement with Paypal in 2014 and is the only Jordanian bank that will allow you to connect your Paypal account directly to your bank account.
International banks, such as Société Générale (SGBJ) and Standard Chartered, may be a good option for you if you already have (or can open) an account with them in your home country. SGJB only requires your passport to open a current account, and they have their own app, although you will need to visit a branch to apply. Standard Chartered will ask for proof of residence, as well as your passport, and you will also need to apply at a branch.
To support the Muslim community, there are several Islamic banks in Jordan, which adhere to Sharia law. Islamic banking options include Jordan Islamic Bank, Islamic International Arab Bank and Safwa Islamic Bank. These have many of the same benefits, and many of the same restrictions, as Jordan's non-Islamic banks. Safwa Islamic Bank is the only one of the three that allows you to apply for a current account online.