If you're considering relocating to the State of Kuwait, then you're not the only one, as expats comprise 70% of the country's population. The currency of the state is the Kuwaiti dinar, which is currently the highest value currency in the world, converting to over 3.20 USD.Whichever country you are relocating to, you will generally have similar banking options. For example, you could maintain your existing account, which can be useful if you have an income or bills to pay back home. Alternatively, you could open an account with a local or international bank in your destination country, which may be a requirement from your employer and will reduce ATM fees. In some countries, offshore banking makes the most sense.
It may even be that a combination of all these options may suit your needs best. Many Kuwait expats choose to have an offshore account, while maintaining their home account. However, there are good local and international bank options too, so what you choose will depend on your personal circumstances.
Banking in Kuwait
There are 11 local and 12 foreign banks in Kuwait, regulated and supported by the Central Bank of Kuwait.
The state adopted a Friday and Saturday weekend in 2007, having previously set the weekend as Thursday and Friday. Most banks open between 8am and 3pm on weekdays, but bank opening hours vary by branch and area. Some reopen for a few hours in the evening, and many airport branches are open 24 hours a day, seven days a week.
As Kuwait is a Muslim country, you can expect reduced opening hours during Ramadan. Banks close on public holidays, a full list of which can be found here.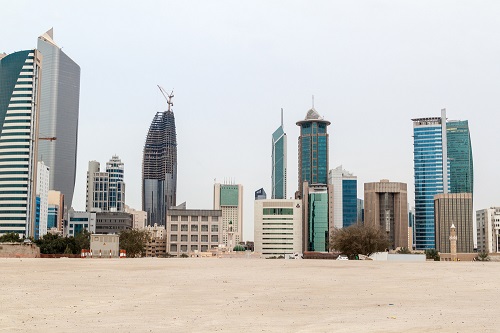 There are 11 local and 12 foreign banks in Kuwait
Opening a bank account in Kuwait
Many expats in Kuwait have financial commitments in their home country and therefore need to send a lot of money to their existing accounts. A lot of expats therefore choose to have an offshore account in their home currency to avoid incurring extra tax by sending their wages to their home account. However, there are also local and international banks that offer accounts in USD, GBP and Euros. Kuwait has no income tax, but if you want to avoid paying it in your home country, you will need to have a local or offshore account for your wages.
You need to be a Kuwaiti resident to open a bank account in Kuwait. When you are ready to open a local account, the bank will want to see your residence visa and, usually, your No Objection Certificate (NOC), which your employer or sponsor will assist you in obtaining before you arrive. Some banks may also ask you for photos, your tenancy agreement, and your passport.
Most banks ask for a minimum deposit or opening balance, which can be higher for expats than citizens. As the Kuwaiti dinar has such a high value, this can be a considerable sum. For instance, National Bank of Kuwait (NBK) requires a minimum of 500 KD to open a current account, which is roughly 1600 USD or 1300 GBP.
Most banks offer current, salary and savings accounts. Several banks allow joint accounts, but some expats have reported being refused a joint account as a married couple, due to Kuwait's high divorce rate. If you are unable to open a joint account and your spouse is not working in Kuwait, they can open their own account with your permission as their sponsor.
Terms and conditions are often in Arabic, so, if you do not speak the language, make sure you have someone who is fluent to check everything for you before you sign up to an account.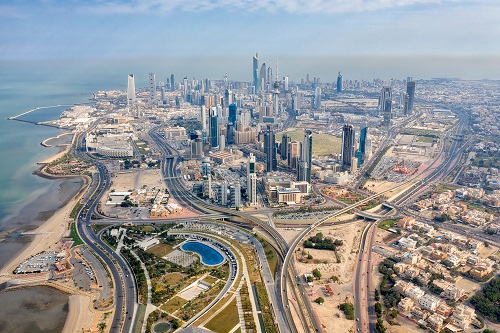 You need to be a Kuwaiti resident to open a bank account in Kuwait
Choosing a bank
As Kuwait is a Muslim country, there are several Islamic banks operating there. If you are looking to open an Islamic bank account that adheres to Sharia law, Kuwait's local Islamic banks are Al Ahli United Bank, Kuwait International Bank, Boubyan Bank and Warba Bank. Foreign Islamic bank Al-Rahji Bank also has branches in Kuwait.
There are five non-Islamic local banks in Kuwait: NBK, Commercial Bank of Kuwait (CBK), Gulf Bank, Al Ahli Bank of Kuwait (ABK) and Burgan Bank. Gulf Bank offers current and savings accounts. They also offer expat salary accounts, which are for newly recruited, first-time expat employees, who are in the government, private or oil sector and have a monthly salary of more than 400 KD. ABK has two salary accounts, depending on your salary, as well as savings accounts.
Commercial Bank of Kuwait and Burgan Bank also have salary, current and savings accounts, with Commercial having the lowest opening balance requirement (100 KD).
NBK is the most popular with expats, with a suite of current and savings accounts, including an 'express' account, which is fee-free and only requires an opening balance of 10 KD. However, it requires an expat salary of 400 KD per month (250 KD for Kuwaitis) and is only available in Kuwaiti dinar. Their current account can be opened in KD, USD and GBP but has a higher required opening balance (500 KD).
While HSBC, Citibank and BNP Paribas have operations in Kuwait, they do not offer retail banking. However, several international banks do, including Qatar National Bank, Doha Bank and Mashreq Bank. You will benefit the most from these if you come from, or will frequently be visiting, other Middle Eastern countries. Mashreq Bank offers accounts in USD, and QNB and Doha Bank allow you to open an account in USD, GBP or EUR.