Although Luxembourg is small, with a landmass of less than 1000 square miles, it is one of the leading financial centres in Europe and even worldwide. So important is the financial industry in Luxembourg that 10% of the population are employed by a bank.When you are planning your move, you will need to decide which banking solution suits your needs. For example, you may need to open a local account in order to receive your salary. Alternatively, you may need to keep your existing account in your home country, so that you can pay bills and receive any income there (for instance, if you rent out property). Opening an international account with your existing bank may result in the easiest transition, or you may want to consider an offshore account.
Often, expats employ a combination of the above solutions. Overall, you can expect the process of setting up your personal finances in Luxembourg to be relatively pain-free. This article will examine your options in greater detail.
Banking in Luxembourg
The Banque Centrale du Luxembourg is the country's national bank, and banking and financial services are regulated by the Commission de Surveillance du Secteur Financier (CSSF). As a major global financial centre, banks are plentiful in Luxembourg. At the end of 2018, 135 banks had offices in Luxembourg, though it is important to remember that most do not offer personal/retail banking.
Hours vary, but generally banks are open between 8:30am/9am and 5pm on weekdays. Some close at 4pm, and many close for 1.5 to two hours at lunch. There are some banks that are also open on Saturdays. Luxembourg has 11 public holidays, with two extra bank holidays. A full list of bank holidays can be found on the Luxembourg Bankers' Association website.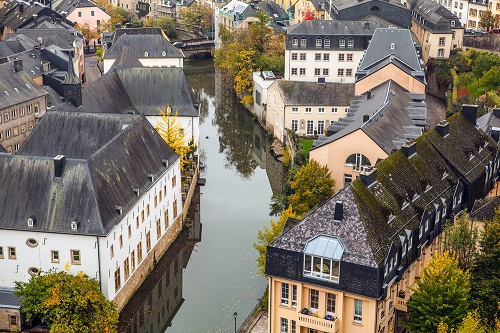 The Banque Centrale du Luxembourg is the country's national bank
Opening a bank account in Luxembourg
Although Luxembourg is small, the country's infrastructure is designed to cater for those who work in the country, even if they do not live there. Therefore, you do not have to be a resident to open a Luxembourgish bank account, and, in fact, many banks offer accounts specifically for non-residents.
How easy it is to open an account as a non-resident will depend on where you are from. EU and Single Euro Payments Area (SEPA) citizens should find it straightforward to open an account, but if you are coming from the USA, for example, then there may be more restrictions, or the bank may ask you for more documents.
You are not legally required to open a bank account in Luxembourg when you relocate, but, should you choose to, you will probably want a current account and a local savings account. Many Luxembourg banks offer joint accounts, which allow you to share an account with a spouse or roommates.
You can expect the bank to ask you for the following:
• Passport or other valid ID (such as an EEA/EU identity card or driving licence)
• Proof of address (such as a utility bill or a recent certificate of residence)
• Employment contract (if you are working in Luxembourg but living outside of the country)
• Payslip or letter from your employer (if you are applying for a credit card, overdraft, or any credit services)
Some banks, despite using English on their websites and for the application process, will only have detailed terms and conditions available in French and German. Make sure that you are confident in one of these languages, or that you have the assistance of someone who is, before you commit to anything.
You may need to open a bank account before you move, for example, if you have to provide one to your new employer. Many Luxembourgish banks allow you to apply online, and then you can post copies of your documents, or you can bring them with you to the branch when you arrive. For instance, with BGL BNP Paribas, you can apply online before moving, as long as:
• You have signed a contract with a Luxembourg employer
• You already have a certificate of residence in Luxembourg (note: a rental contract will not suffice)
• You are studying in Luxembourg
• You are eligible for a CEDIES loan (a student grant paid by Luxembourg if at least one parent works in Luxembourg)
• You have an income in Luxembourg (e.g. a pension) – including if you are a non-resident
• You collect rent in Luxembourg
Once you have submitted all the necessary documentation, you can expect your account to be set up, and you should receive your bank card within a few days.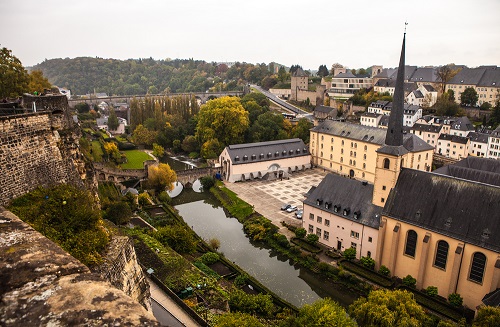 Many banks in Luxembourg will allow you to apply online
Choosing a bank
Many Luxembourgish businesses offer banking deals to their employees, so when you are choosing your bank, you should first check whether you are able to save on fees, or get a better deal, by going with one of your employer's referred partners.
Among the biggest local banks in Luxembourg are Banque Internationale à Luxembourg (BIL), Banque et Caisse d'Épargne de l'Éta (BCEE) and Raiffeisen, all of whom cater to expats and allow you to apply for an account online before you move. BCEE is particularly favoured by expats, due to its high number of branches and ATMs in the country, as well as their attractive expat-focused Zebra and Zebra Premium accounts. Raiffeisen lists the requirement that customers opening a new account with them must have an existing account in the SEPA, so BCEE or BIL may be your best option if you come from outside the 36 SEPA member countries.
The Luxembourg subsidiaries of ING and BGL BNP Paribas are also widely used by expats. With ING's Orange account, you automatically get a free savings account, and transfers to accounts in the EU are free, provided that you deposit at least €1000 into your account per month. BGL BNP Paribas is highly praised for its free, online-only account, its volume of ATMs and branches across Luxembourg, and its user-friendly online and mobile banking.
Your final option is to open an account with a mobile/digital bank. Luxembourg is one of the leaders in Europe for embracing mobile banking and payments, so if your banking needs are relatively basic, you may find that opening an account with a mobile bank, such as N26, bunq or Revolut, is your best option.