Finding reliable and trustworthy banking services is an important part of living and working abroad, and expats will find that, in most countries, a range of options are available. You may well wish to maintain a bank account at home, for paying bills and other activities, but you will probably also need a local bank account, in order to receive salary payments and handle your living expenses.In most countries, a range of options are available. It is even possible that your existing bank will have international facilities. Alternatively, you may wish to open an off-shore bank account. Different countries have different rules with regard to banking. In many, you will need a local bank account in order to acquire residence. In others, employers may only be able to pay you via a local account. This may also apply if you are self-employed.
Malaysia is an attractive destination for expats, and once you have obtained your visa, opening a bank account is generally not difficult. Both local and international banks operate in the country, and they are usually welcoming to foreign customers. The language of business is officially Bahasa Malaysia, but many people speak English, and you will not find that language is a barrier.
The sector is well regulated. Under the Financial Services Act (2013), banks are subject to supervision by several different authorities, including Bank Negara Malaysia (BNM, the Central Bank of Malaysia) and the Minister of Finance, with the aim of ensuring stability, risk management and liquidity. In addition, since 2018, Malaysia has taken significant steps to combat money laundering and the funding of terrorism, following the guidance laid down by the global watchdog, the Financial Action Task Force (FATF). The country is highly rated by the FATF for compliance.
While Malaysian banks are well buffered and resilient to risk, the combination of recent political changes and the COVID-19 pandemic are likely to create some difficulties and reduced returns.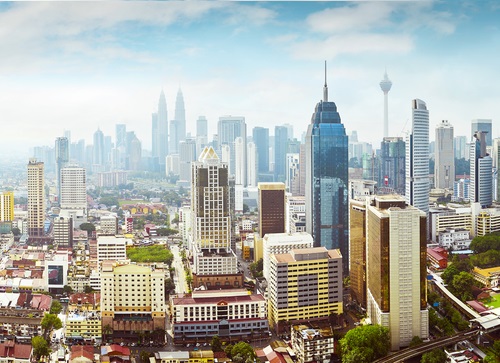 Malaysia is highly rated by the FATF for compliance
Major banks in Malaysia
You will find you have a wide choice of banks in Malaysia, including international banks, which offer both personal and business banking services. The biggest local banks are:
• Malayan Banking Berhad (Maybank)
• CIMB
• Public Bank Berhad
• RHB Bank Berhad
• Hong Leong
These all have multiple local branches across the country and a strong network of ATMs, so finding a bank that is convenient for you is easy. International banks with a presence in Malaysia include:
• BNP Paribas
• Bank of America
• Citibank
• Deutsche Bank
• HSBC
International banks tend to cluster in cities, so if you live in a more rural area, you may find one of the local banks more convenient. If you wish to open an account online before you arrive in Malaysia, the international banks are recommended, as most local banks only offer this service to people who already have an account with them.
Opening an account
Once you have decided which bank is right for you, the process of opening an account is straightforward. In most cases, you will need to visit your local branch in person. While different banks may ask for different documentation, typically, you will need:
• Your passport or another appropriate office photo ID
• Proof of your right to be in Malaysia – i.e. your visa or residence permit
• Proof of employment or business activities in Malaysia, or proof of income and/or assets if you are retired
• A set minimum deposit – this varies according to the bank and the type of account
• Proof of address
You may also be asked to give your fingerprints, or to supply a reference from someone who already has an account with the bank and is in good standing. The procedure takes around an hour to complete, and your account will usually be set up within three working days.
As an expat, the easiest account type to open is a personal savings account. This provides you not only with a passbook, but also with an ATM card, which can be used at any ATM belonging to your bank. Often, your savings account will be active and available for you to use at the end of your appointment.
You can also open a combined savings and current account or a current account, which will provide you with a chequebook, but which may take longer to open (around three days). You may have a joint account with your spouse, provided they also have the appropriate visa or residence permit.
You should also be able to apply for a credit card, although you may be asked for additional proof of earnings or income in order to qualify.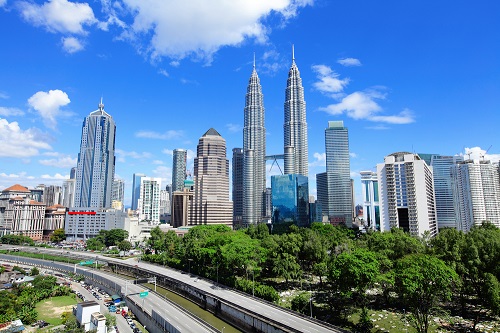 As an expat in Malaysia, the easiest account type to open is a personal savings account
Islamic banking system
As well as having conventional banks, Malaysia has an active Islamic banking sector. Islamic banks comply with religious rules on financial matters, such as around charging interest (which is forbidden under Sharia law) and investments. Like the conventional banking sector, Malaysian Islamic banks are regulated and overseen by the BNM, and they must comply with the 2013 Islamic Financial Services Act. You do not have to be Muslim to open an account with an Islamic bank.
Banking fees and charges
Fees and charges vary from bank to bank, and most banks charge you to use any ATM that does not belong to them. As of September 2019, all commercial banks have stopped charging their customers for transactions in-branch and for using their own banks' ATMs. Some accounts require you to maintain a minimum balance, or to pay in a certain minimum amount monthly, to avoid other charges.
It's worth shopping around to see which bank and which account is best for you. Charges for foreign currency transactions can be high, and if this is something you intend to do regularly, you may find it best to open your account with one of the international banks.
ATMs, branches, and banking hours
The large local banks in Malaysia have widespread networks of ATMs and branches across the country. International banks are more concentrated in the cities. Banking hours are generally from 10 am to 3 pm Monday to Friday and from 9.30 am to 11.30 am on Saturdays.