Finding reliable and trustworthy banking services is an important part of living and working abroad, and expats will find that, in most countries, a range of options are available. You may well wish to maintain a bank account at home, for paying bills and other activities, but you will probably also need a local bank account, in order to receive salary payments and handle your living expenses. It is possible that your existing bank will have international facilities. Alternatively, you may wish to open an off-shore bank account.Different countries have different rules with regard to banking. In many, you will need a local bank account in order to acquire residence, and employers may only be able to pay you via this kind of account. This may also apply if you are self-employed.
Monaco is internationally famous for its financial sector, and Monegasque banks offer a wide range of products and services, with an emphasis on wealth management. You do not need to be a resident of Monaco to open a bank account there, but you will need to meet specific bank requirements, and large initial deposits are required. If you are a high-worth individual, it is always advisable to take professional advice when choosing your banking services.
Although Monaco is not a member of the European Union, it uses the Euro and has close treaty relationships with France. As a result, the banking sector is well regulated. All banks and financial institutions are overseen by the Autorité de Contrôle Prudentiel et de Résolution (ACPR – the Prudential and Resolution Supervisory Authority) and subject to the same rules as French banks.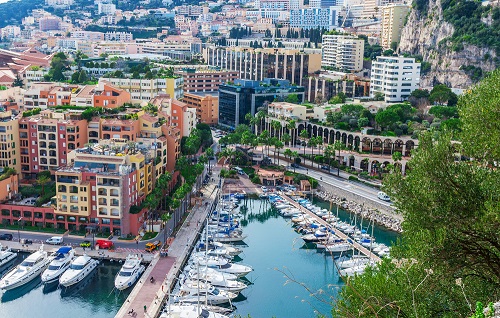 All banks and financial institutions in Monaco are overseen by the Autorité de Contrôle Prudentiel et de Résolution
Within the principality, banks are regulated by the Commission de Contrôle des Activités Financières (CCAF – the Financial Activities' Supervisory Commission), an independent body, which ensures transparency and protects investor interests, as well as monitoring banking practices. There is protection against money-laundering, the financing of terrorism, and corruption in financial practice.
Most banks operating in Monaco belong to large international groups. Around 30 of these are full service banks. There are also numerous specialist banks.
Major banks
Although French banks dominate the retail sector in Monaco, you will find that other international banks also have a presence. At time of writing, the main full service banks are:
• Barclays Bank plc Monaco
• UBS
• Banca popolare di Sondrio
• BNP Paribas
• Banque Européenne du credit mutual Monaco
• CIC
• Crédit Agricole
• Crédit du Nord
All of these full service banks offer everyday banking as well as more specialised services. For expats who are students or are working in Monaco, Crédit du Nord and BNP Paribas are probably the best options.
Banks in Monaco do not usually offer online banking.
How to open an account
While the official language of Monaco is French, Monegasque banks employ staff who are fluent in most major global languages, so you will not need to be fluent in French to access banking services. Banks are used to international customers, and they aim to make things as straightforward as possible. It is best to call ahead and make an appointment with your chosen bank to open your account.
You may be able to open an account from outside of the country if you have an established relationship with an international bank that has a presence there, or if you are a very high-worth individual. Alternatively, you can open an account via a Monegasque lawyer. If you are not resident in Monaco, be aware that you will be required to supply a very large opening deposit and maintain a high balance in your account.
To acquire residency in Monaco, you must have a local bank account. By law, if you are using a private bank, you must supply a deposit of at least €500,000 and maintain this as a minimum balance. To open your account, you will need to supply the following documents:
• Your valid passport or other official identity document
• A utility bill or other proof that you are fiscally resident in Monaco
• Proof of your earnings or financial status
• Information about the origins of the money you are depositing
• A profile of yourself, including details about your employment and income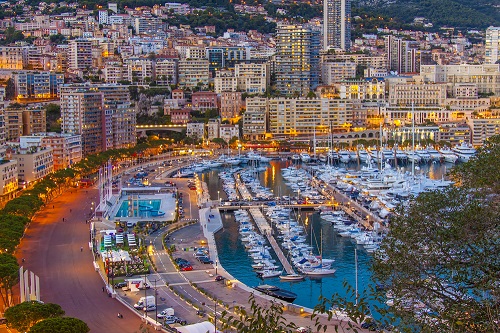 To acquire residency in Monaco, you must have a local bank account
Some banks may also ask you for copies of your tax returns for the previous two years, as well as, if relevant, tax returns for any company you own and corporate documentation. You may also need to demonstrate an existing economic tie to Monaco.
Your new account will generally be up and running within 10 to 14 working days, but the process can take up to two months, particularly if you require specialist services.
ATMS, fees and banking hours
Monaco is a small country, and you will rarely find yourself far from an ATM. Banks charge you to use machines that do not belong to their network, and the fee can be up to €6. Charges for using a debit card from your country of origin will be even higher.
On your accounts, you will probably be charged a monthly maintenance fee. This can be quite high (up to €50), depending on the account type. You should check with your bank about this when setting up your account. Charges also apply if you drop below your agreed minimum balance.
International transfers usually attract charges of a set percentage of the amount transferred, a standard fee of around €20, and a high exchange rate.
Banking hours vary from bank to bank, and you should check your bank's website for these. Some private banks are open 24 hours a day.