Finding reliable and trustworthy banking services is an important part of living and working abroad, and expats will find that, in most countries, a range of options are available. You may well wish to maintain a bank account at home, for paying bills and other activities, but you will probably also need a local bank account, in order to receive salary payments and handle your living expenses. It is possible that your existing bank will have international facilities. Alternatively, you may wish to open an off-shore bank account.Different countries have different rules with regard to banking. In many, you will need a local bank account in order to acquire residence, and employers may only be able to pay you via this kind of account. This may also apply if you are self-employed.
The official languages of Morocco are Arabic and Tamazight (a form of Berber), but many people also speak French, and the latter is the usual language of business. The Moroccan banking sector is regulated by the Bank Al-Maghrib (the Central Bank of Morocco/BAM), under the 2015 Banking Law. BAM supervises all banks operating in the country, and the sector as a whole is working towards full compliance with international standards.
At time of writing, banks in Morocco are stable, although some of them have relatively low levels of core capitalisation. They are considered safe, and investors' deposits are protected by law.
Major banks in Morocco
You will find both local and international banks, and the largest of these have branches all over the country. Historically, Morocco has strong links with France, and most local banks were founded on the French system. In the international sector, French banks predominate, though you will also find trans-African banks and Citibank. The major retail banks are:
• Attijariwafa Bank (AwB)
• Banque Populaire du Maroc (BCP)
• Banque Marocaine du Commerce Extérieur (BMCE)
• Banque Marocaine pour le Commerce et I'Industrie (BCMI, part of BNP Paribas)
• Crédit Populaire du Maroc
• Crédit du Maroc (part of the Crédit Agricole group)
Of these, AwB, BMCE, and BCP are the sector leaders, and all maintain offices outside of Morocco, predominantly in Europe and Asia. At present, none have a presence in the USA.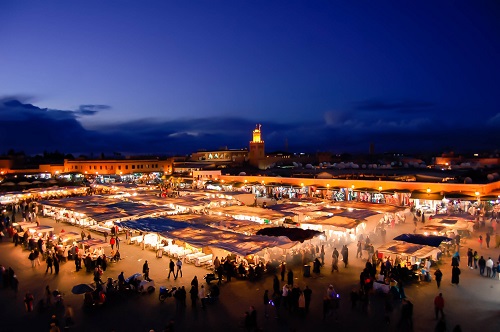 You will find both local and international banks in Morocco
How to open an account
The procedure for opening a bank account in Morocco is relatively straightforward. In major cities, some bank employees speak English, but many do not. If you do not speak Arabic, Tamazight, or French, you may encounter difficulties, and it is advisable to ask for help from a translator. The local currency is the dirham.
The process can be slow, and you will probably have to make more than one visit to your chosen branch. You will need to complete an application form and supply supporting documentation. Different banks request different documents, but usually you will be asked for:
• Proof of identity (valid passport or ID card, or a notarised copies of these)
• Proof of employment or income
• Certificate of domicile
You do not need to be a resident of Morocco to open a bank account, but you cannot open an account in dirhams if you are not legally resident. Once you have completed the application process, you must make an appointment with the branch manager to sign your contract with the bank. You should receive your debit card within around 10 working days of opening your account.
You cannot open an account online, and the only way to open one from abroad is via a local lawyer.
Types of accounts
To open a dirham account, you must be resident in Morocco. However, most banks allow you to open a foreign currency account or a conversion account, which allows you to withdraw money in dirhams, while in Morocco, and to transfer money in from your accounts elsewhere. You will be asked to provide proof of the origin of the transferred funds and declare it to the customs authorities.
Often, it is simpler and easier to take cash with you to open your account. At present, there is no limit on the amount of foreign currency you can take with you into Morocco. You can, however, only take a maximum of 2,000 dirhams with you when you are travelling in and out of the country.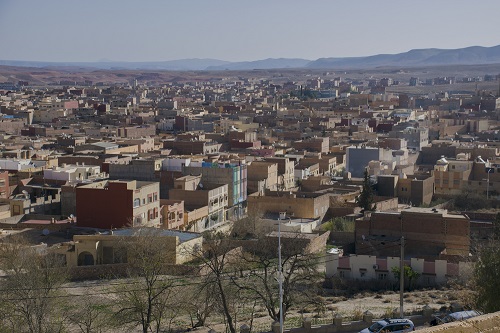 To open a dirham account, you must be resident in Morocco
You can only make deposits into conversion or foreign currency accounts in the chosen foreign currency (not in dirhams). If you are working in Morocco, you will probably find it useful to open a dirham account as well. A range of savings accounts are also available; you should consult your bank about these.
Not all current accounts (checking accounts) come with a chequebook. You should receive a debit card, but you may have to ask for this. Morocco remains largely a cash economy. You can pay rent and bills via your bank, but online banking is not widespread, nor is the use of credit and debit cards.
Banking hours, ATMs and fees
Banking hours are usually 8.15 a.m. to 3.45 p.m. Monday to Friday. During Ramadan, and during the hotter part of the year, they are reduced to 9 a.m. to 2 p.m. However, there are variations between banks and even between branches, so you should check what the opening hours are at your local branch before you visit it.
ATMs are easy to find in cities and towns, but they are much rarer in rural areas, and it is advisable to carry enough cash with you for your needs. It is also worth bearing in mind that the ATMs in more remote areas are often out of cash. You will be charged a fee to use an ATM that is not from your bank's network – this is usually 15 to 30 dirhams.
Fees and charges for bank services vary from bank to bank. You may find that you are charged a monthly account maintenance fee and a fee for depositing checks. Charges apply if your account goes below the minimum required balance.
Even if you have a conversion account, transferring money between currencies can attract high fees and take a long time.