Qatar has experienced impressive economic growth in recent years, largely due to revenues generated from natural gas and oil reserves. In line with this, Qatar has been regularly improving and updating its financial and banking systems. Consequently, the country has a well-maintained network of local and international banks.
Banking options for expats
If you are looking to relocate, you can still retain your bank in your home country, although there may be a few prerequisites. For example, if you have a premium bank account of any kind, you may need to keep a specific amount of funds in the account for it to remain active. Alternatively, you may have to continue with specified monthly payments or transactions. It's always a good idea to keep your old bank accounts open, in case you need to continue making any payments in your home country, and to make any repatriation transitions in the future easier.
The majority of expats choose to retain their existing bank accounts and open a new account in their destination country. Opening an account in your destination country will allow you to receive salary payments, pay bills, set up direct debits/standing orders, build a credit rating, and more. Some expats choose to open an international bank account instead of a local account, while others prefer an offshore bank account. Depending on your individual circumstances, requirements, and assets, you may want to open one or a combination of the above types of account.
If you are planning on working in Qatar, it is absolutely mandatory that you have a local bank account. Wages in Qatar are only paid into Qatari bank accounts. There are 18 licensed banks in Qatar, 11 of which are Qatari financial establishments, while the others are foreign institutions. Qatar National Bank (QNB) has a market share of more than 55% of banking assets of all banks in Qatar. Qatar Islamic Bank is the largest Islamic bank in the country, with 40% of total Islamic banking assets.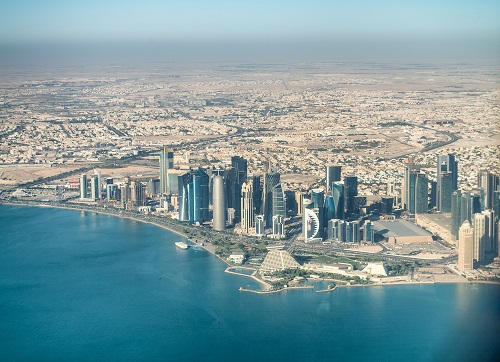 If you are planning on working in Qatar, you must have a local bank account
Opening a bank account in Qatar
First and foremost, before you consider anything else in terms of banking in Qatar, talk to your employer. In many cases, employers have an onboarding package for expat workers and can help you with the entire process. Sometimes, they can even offer preferential perks and rates that you may not be able to get at other banks as a foreign worker. Once you've discussed your banking options with your employer, you can then decide on the next steps to take.
It is highly advisable to set up a bank account in Qatar prior to your arrival. Larger banks in particular, such as QNB and the Commercial Bank Of Qatar, allow new customers to easily open online accounts in no time at all.
However, despite the application being online, you will still be required to provide some supporting documentation, before your request to open an account is actioned, such as a copy of your passport and a confirmation of your employment in Qatar. Your confirmation of employment letter must be provided on company letterhead paper, and it should detail your role, starting date, contract length, and salary.
Once you have arrived in Qatar, you will have 90 days to present your Qatari ID to the bank for the process to be completed.
To open an account in person, you will need to go to a local branch with the aforementioned documents. You may also need to provide proof of residence, such as a residence permit, utility bills, etc. Some banks may request a "no objection letter" from your employer, which essentially states that the employer can guarantee that they will be depositing a fixed sum of money into your account on a monthly basis.
NOTE: Dependants of the visa holder (including their spouse) cannot open a bank account in Qatar without formal permission from the head of the household. The visa holder has to sponsor his own wife and/or children so that they can open their own bank accounts.
Banks in Qatar
The working week in Qatar runs from Sunday to Thursday, with Friday and Saturday being the typical days off that you may associate with a weekend back home. Most businesses are open on Fridays, with just half-a-day on Thursdays.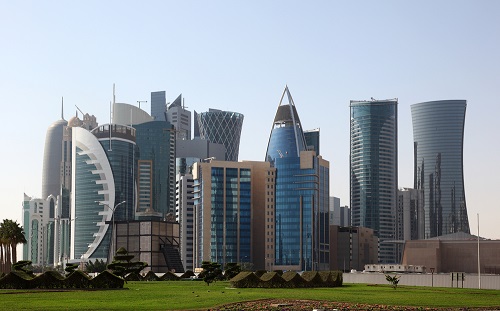 Banks in Qatar are generally open from Sunday to Thursday, but exact opening and closing times vary
Although banks in Qatar are generally open from Sunday to Thursday, exact opening and closing times vary. For example, some banks open at 9 a.m. and close at 1 p.m. for the day. Other banks may operate from 7.30 a.m. to 1 p.m., then reopen later on in the day from 2 p.m. or 3 p.m. to as late as 7 p.m.
Some of the most well known banks operating in Qatar include:
• Qatar National Bank
• Commercial Bank of Qatar
• Doha Bank
• Qatar Islamic Bank
• HSBC – Qatar
Most local banks have services available in both English and Arabic, and many offer account types that you are most likely familiar with from back home. In Qatar, as well as local banks, there are a range of international banks that you can choose from, such as Arab Bank, Bank Saderat Iran, Barclays Bank, BNP Paribas, HSBC Bank Middle East, Mashreq Bank, Standard Chartered Bank, and United Bank Limited (UBL).
If you already have a bank account with one of these international providers, you will not need to worry about opening a separate local bank account, unless this is something that you would specifically like to do. You can pop into a local branch to register your account as local, and the bank should be able to take care of everything else.
Commercial Bank Qatar is often of particular interest to foreign workers, as it offers a package specifically designed for expatriates who have just moved to Qatar. The package includes a number of discounts, temporary loans to cover housing costs and other expenses, and numerous other perks.