Qatar (officially the State of Qatar) is a country on the northeastern coast of the Arabian Peninsula, with a sandy desert terrain and a long, glistening Persian Gulf shoreline. Qatar is a land of juxtapositions, with pepperings of small untouched villages and explosions of futuristic cities filled with skyscrapers. Around 60% of the residents in Qatar reside in the capital city of Doha.
Renting property
Although Qatar has been slowly opening up parts of the property market to foreigners, many expatriates still prefer to rent. Around three-quarters of the population (many of whom are expats) rent their villas and apartments. Around 60% of all properties in Qatar are for residential renting purposes.
What are typical lease terms?
Renting in Qatar is not cheap. According to real estate reports conducted by Colliers International, the majority of expats living in Qatar spend around a third of their salary on rent. However, some would argue that this is offset somewhat by the low cost of utilities. The rentals available are generally serviced apartments or condominiums, as well as villas in gated communities.
The majority of rental contracts are done on an annual basis in Qatar. The Qatari renting process is quick and efficient, so long as you have all the required paperwork and documentation in place. You will need:
• Your residence permit/visa
• Qatari identification card
• Your employer's/sponsor's ID card or trade license
• Proof of earnings, such as your employment contract or salary slip
• A chequebook with at least 13 blank cheques
The reason you will require a chequebook with at least 13 blank cheques is that most rented accommodation in Qatar requires you to give post-dated cheques for the duration of your contract before you move in. This is a common practice so do not be alarmed.
Where can expats find details of properties to rent?
The most popular way to find a rental in Qatar is through licensed agents. Also, local publications and newspapers will likely have a property section, but this will not be much use if you cannot read Arabic!
There are also websites that you can use, such as:
• Propertyfinder.qa
• Justproperty.qa
• Qatarliving.com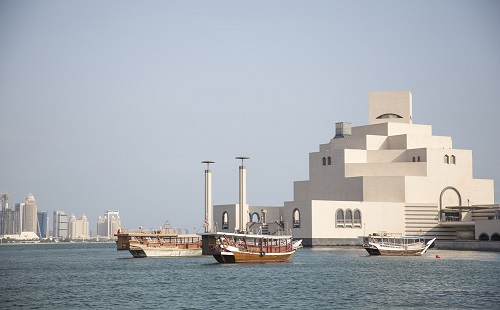 The most popular way to find a rental in Qatar is through licensed agents
What are typical rental prices in major expat destinations?
Doha is the main residence for the majority of the Qatari population. Popular areas of Doha to live in include Old Airport, Al Saad, West Bay, and Al Dafna.
According to data statistic website Numbeo, the average monthly rent for a one-bedroom centrally located apartment in the city is around QR 5,632.87 (Qatari Riyal). This is equivalent to approximately £1,250.66 (GBP) or $1,547.07 (USD). An apartment of similar size further outside of the city centre costs roughly QR 3,665.71 (£813.89 or $1,006.79).
Are there any challenges/problems in the rental process that expats often encounter?
It is worth bearing in mind that flat shares are illegal in Qatar without express permission from the landlord. If you are offered a room to rent in someone's apartment and they cannot show you proof of permission from the landlord, it would be wise to refuse the room and continue your search. In addition, same-sex couples are illegal, and heterosexual couples who are unmarried cannot live together.
Buying property
Foreigners of any nationality are permitted to obtain freehold ownership in specific areas of Doha, such as The Pearl (an artificial island off the city of Doha), West Bay Lagoon, and Al Khor. Foreigners who buy in any of these areas often qualify automatically for resident status. This resident status can be extended to the owner's immediate family.
What is the typical house buying procedure?
Many properties in Qatar are bought before they are completed – they are often referred to as "off-plan". These off-plan properties are purchased directly from the developers. When purchasing a property of this type, typically you will need to pay a deposit upon signing the sale contract. You will then make staggered payments in increments throughout the development. Full payment is not usually completed until the property is finished.
For example, if you are looking to purchase an off-plan property in The Pearl, you will pay a deposit of around 20% of the purchase price. The remaining balance of the property is calculated at 75% of the purchase price and is payable in quarterly instalments, with the final 5% paid on completion.
Usually this process will begin with you applying for and then being issued with a No Objection Certificate (NOC) by the developer. Once the NOC has been issued, you are able to go to the office of the Qatar Land Department to officially transfer ownership. The Qatar Land Department will insist that you pay the purchase price with a manager's cheque, made payable to the seller on the date of transfer.
Once all the formalities are completed, a new title deed will be issued in your name. If you are purchasing through a bank, then there may be an additional step in this process. The transfer fee is levied at 0.25% of the property value. Authentication documents will also be required (at a fee).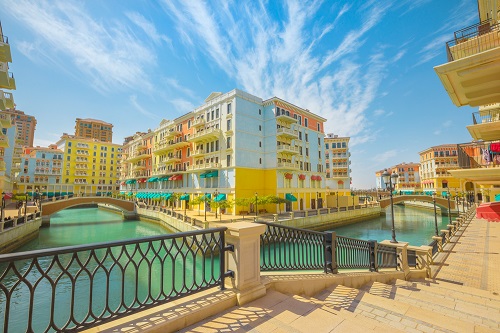 Many properties in Qatar are bought before they are completed
Where can expats find details of property for sale?
Finding properties to buy is a similar process to finding rentals, which is described above. Look for local adverts, use a reputable property agent, or look on property websites, such as Property Finder, The Pearl Gates,
Saakin, and Just Property.
Do local banks or other lenders issue mortgages to foreign nationals?
Expats can apply for and obtain Qatari mortgages, but the mortgage requirements tend to be quite stringent. Some of the banks in Qatar that offer mortgages to foreigners include HSBC, Doha Bank, and The Commercial Bank of Qatar.
Qatar encourages foreign property purchases in some locations more than in others, which can lead to more preferential rates through bank incentives. For example, if you were to get a mortgage for a property in The Pearl, you may be eligible for better terms, such as lower interest rates.
Mortgages for non-national residents can cover up to 80% of the value of the property price. You will also need to register your mortgage with Qatar's Land Registration Department.
Banks will likely request the following documentation, so make sure you have it to hand:
• Property valuation report
• Proof of income
• Valid passport
• Valid residence permit