Russia is not always considered to offer the healthiest lifestyle on the planet, but if you are going to be living and working there, then you will find plenty of opportunities to keep fit and well.Russia is an enormous country. You will find a diverse range of landscapes there, and there are opportunities for sailing, white water rafting, swimming, skiing and hiking. Many Russians like sports, as well as getting out into nature and visiting their swathes of forest. Take the chance to explore, therefore, and get fit at the same time.
Russia's main sporting passion is football – the FIFA World Cup was held there in 2018 – along with a popular traditional sport known as Bandy. Bandy is informally called "Russian hockey" and is sometimes considered to be the country's national sport. It is one of the biggest spectator sports in Russia. Also popular are Lapta, a Russian traditional bat and ball game, and Moscow Broomball, which is a variation of broomball (a form of ice hockey played in Moscow).
Also played is Gorodki, a folk sport in which competitors knock down a group of cylindrical wooden objects by throwing a bat. Russian Pyramid is a cue sport played across Russia, and there is also Bunnock, a form of skittles played with bones (also known as "Game of Bones").
Also popular are basketball, ice hockey, handball, rugby league, wrestling, martial arts, weightlifting, gymnastics, figure skating, boxing, volleyball, rugby union, and skiing. Russian athletes are dedicated and tend to do well in the Olympics. Russian athletes first competed at the Olympic Games in 1900, and they have been winning numerous gold medals ever since. The country has a number of world-famous sporting stadiums.
There are over 100 ski resorts in the country, and the Sochi Winter Olympics sparked additional interest in skiing. The season runs from December to April. The leading resort is Krasnaya Polyana (Sochi), although experienced skiers say that it is not infrastructurally up to Western standards. It is, however, supposed to be good for powder.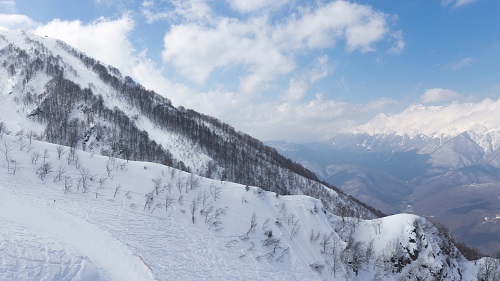 There are over 100 ski resorts in Russia
Many Russian resorts offer snowboarding, some also offer mountain yoga, and some favour rather eccentric practices. At Dombay, you can stay at a hotel shaped like a UFO, and at Bolshoi Vudyavr, you can, conditions permitting, ski in the light of the aurora borealis. The Cheget ski park, in the south of the Elbrus region, has a season from November to May and is dedicated to extreme skiers. Sheregesh, in the Kemerovo region, has an annual mass downhill bathing-suit run in April.
Russia also scores when it comes to unusual surfing. The most famous surfing there is in the volcanic Kamchatka Peninsula, in Russia's Far East, bordered by the Sea of Okhotsk, Pacific Ocean and Bering Sea. Sochi and Vladivostok are also well known. This kind of surfing is for very experienced surfers, and you should expect some very low temperatures. Sochi is said to have great conditions for a range of board sports.
Russia is a great country if you like hiking, with some gentle trails around local woods and forests – you'll find some opportunities wherever you are based, although you might need to travel beyond the cities. If you are feeling adventurous, you can take guided treks to Mount Elbrus in the Caucasus (the country's highest peak), the Altai region on the border with Mongolia, and the Kamchatka Peninsula. Summer to early September is the time for Mount Elbrus, which has both gentle and steep hikes. You may have to camp on the way, however; Russia's tourist infrastructure is often quite rudimentary, although you will find some hotel and B&B provision as far away as Siberia.
The northern part of the Urals, in the Yugyd-va National Park and the Pechora-Ilych Nature Reserve, is a UNESCO World Heritage site and very beautiful, but it is perhaps more suitable for experienced hikers.
Vottvovaara in Karelia is a gentle place for hiking and a sacred place to the Saami people, who chose it as their place of worship because of its remarkable glacial stone formations.
Russia's famous Lake Baikal also has some excellent hiking trails.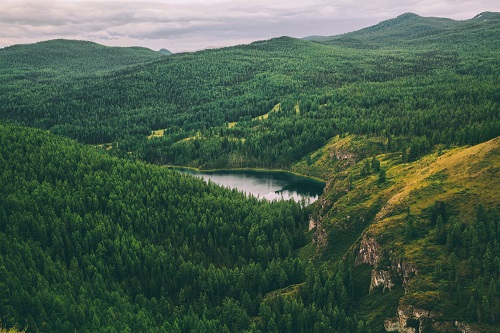 There are some great opportunities to go hiking in Russia
Yoga is popular in Russia, although there were some issues in 2015, when Russian officials apparently targeted yoga as part a crackdown on activities associated with "religious cults" and issued desist letters to yoga studios. However, this attempt at repression does not seem to have lasted, and the country has a number of yoga retreats. Costs are, for example, around €900 for just under a month.
Gym-based fitness is very popular in Russia. The international chain of Gold's Gym opened its first club in Russia in 1996. Currently, the network is represented in five regions. TrainAway also runs gyms around the country. You may find gyms attached to the larger hotels, but be prepared for limited English-speaking provision outside the big cities.
Golf is not widespread, due to the major capital investment needed, but it is a growing market sector, and you will find over 30 courses in the country. Moscow Country Club runs one of these, and Mill Creek Golf Club opened in St Petersburg in 2017.
You will need to consider your diet while you are in Russia. It has to be said that the country does not have one of the world's healthiest diets, although if you are vegetarian you can base your consumption around rice and kasha. Russian cuisine features a lot of salads, but these often contain meat! Ham is regarded as a sort of vegetable. Check out vegan travel sites for how you can find the best provision. Veganism is growing quickly in the country, and Moscow has a number of vegan restaurants.
Alcohol intake has been an issue in Russia for a long time, although a surprising number of Russian communities have now decided to go dry. Watch your intake all the same, particularly if you are in a working environment. Russians may expect you to keep up. However, fruit juice and mineralnaya voda are also available.