Note: This article assumes a normal state of affairs and cannot predict future developments concerning the COVID-19 coronavirus. As long as the coronavirus crisis continues, always check official government guidance before travelling.If you want to keep fit and healthy in South Korea, then you can start by taking precautions before you enter the country. No specific vaccinations are required, but it is recommended that your routine vaccinations are up to date: chickenpox, diphtheria, measles, mumps, rubella, tetanus, pertussis and polio. Vaccinations are also recommended against hepatitis A, typhoid, and Japanese encephalitis. The latter is spread by mosquito bite, particularly during the warm and humid summer months, as is malaria. Malaria currently has no vaccine, so you will need anti-malarial tablets and mosquito repellent.
Hand, foot and mouth disease is common in South Korea during the summer months. It can be avoided simply by not sharing fluids with anyone. Many public toilets do not provide soap for you to wash your hands with, so you may want to pack anti-bacterial hand sanitiser.
Once you are in the country, you will find that Korea has very hot summers and very cold winters. Both extremes can preclude outside exercise and trigger health conditions. You can look after yourself with simple precautions: dress appropriately, and always keep plenty of water on you, especially during the summer. South Korea has some of the cleanest tap water in the world, but most people drink filtered or bottled water.
Expats must sign up for the national health insurance scheme within their first six months of living in the country. This is an important stage in keeping yourself healthy, as it gives immediate and affordable access to South Korea's excellent national healthcare system. You will benefit more if you live in an urban area – along with 80% of the population – as this is where you can get the best access to medical services.
However, the system is focused more on treatment than prevention, so it does not absolve you of your basic responsibility to look after yourself.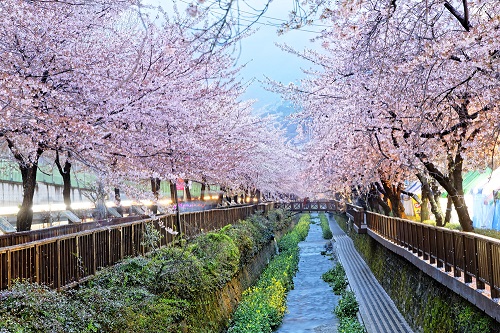 Expats must sign up for the national health insurance scheme within their first six months of living in South Korea
Air pollution is a common problem in South Korea, exacerbated each spring by the Yellow Dust – a combination of industrial pollutants and dust from mainland China, which looks like pollen but is described as a scratchy, unbreathable fog. There is no avoiding it, and expats, especially those with existing respiratory problems or asthma, should invest in medical masks.
Most common medicines are available in South Korea, but not necessarily under the same brand name that you are used to. It is worth taking a copy of your prescription and packing enough to last you until you can restock your supply.
It is much easier to follow a healthy diet in South Korea than in many Western countries. The obesity rate in the population is around 4%. Meals are low-fat, often based around noodles or rice instead of potatoes or chips, and full of vegetables – raw, uncooked, pickled or partially cooked. Meat and seafood are common, but in lean and small proportions. Bibibimbap (a rice dish), kimchi (a dish of salted and fermented vegetables), shabu-shabu (thinly sliced meat and boiled vegetables), seolleongtang (ox broth) and samgye-tang (chicken soup) are popular options, as main dishes or side dishes, served with spicy ingredients and sauces.
Simple options, such as bean sprouts, mushrooms, radishes, seaweed and spinach, are popular as side dishes or ingredients in soups and stews. When you eat out, you are rarely tempted to go for the calorific starter or dessert, simply because they don't exist. Even sweet patisserie items tend to have fillings such as corn, figs, red beans or sweet potato rather than chocolate or sugar.
Note, however, that it is still very easy to eat unhealthy food. Fast and instant food (both Western and Korean) are very popular, and there is always the danger of overeating when you choose rice or noodles. Barbecues are popular but are generally healthy if you stick to lean meat.
You can keep an eye on what you eat by going to your local farmer's market and buying straight from the suppliers. This means that whatever you buy will be locally sourced and seasonal. If you specifically want organically produced food, ask for 'yu ginong'. When buying your own food, whether from a market or food cart or shop, make sure the place is clean and busy (customers will not return to someone who has made them ill), with perishable foods kept chilled.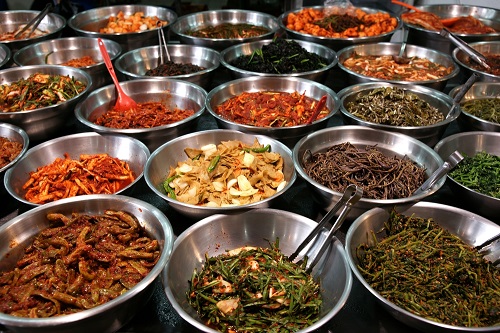 In South Korea, you can go to your local farmer's market for locally sourced and seasonal food
If you can't conveniently visit a market yourself, you can order the same sort of seasonal and local ingredients to be delivered directly to you in a community supported agriculture (CSA) box. Popular options include Slow Box and Gachi, but other options are available. A handy list of suppliers can be found on the TimeOut website.
Exercise is popular among South Koreans. Gyms are plentiful, with a four-month membership costing around 130,000 won (£85). Many offer foreigner discounts. The emphasis in gyms tends to be more on cardio than strength, flexibility or balance. There are also plenty of places to learn Taekwondo, which is the official national sport of South Korea.
If you want to spare yourself the expense of a gym membership, free exercise equipment for public use can frequently be found in parks, on hiking trails, or simply in the street. Such equipment may not be as immaculate or modern as in a gym, but it will still be perfectly serviceable.
Hiking is also popular in South Korea. Koreans take hiking very seriously and will gear up for the simplest excursions. It is easy to find well-marked hiking trails through beautiful scenery, whether for an intense three-hour trek or a gentler hour-long stroll. You do not even have to go far, as many trails thread their way through and around the cities. The Seoul city limits include the Bukhansan National Park, Bukhansan being one of seven mountains located in Seoul.
Many cities also have dedicated cycle routes and lanes, both for getting around and for enjoyable exercise through scenery. This is fortunate, as most cyclists would rather avoid the road traffic. Bikes are widely available for hire on the cycle routes. Seoul's Han River route has singles available at 3,000 won (£2) per hour and tandems at 6,000 won (£4) per hour. Full-day single rentals are 15,000 won (£10).