The comparatively low cost of living with respect to other European nations is an appealing aspect of seeking work and residence in Slovakia. The country's economy is stable and unemployment is currently not high. Teaching English is still a popular way of making a living if you are an expat here, but you may find other opportunities, depending on the sector in which you work. The ease with which you are able to find work will depend on whether you are a EU/EEA national: if you are a member of another EU state, you will find that the job seeking process is somewhat streamlined, as you already have existing residence rights.If you are a member of an EU/EEA member state and have a Blue Card (a residence permit issued on the basis that you are a highly skilled worker with a university degree), you will be able to reside and work in the country without the need for a great deal of further bureaucracy.
If you are a third party national from outside the EU/EEA, however, you will need to obtain a work permit. This will be issued on the basic of an existing offer of employment, so you will need to secure a post before applying for the permit. Employers must notify the Labour Office at least 10 days before a vacancy opens, as priority for posts is given to Slovak nationals and other EU citizens. If approved, your employer must then issue you with a Letter of Employment, which will form part of your work permit application. You will then need to submit the following to the Labour Office:
• official application form for a Work Permit (completed in Slovak and signed)
• copy of your passport
• copy of the document of residence (if it was granted to you)
• copy of a document proving your status as a third country national with acknowledged long-term residence in another EU Member State (if applicable)
• employment contract or a letter of employment
• proof of your qualifications
• authenticated copy of a business contract, or copy of the in-house transfer (in the case of deployed workers or in-house transfer)
• written power of attorney (if the application is submitted on your behalf by your future employer or by the company you were deployed to). Your signature must be authenticated by a notary
The processing of your permit can take up to a month.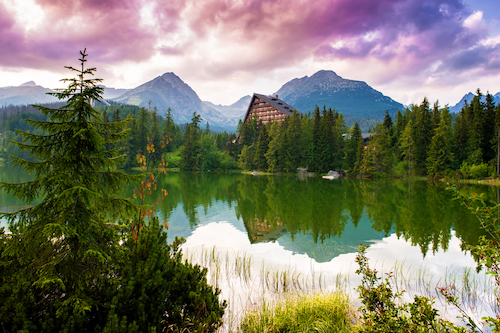 It can take up to a month to process your permit
You can extend your permit, but note that it is tied into your employment contract: if your employment ends, your permit will end as well and this may impact on your residency.
Teaching English is a popular choice although salaries may not be high (the cost of living is low, however, and if you simply want to experience the country rather than prioritizing your salary, this is a good option). You will need to have a TEFL certificate and ideally a university degree, which will secure you a higher salary.
Manufacturing is a major sector in Slovakia. The service sector (administration and office work) is also increasing but this may be more an advantage to those who are bilingual in Slovak. Arts and recreation are also expected to expand.
IT is also a growing sector in the country and if you have digital skills, then you may find that there are a number of opportunities opening up to you.
Most available vacancies will be located in Bratislava, unless you are working in the tourist industry. You may, for example, be able to find work in ski resorts.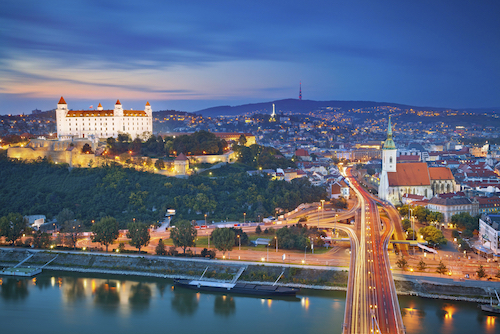 Most opportunities are in Bratislava
The typical working week in Slovakia lasts for 40 hours per week or 8 hours per day. If an employee agrees, you may extend your working day but by no more than 12 hours. Overtime is paid at a higher rate.
Your annual leave entitlement is set at 4 weeks, rising up to 5 weeks for employees who are 33 years old or older.
Maternity leave is set at 34 weeks. If you have contributed social security payments for at least 270 days to the health insurance system in the two years preceding the birth, you will be entitled to receive maternity benefit.
The minimum wage in Slovakia is currently set at €520 per month.
Your spouse will be able to work if they are an EU/EEA national. If they are a third party national, then they will need to go through a separate application process for a work permit.
Job Vacancies
There are a number of job boards and recruitment agencies which cover Slovakia. There are several which specialize in the ski industry. Internationals Bratislava also runs a website which specializes in no-Slovak speaking vacancies in the country. Social media also sometimes features vacancies, too. You can make speculative applications to companies.
Applying For A Job
A standard CV/resume should be adequate.
Slovak anti-discrimination law is in full compliance with EU directives regarding anti-discrimination. An employer is obliged to treat its employees in accordance with the principle of equal treatment. It is prohibited to discriminate (directly or indirectly) against employees on the grounds of their gender, marital status and family status, sexual orientation, racial or ethnic origin, language, age, adverse health condition or disability, genetic characteristics, belief, religion, political or other views, trade union activity and any other reasons related to identity.
Qualifications And Training
You should not need to get your qualifications translated into Slovak.
Would you like to share your experience of life abroad with other readers? Answer the questions here to be featured in an interview!