The commercial and political center of Spain, Madrid lies right in the heart of the country. Since it is centrally located, it is easy to come and go as you please. From Madrid, it becomes easy to travel to any location within Europe.
The third largest capital in Europe, Madrid is an important hub for commerce and finance, but doesn't have the fast paced lifestyle that is associated with other capitals of the world such as London and Paris. It has many large multinational companies based here and a good amount of direct foreign investment.Although average incomes here are lower that those in other major cities, Madrid is also considerably more affordable than other European cities. The city is great for those who want to enhance their professional life. It is the ideal city to find a job in Spain, and for many expats, it's simply the best city on the continent in which to work and live.
The Expat Insider 2016 survey by InterNations names Madrid as the top city in Europe for living overseas, and the third best in the world. The survey was extensive and had nearly 14000 respondents. Only Melbourne and Houston were more popular than Madrid among expats. Known for its sunny weather and friendly locals, Spain has long been a preferred destination for expats.
93% of expats rated Madrid positively when it came to general satisfaction with life overseas. This was greater than the global average of 78%. Madrid also fared remarkably well when it came to making expats feel at home. The city held the top rank in this subcategory of the Ease of Settling In Index. 72% of respondents agreed that it is easy to settle down in Madrid, while 77% said they feel at home in the local culture. Even when it comes to finding friends, Madrid ranks number one. 71% rated making new friends in the city positively, while the global average was 60%. When it came to making local friends, only 19% found it to be challenging, which is considerably lower than the global average of 36%.
Madrid is the top city in Europe for settling in, but it doesn't fare too well in the Working Abroad index, especially in the Job and Career and Job Security sub-categories, in which it ranks 30th and 32nd respectively, out of 35 destinations. Those working in Madrid are also concerned about the state of the economy, with 43 percent rating this factor negatively, in comparison to the 24 percent global average. This may also affect how expats perceive their career prospects, with 29 percent rating their career opportunities negatively.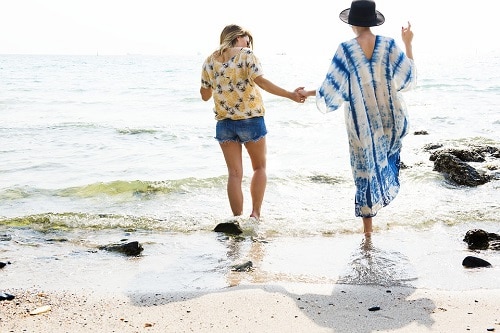 Expats report that it is easy to make friends in Madrid
© rawpixel on Pixabay
Nonetheless, if your age, skills, career ambitions and life goals align with what Madrid has to offer, there is probably no other European city that can compare to it.
Pros of living in Madrid
There are various advantages of living in an exciting city such as Madrid, and this is one reason why the city has nearly a tenth of its population consisting of international citizens. One major plus point is that the cost of living in Madrid is far lower than the cost of living in other European capitals such as London or Paris. Public transport, clothing, entertainment and eating out are all affordable.
Madrid also makes quality educational facilities available to its residents. It has many reputed international schools catering to different nationalities such as British, German, French, Irish and American. Healthcare too adheres to a high standard, and Madrid has some of the best medical facilities and professionals in Spain.
Expats looking to settle down in an exciting destination are likely to find Madrid an ideal place as it is home to some of the best museums in the world, art galleries, theatres, cinemas, leisure centers, exhibition halls, sports centers, parks and malls. Due to the variety of activities available, you are likely to never run out of things to see and do.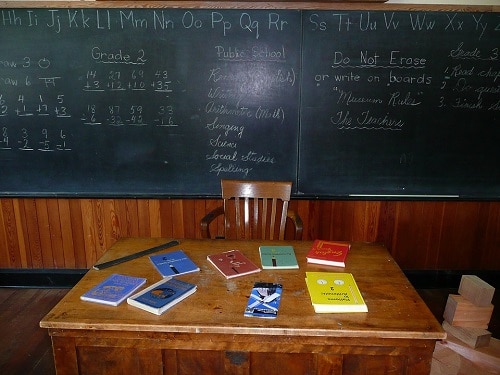 Teaching English is one of the most popular expat jobs in Madrid
© werner22brigitte on Pixabay
Madrid is a modern city that makes up of most of the population in the central territory of Spain. It is also the center of economic activity, and accounts for almost a fifth of the national GDP. The largest stock exchange in Spain is in Madrid. Being the national capital, the city attracts a lot of foreign direct investment and is home to numerous multinational companies. Corporate services, transport, communications, real estate and financial services are some of the best performing sectors in Madrid. There are more job opportunities in Madrid than in any of Spain's other cities.
But the country's economy is still recovering, and therefore there is a high competition for jobs in Madrid. Expats who do find employment in Madrid receive some of the highest incomes in Spain. Many expats move to Madrid as English language teachers. Other areas of work in which expats are employed include IT, finance, engineering and skilled labor.
Madrid lies in the heart of Spain and the strategic location means that it is convenient to come and go as you wish. Flights to just about anywhere in Europe are cheap. Along with being the capital of Spain, it is also the third largest capital in the entire European region, and it has numerous options for travel. Living in Madrid means that the rest of the world is only a short distance away.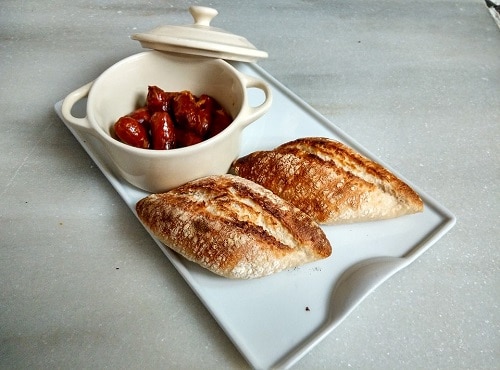 Madrid is a great place to sample the internationally-renowned Spanish cuisine
© ignaciomeseguersocarra on Pixabay
Madrid is an exciting place to live in for foodies. Since it is an international city, it is possible to find a wide range of cuisines here. It is especially famous for its many traditional taverns that serve up a variety of tapas, along with homegrown wines. There are several small restaurants in the city which serve a daily menu of tapas, baked foods and other local fare. Madrid has a considerable immigrant population and this means that it also has various options for world foods. Madrid is also famous for its sprawling food markets, where you can find anything from octopus to seasonal fruits.
Madrid is the place to be for those who love cultural activities. Madrid has everything from public concerts and photography exhibitions, to libraries and art galleries. The city also hosts a number of free cultural events.
Throughout Madrid's hot summers and cold winters, there is always plenty of sunshine, enabling people to enjoy the outdoors. In fact, those living in Madrid are so accustomed to the abundant sunshine that rainy days are often a hot topic of conversation, sometimes even making it to the news!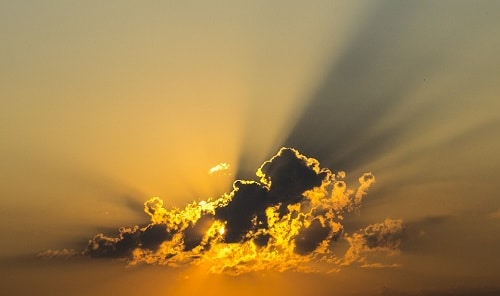 The sunshine is one of the main attractions of living in Spain
© lmaresz on Pixabay
Madrid has everything from large department stores to exquisite boutiques in the Salamanca district to eccentric markets in the Fuencarral market in Chueca.
Salamanca is one of the top neighborhoods in Madrid and is known for its French-style boulevards. The area has some of the most prestigious boutiques in the world that are perfect for expats on the lookout for local designs. In September, Salamanca transforms into the venue for the Vogue Fashion Night Out.
Those shopping for precious stones can stop by at Calle Serrano, which has some of the best jewelry stores in the city. Other shopping havens in Madrid are the Chueca and Triball areas where there are stores selling popular brands as well as a variety of vintage clothes.
The Fuencarral market is another place in the Chueca area, which also has some tiny shops where shoppers can get a tattoo or piercing, accompanied by a DJ.
For expats who would like to visit more well-known department stores, Central Madrid is the place to be. The traditional shopping areas in Madrid are Plaza Mayor, Gran Vía and Puerta del Sol, where vintage cultural wares are sold. Expats will be able to browse through a selection of classical guitars, Spanish fans, ceramic ware and flamenco costumes.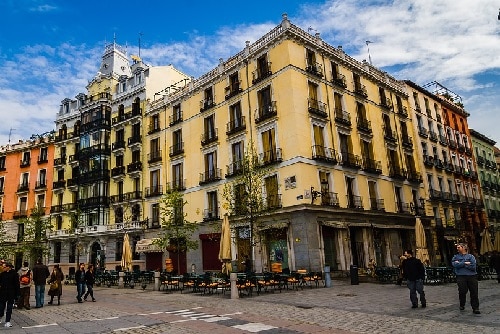 There are many great places to shop and things to do in Madrid
© Juanlufer4 on Pixabay
Madrid is home to three of the world's most renowned museums: the Prado, Reina Sofia and Thyssen. Expats can purchase an Abono Paseo del Arte, a voucher that enables them to visit the all three of the museums once at any time during the year. For multiple visits to the museums, the Tarjeta anual multiple comes in handy. There's even the Madrid Tourist Card, a cost effective way to enjoy the city's cultural highlights.
One of the most significant museums in Europe and the world is the Prado, which houses a collection of paintings, drawings and sculptures. At the Villanueva building, expats will be able to delight in the Spanish paintings from romantic to 19th century styles. Madrid's Reina Sofia museum was created from an 18th century hospital. Many of the art pieces were brought here from the Prado. It has a selection of contemporary modern art.
The Thyssen museum was built in a neo-classical mansion dating back to 1806. It is regarded as having the world's most important private art collection. It was bought by the Spanish state in 1993 and complements the Prado and Reina Sofia museums. Expats can immerse themselves in the evolution of the history of art without ever leaving Madrid.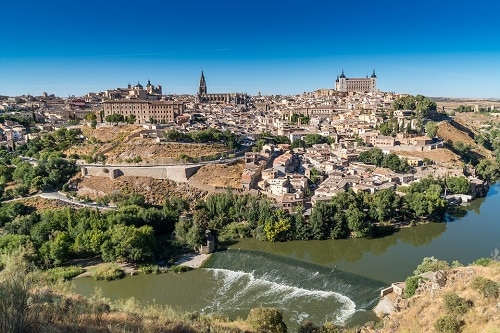 Toledo is a popular destination for short trips
© steven_yu on Pixabay
While living in Madrid, expats will find that it is quick and easy to explore the cities and towns surrounding the city. Madrid is the ideal location from which they can take day trips. One of the most popular day trips is to Toledo, a UNESCO World Heritage Site. It is a half hour journey from Madrid Atocha station. From the train station, there are buses that lead to Toledo.
Toledo is a must-see site for expats. Its history dates back to the Roman occupation, and the town bears traces of Roman and Muslim history. There are several historical religious buildings to visit. Expats can also have a nice time exploring the medieval streets. It is believed that nuns in Toledo invented the almond sweets called mazapán in 1150. They are available in stores in Toledo, or you can also buy them directly from convents.
Madrid also sports a vibrant nightlife. When living in Spain, expats will come to realize that the locals eat dinner at 10pm, after which they hit the bars and pubs at midnight. It is almost considered sacrilege to be present at a nightclub before 2.30 in the morning! Madrid is the destination to be when it comes to nightclubs, live music, pubs, taverns and cocktail lounges.
Cons of living in Madrid
While Madrid is a great destination for many reasons, there are also some disadvantages of living in this city.
Madrid has some of the highest property costs in Spain. The local real estate market is on the decline, but despite this, the city is very expensive for those who want to buy or rent in Madrid.
Another downside is the cost of education and healthcare. Healthcare services in Madrid are some of the costliest in the whole of Spain. International schooling for children also does not come cheap. Expats can work around these expenses by negotiating a relocation package that includes health insurance for the whole family. It's a good idea to also ask whether your children's education can be included into your package as a benefit.
Madrid's climate is another downside. It can get terribly hot and muggy during the summer months, and extremely cold during winter. Madrid is also one of the busiest cities in Europe and the noise and bustle can be another disadvantage for some expats. The city is population dense with high noise pollution levels that can take its toll after a while. To circumvent this, expats can opt for accommodation in any of the outer lying suburbs that are quieter than the city center, but also involve a commute to the office.
Expats who are thinking about moving to Madrid should visit the city for a while and get to know what it's like to live there. Travel to the suburbs and check out the housing there. Find out which are the best areas to live and visit them. Also, find out what activities are there in Madrid, outside of work. Professionals can also research which employers are based in the city. Once you have a clearer idea about the city, you can decide whether it's the right choice for you.
Have you lived in Madrid? Share your experiences in the comments below, or answer the questions here to be featured in an interview!