Switzerland is a Central European country, home to numerous lakes and mountains, which is particularly well known for its view of the Alps and its really delicious chocolate. From small rural villages, surrounded by green pastures in the summertime, to winter ski spots and cities, Switzerland has so much variety that there's something for everyone.The cities are home to medieval quarters and famous landmarks (such as Bern's Zytglogge clock tower and Lucerne's wooden chapel bridge), as well as more modern buildings. Banking and finance are the key industries there, but the economy is thriving in many areas. Data from the Swiss Federal Statistics Office shows that there are over 2.1 million foreigners living in Switzerland, which equates to nearly a quarter of the permanent population.
Renting property
Accommodation in Switzerland is typically of a very high standard, and most apartments (even those in city centres) have communal green spaces for residents. Community is still very much a thing in Switzerland, even in apartment blocks, so expect your neighbours to stop by and introduce themselves!
Over 60% of the population rent their homes, which often means (particularly in larger towns and cities) that there is a shortage of properties available. It also means that the rental market in Switzerland is highly competitive and that you have to move quickly in order to secure somewhere.
The process of renting in Switzerland may be a little different from what you are used to. Once you have found a place that you're interested in, you will need to submit an expression of interest to the landlord, along with any requested documents, such as copies of your identification and proof of your earnings. You may also need to fill out some forms and/or questionnaires.
The majority of properties in Switzerland are offered unfurnished. Usually, an unfurnished apartment will not even have carpets, appliances, or fixtures, so make sure you clarify what is included. You may view the property while it's furnished, but the current tenants will likely be required to take their furnishings with them when they leave.
The Swiss government has compiled a lot of helpful information on the renting process (in 16 different languages). You can find a copy in your preferred language here.
Generally speaking, Swiss law is pro-tenant. Legally, a rental agreement in Switzerland does not have to come in the form of a written contract to be binding, although it is always a good idea to have one written down. Swiss rental contracts tend to follow a standard format, which you can see an example of here.
The above format is widely used but not mandatory. Any templates can be used, so long as they cover key information, such as details of the property, the parties of the agreement and their identification details (and signatures), the deposit paid, the amount of rent and when payment is due, and information on any utilities or other tenant responsibilities. Rental deposits in Switzerland are capped at the equivalent of three months' rent. Deposits will be held by the landlord or their agent until the tenancy is terminated.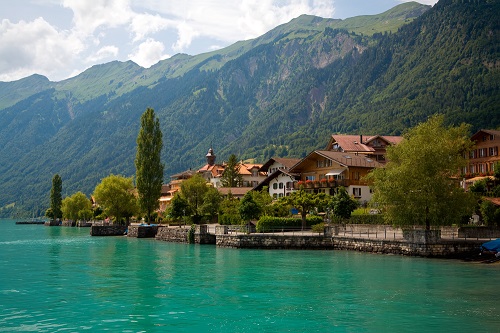 The Swiss government has compiled useful information on the renting process, which you can find
here
Where can expats find details of properties to rent?
There are plenty of popular websites that people use to find rentals in Switzerland, such as:
• Homegate.ch
• Immoscout24.ch
• Immobilier.ch
• Home.ch
• Immostreet.ch
• Immowelt.ch
You can also use aggregator websites, such as Comparis.ch, or employ the use of a local estate agent. A helpful directory website can be found here.
What are typical rental prices in major expat destinations?
Rent in Switzerland is higher than in other European countries, such as the United Kingdom. Rent in Switzerland is, on average, 78.77% higher than in the UK. According to data statistic website Numbeo, the average monthly rent for a one-bedroom apartment in Switzerland (in a central city location) is around 1,518.93 CHF (Swiss Francs). This is roughly equivalent to £1,266.95 or $1,574.83. An apartment of the same size in a less central location would cost closer to 1,168.92 CHF (£974.92 or $1,211.83).
Are there any challenges/problems in the rental process that expats often encounter?
There is nothing specific for expatriates to worry about when it comes to renting property in Switzerland. However, it's important to note that you should never hand over cash as a deposit (even if this is requested by your landlord). Always use a bank transfer as a method of payment, whether for a deposit or for rent.
Buying property

Switzerland has various restrictions in place on foreigners buying property, so whether you are able to purchase real estate in the country will depend on a number of factors. For example, you can buy property in Switzerland if you are an EU or EFTA national with a Swiss residence permit (who also resides in Switzerland full-time), or if you hold a Swiss C permit.
Foreigners from third states (not EU or EFTA) residing in Switzerland who do not hold a C permit may buy a single-family house or an owner-occupied flat in their actual place of residence without having to obtain authorisation. If you hold a Swiss B permit, you may also purchase a property, but only to live in.
Those who fall outside of these categories may either not be allowed to purchase property or may have to apply for a license in order to purchase. Licensing criteria varies from one region to the next, but typically favours applicants purchasing a primary residence, who have been settled in the region for at least five years or more.
What is the typical house buying procedure?
The process of buying a property in Switzerland is not a quick one. In fact, in some cases, it can take three months or longer. Before you even start to view properties, you should find a mortgage provider, so that you know what your budget is going to be. Once you know how much you can spend, you can begin to view properties. Once you have found a property that you like, you will need to make an offer. Most expats use an estate agent throughout the buying process, and they will deal with placing your offer for you.
Before placing an offer, it may be a good idea to get a property survey done. Getting a survey of the property done is not so commonplace in Switzerland as it is in other countries. However, the seller is not legally obligated to notify you of any issues (structurally speaking), so having a survey conducted may be a good idea.
If your offer is accepted, you may need to pay a deposit at this stage. If so, this will be held in escrow by a notary, but you will still need a written agreement or preliminary contract covering the circumstances in which the deposit will be forfeited or returned. You will also need to inform your mortgage provider that your offer has been successful, and you should complete any remaining paperwork with them. They will then inform the notary that the method of payment is arranged, and the sale can go ahead.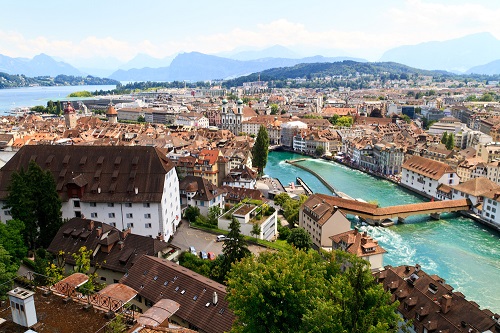 It can take three months or longer to purchase property in Switzerland
To complete the sale, you and the seller will need to sign the paperwork to transfer the deed title, which will need to be filed with the land registry office. You should factor the costs for these services into your overall budget. For example, it would be wise to budget around 5% of the purchase price for the notary's fees. This will include the notary's own fees (ranging from 0.2% to 1%) and the property transfer tax (which varies from region to region, but is usually between 0% and 3.3%).
There is another additional cost, which is for registering the deed (this is around 1% to 1.5%), but in some regions of the country this cost is split between the buyer and the seller. Also, in Switzerland, you may have to pay annual service charges, and these can apply to detached houses, as well as to apartments. These are usually for things like car parks, boat docks, and private roads.
Where can expats find details of property for sale?
The majority of Swiss real estate is listed online through various estate agents and property portals. Property listings can also be found in all of the main newspapers.
Some of the main online property portals include:
• Homegate
• ImmoStreet
• ImmoScout24
• UMS Temporary Housing
Websites for finding a local real estate agency are:
• Swiss Real Estate Association
• Swiss Union of Real Estate Professionals
Larger real estate agencies include:
• Privera
• Wincasa
• SPG
• Moser Vernet & CIE
• Naef
Do local banks or other lenders issue mortgages to foreign nationals?
Mortgage rates in Switzerland have been up and down for the last few years, and despite some uplift throughout 2018, the rates fell again in early 2019, with average five-year rates dropping to 1% and 10-year rates at just 1.35%. Mortgages in Switzerland can be arranged directly with lenders or through mortgage brokers.
The purpose of a mortgage broker is to mediate negotiations between the seller and the lender. They can also, if required, sign the contract on the client's behalf. When you apply, the mortgage provider will assess the value of the property you are considering and decide whether to offer you a mortgage. A 20% deposit is typically the minimum required, including at least 10% of that amount in cash; the other 10% can be arranged using your pension fund.
You may find an online mortgage calculator useful, such as Credit-suisse.com or Ubs.com.