With its fascinating culture and attractive climate, Thailand is an appealing destination for expats seeking employment. However, finding a work permit involves a high level of bureaucratic complexity. Also, there are some jobs that overseas nationals are not allowed to do – much of this, though not all, relates to traditional Thai crafts. The Thai government, like that of many other nations, is seeking to attract highly skilled, highly qualified employees. Read on to learn more about your employment options.
What are the legal requirements for foreign employees?
You will first need to apply for a non-immigrant visa. Then, provided you are successful, you can apply for a work permit. Your employer will need to undertake some of this process.
If your employer wants to apply for a work permit for you, they will need to be properly registered with the Thai authorities, and they will need 2 million baht (US$6600) in capital (unless you are married to a Thai national, in which case this figure is halved). If they are not registered, they will need 3 million baht (US$9900).
In order to prioritise Thai workers, Thailand operates on a quota system. Therefore, your employer will need to cap its overseas personnel at 10 work permits, and they must have at least four Thai employees to every foreign worker. You are also only permitted to have one job, e.g. you cannot work multiple part-time jobs.
There are a number of types of working visas, as follows:
• Non-immigrant Visa B: this is the most common general work permit
• Non-immigrant Visa IB: for business investment
• Non-immigrant Visa B-A: for business investment or partnership with a Thai company
• Non-immigrant Visa M: mainly for journalists
In order to apply, you/your employer must submit:
• a Company Registration Department Certificate
• a list of the company's shareholders, certified by the Commercial Registration Department
• a Factory License (if applicable), certified by the Factory Department of the Ministry of Industry
• VAT certificate Phor Phor 20
• VAT filings Phor Phor 30
• Withholding Tax form Phor Ngor Dor 1
• Social Security payment filings
• an employment contract stating your position, job requirements, salary, and contract duration
These documents all need to bear the company's seal, and in addition they must be signed by the managing board/director of the company.
You will also need to submit:
• a passport with signed copies of every page
• a copy of your non-immigrant visa departure card (TM.6)
• a copy of your qualifications
• any certificates or licenses
• your CV/resume
• 3 x 5 x 6 cm photos, taken in the last six months
• marriage certificate, if applicable
• medical certificate issued in the last 30 days
You will need to pay fees, including a 100 baht (US$3) application fee and between 750 baht (US$25) and 3000 baht (US$98) for the actual permit.
You will be able to extend your visa, but if your employment terminates, then your residency in Thailand will officially be at an end and you will be obliged to leave the country.
You can apply separately for a work visa if you are self-employed, by applying to the Work Permit Division at the Thai Labor Department.
" not found]
If you are looking to be self-employed in Thailand, you can apply for a work visa at the Thai Labor Department.
Are any skills in particular demand?
If you are a specialist in STEM subjects or have extensive business experience, you should find some good opportunities in the Thai job market.
As mentioned above, employment is restricted in some areas. For example, you will not be able to work as a doctor or a lawyer if you have foreign qualifications.
If you are working for a multinational company, you will not need more than basic Thai, but if you are working for a Thai business, you will need to be bilingual.
What are typical working hours and annual holiday entitlement?
Thailand works a 40-hour week, spread across five days. Therefore, typically you will be working eight hours per day. Opening hours for government offices run from 8/8.30 a.m. to 4.30 p.m. Businesses tend to close a little later, around 5/5.30 p.m. Retail companies stay open until much later; for example, they may not close until around 8 p.m.
Under the Labor Protection Act (LPA), if you have worked continuously for a year, you will be entitled to annual leave of not less than six working days. There are also 19 public holidays.
If you become pregnant, you will be entitled to 90 days of maternity leave, including any holidays in that period, at full pay: 45 days from your employer and 45 days from the Social Welfare Fund.
Can my spouse work?
The non-immigrant "O" visa for dependents does not allow your spouse to legally work in Thailand. Your spouse will need to obtain the appropriate non-immigrant "B" visa and work permit through their own employer. Note that there are restrictions, as above, on the number of jobs you can take up.
Are speculative applications to companies common?
Speculative applications to companies are common and you may wish to secure an employment offer before you relocate.
What is the best method of finding a job?
There are a number of recruitment agencies covering Thailand, and you may also wish to explore some of the online job boards.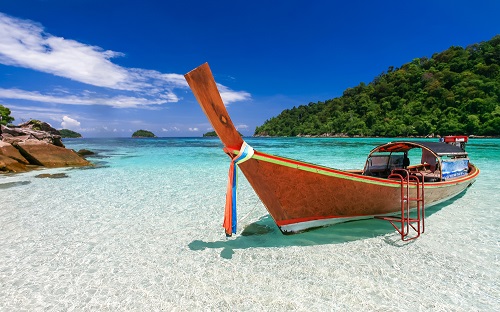 There are a number of recruitment agencies covering Thailand.
What is the recommended format for CVs/resumes and covering letters?
A standard CV/resume is acceptable. Whether you should choose to have your information translated or not depends on whether you are applying to a company that primarily speaks Thai.
Which questions are illegal / can be asked in an interview?
The Thai Constitution restricts discrimination based on nationality, age, gender, language, physical or social status, religion, education and political affiliation. The Labour Protection Act (LPA) further prohibits discrimination in employment based on gender.
Qualifications and training
You may not need to have your qualifications translated, but you may need to have them apostilled, due to the Thai government's emphasis on hiring skilled workers. Also, be aware that Thai immigration may require translations.