If you are thinking of moving to the 'Windy City', then what are your priorities going to be when it comes to finding out more about your destination? Chicago is a popular destination among expats. Property prices here are competitive with other cities in the US, and the quality of life is high (though be prepared for some chilly winters!). Let's look at ten important things to take on board if you are planning to make Chicago your home.
Can I find a job?
Following the pandemic, there are still jobs to be found in Chicago, but local recruiters say that the job market has become depressed, with organisations such as banks limiting hires and cutting salaries. Cook County has 650,000 unemployed people and 75,000 job postings: a disparity that highlights the problem. Aviation has been cutting its employees and so have sectors in law, accounting and other professional services. There is some demand for workers in factory jobs. The city has had a high rate of start-ups. Given the current state of the market, it is advisable to have a job lined up before you relocate.
What is the housing market like?
Property, whether you plan to rent or buy, is expensive in the Second City, but nonetheless, Chicago fares well in comparison to some other American cities. Most recent figures say that the average rent is $1,948, compared with $1,463 nationwide. For prospective homeowners, the cost of a family home is $281,000, which is well priced in comparison to the national median of $245,000, given Chicago's size and status. Property taxes, however, are comparatively high: at 23%, they are double the national average.
River North, Streeterville and River West are said to be the most expensive parts of the city, while the least expensive neighbourhoods include West Pullman, The Island and Austin. There are a number of family-friendly communities in the greater Chicago area, such as Oak Park.
To find an apartment, you can use an agent or an online property listing app, such as Craigslist. Experts suggest finding a short-term rental first and using it as a foothold to find somewhere more permanent.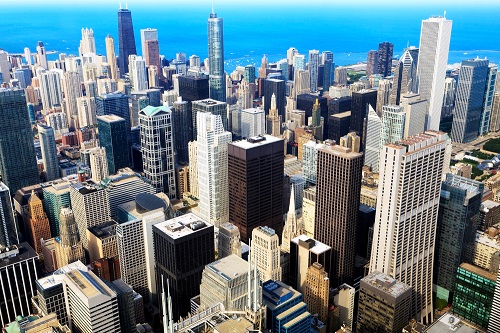 What is the cost of living in Chicago?
According to Numbeo's cost of living index – which is benchmarked according to prices in NYC and which includes groceries, restaurants, transportation and utilities – Chicago scored 82.23 out of 100 in July 2020. Thus, the cost of living in Chicago is about 20% less than in New York, without rent being factored into the equation. Food is also relatively cheap, but sales taxes are high, and you will find that generally local tax rates drive up your costs.
What is the crime rate in Chicago?
Chicago is not the most dangerous city in the States, but the local police say that violent crime rates and murder rates remain relatively high, with around 700 murders in Cook County in 2020 and in the region of 4,000 shootings. West Garfield Park is described by locals as dangerous, and the city in general is on track to break its own murder records. Much of this is gang-related, and regional.
What is the quality of life like in Chicago?
Chicago is an inland city, but you'll still find a stunning waterfront – lakeside rather than seaside. Lake Michigan has 28 miles of beaches, and over 8% of the city is occupied by parks (there are 570 of them). Food in the city is reasonably priced and plentiful – check out the hot dogs, Italian beef and deep-dish pizzas, as well as the city's wide array of ethnic cuisines and Michelin starred restaurants. The West Loop is one of the city's main dining districts.
There are a lot of high-end shopping opportunities. Chicago is full of galleries and museums, such as the Field Museum, the Art Institute of Chicago, and the Museum of Contemporary Photography. Locals say that if you're in full-time work, it can be a relatively relaxed place to live, since people aren't struggling just to make their rent. In other words, the comparatively lower cost of living contributes to the quality of life.
Is it a healthy place to live in?
Chicago comes 12th in the Mindbody Wellness Index rankings, just missing a spot in the US top ten. It does feature in the top ten of other lists. The Chicago 2025 vision plan aims to improve the city's health indicators, which are already quite good. The city's motto is that it is 'a city in a garden.' It has a high number of running trails and gyms, and healthcare costs, while not the lowest in the States, compare well with in other major centres. You may want to take your bike out on the Lakefront Trail or join the Chicago Sports and Social Club.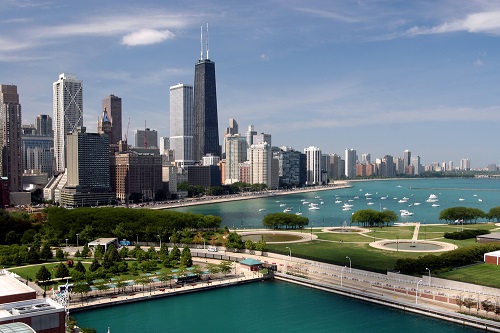 What is the quality of education here?
Education here is of a high standard, and the city is home to a number of universities: The University of Chicago, the University of Illinois at Chicago, the Illinois Institute of Technology and Loyola University Chicago all have homes here. The city's public school system has a good reputation, with over 82% of students graduating. Payton College Preparatory High School was ranked ninth nationally. You'll also find a wide range of private sector education provision.
What is the weather like?
Chicago's nickname comes from the hot air spouted by politicians and does not necessarily reflect the climate. This said, Chicago can be windy, as well as extremely cold. Its winters are often snowbound, and sub-zero temperatures are common. The city makes the most of its summers, which in contrast can be extremely hot and humid. Expect some rainfall, too.
What is the traffic like?
This is one city where you can viably rely on public transport rather than your car. The Chicago Transit Authority fulfils a lot of transport needs, including the city's famous 'El' or elevated trains. The Pedway is a primarily underground system of walkways, which makes downtown in the winter a viable proposition. Bike-sharing company Divvy has a number of stations throughout the city. Parking is expensive, and many people simply don't bother with a car.
What will life in Chicago be like for my pet?
Montrose Beach has a designated dog-friendly area. Navy Pier will allow you to dine with your dog. And, overall, the city has a reputation for being pet-friendly.