Florida is a popular destination among both US citizens and expats, and one of its greatest cities is Miami. With its famous beaches and Art Deco architecture, Miami is a beautiful place to live. If you are thinking of moving to this part of the 'Sunshine State', what do you need to know? We will take a look at the top ten things to consider.
Can I find a job?
Some of the top jobs in Miami are in medicine and medical support: dentistry, obstetrics, gynaecology, and anaesthetics among them. The aviation industry is another big employer, and so is tourism. Experts say that the job market is not as competitive as in some US cities, such as LA or New York, but Miami is a popular destination and thus not the easiest place to find work.
What is the housing market like?
Florida's accommodation is averagely priced when compared to the rest of the USA, but Miami is one of the more expensive parts of the state, with average house prices coming in at around $380K. On average, homeowners spend a quarter of their income on their mortgages, and property prices are still going up. Homestead and Miami Shores are popular with first time buyers; Coral Gables and Pinecrest are popular suburbs. Shop around if you are renting; rental costs have come down recently as a result of overdevelopment. If you are in the market for high-end property, you will find more for your dollar in Miami than in some other American cities.
You will face steep home insurance costs, as a result of some extreme weather. You will need to take out hurricane and flood insurance on top of your existing home insurance.
What is the cost of living in Miami?
The cost of living varies substantially across the state, but Miami is not the cheapest part of Florida to live in, and it is estimated to be around 14% more costly than the national average. For a family of four, you'll need slightly over US$1K per person per month to live in relative comfort. Poverty in the city is marked. Around 40% of Miami's residents are classified as poor.
Locals say that the cost of living is around 10% higher than in central Florida, but wages are correspondingly a little higher as well. The lack of state income tax will soften any financial blows a bit, but you will still need to pay Federal taxes. Sales taxes are slightly lower than in other regions.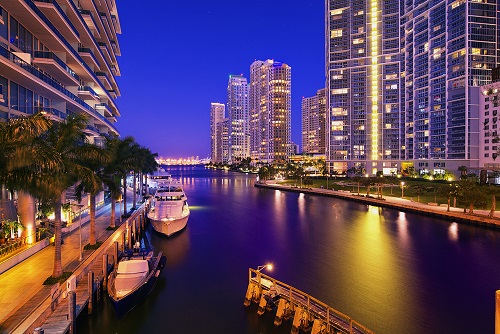 What is the crime rate in Miami?
Florida's crime rate is more perceived than actual – locals say that Miami is not a particularly dangerous city, even at night, but crime rates are still higher than the national average. Your chance of being involved in a violent crime is about 1 in 162, and your chances of being the victim of property crime is 1 in 27.
What is the quality of life like in Miami?
Locals say that the quality of life in Miami is good, but obviously, as with any city, it is better if you have money. There are some great restaurants in the city, Cuban cuisine being particularly well represented, and a diverse, cosmopolitan population. Locals recommend socialising at Wynwood, Design Center and Coconut Grove, among others, and say that the local sports facilities are second to none when it comes to boating and diving. The nearby Everglades have plenty of hiking trails. Calle Ocho, a big home to the Cuban community, sees a number of Cuban festivals, and there are plenty of art galleries and museums, too.
Is it a healthy place to live?
The options for remaining healthy in the Magic City are high, given the city's beach and ocean based lifestyle, and perhaps it is no surprise that it has gained the title of America's healthiest city for two years running. You might choose to go golfing, hiking, or kayaking in the Everglades.
Obesity rates in the city are relatively low, and it's estimated that most residents take exercise three or more times a week. You'll find plenty of gyms. Farmers' markets and smoothie outlets, plus a host of vegan and vegetarian restaurants, give you the opportunity to eat healthily. With regard to healthcare, the ratio of doctors to residents is high, and healthcare is generally considered to be of a high standard.
What is the quality of education?
Miami-Dade County Public Schools oversee the city's large public school system, and Miami is also host to the University of Miami. The city has some top-rated academies, and you should have a decent choice, whether in the public or the private sector. Schools are being moved away from the Common Core curriculum, and the public system generally is undergoing something of an overhaul.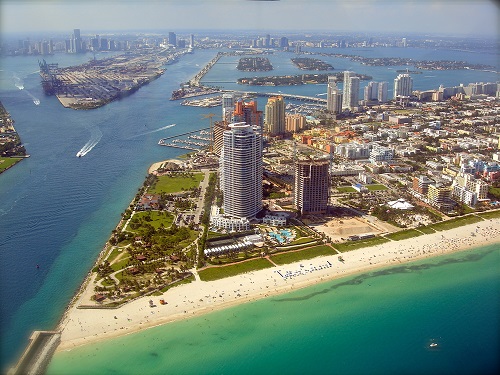 What is the weather like?
Miami is warm all the year round. Summers are exceptionally hot, and you will need air conditioning, but October to April tends to be somewhat cooler and less humid, and there is often a sea breeze, as well as daily showers. Bear in mind that Florida has a hurricane season (June to November), and it is worth sorting out your storm prep as early as possible in your move.
What is the traffic like?
Traffic in Miami is described by the locals as 'appalling', and they also say that drivers can be rude. It isn't the best place for driving, but unfortunately you probably will not have a lot of choice, unless you live close to your workplace or work from home. Public transportation is not of a high standard, either, being slow and unreliable, but you may want to access the Metrobus or the trolley network. There are ride sharing systems, too. Remember, if you're driving and you need to cross the Brickell Avenue drawbridge, this might be up to allow ships to pass!
What will life in Miami be like for my pet?
Several of Miami's beaches allow dogs, and there are also a number of dog-friendly parks, where you can walk your pet both on and off a leash.